How to Find Low Competition Keywords with Larseo's Keyword Finder
In this post, I will introduce a new way of finding keywords using Larseo which is very different from classical keyword research such as using Ahrefs or Semrush. Hope you will find it interesting and more efficient.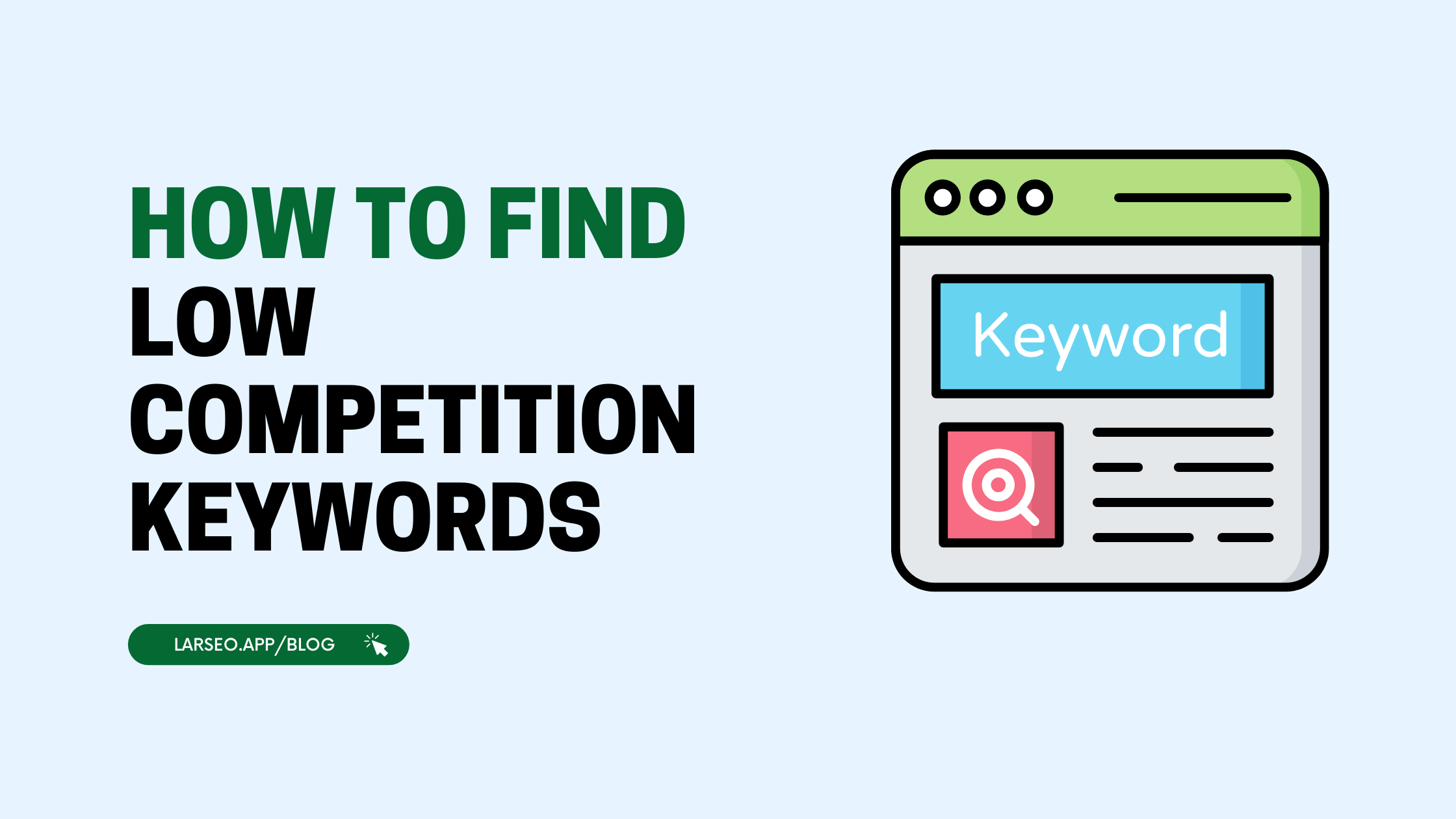 Basically, what we do with classical keyword tools is like below:
Identify low-hanging fruit keywords which have relatively high volume and low KD (keyword difficulty). Long-tail keywords are the ideal example of a "low-hanging fruit" keyword.

Check the SERP out for each keyword in the list to see where we can compete.
It focuses on Keyword Difficulty (KD) to find potential keywords that a niche website like ours can rank for. This principle is simple and more importantly, it works. It works for me for the last 7 years of doing SEO. 
The only problem is it takes a lot of time and effort to go and check the SERP of each keyword, one by one. It could take several hours or even days to analyze the SERPs for a large number of keywords and obtain the list of direct competitors. For a lazy person like me, sometimes I can't stand doing so.
That's why I develop a tool that can help me find potential keywords faster and more effectively. It is the Keyword Finder feature in Larseo.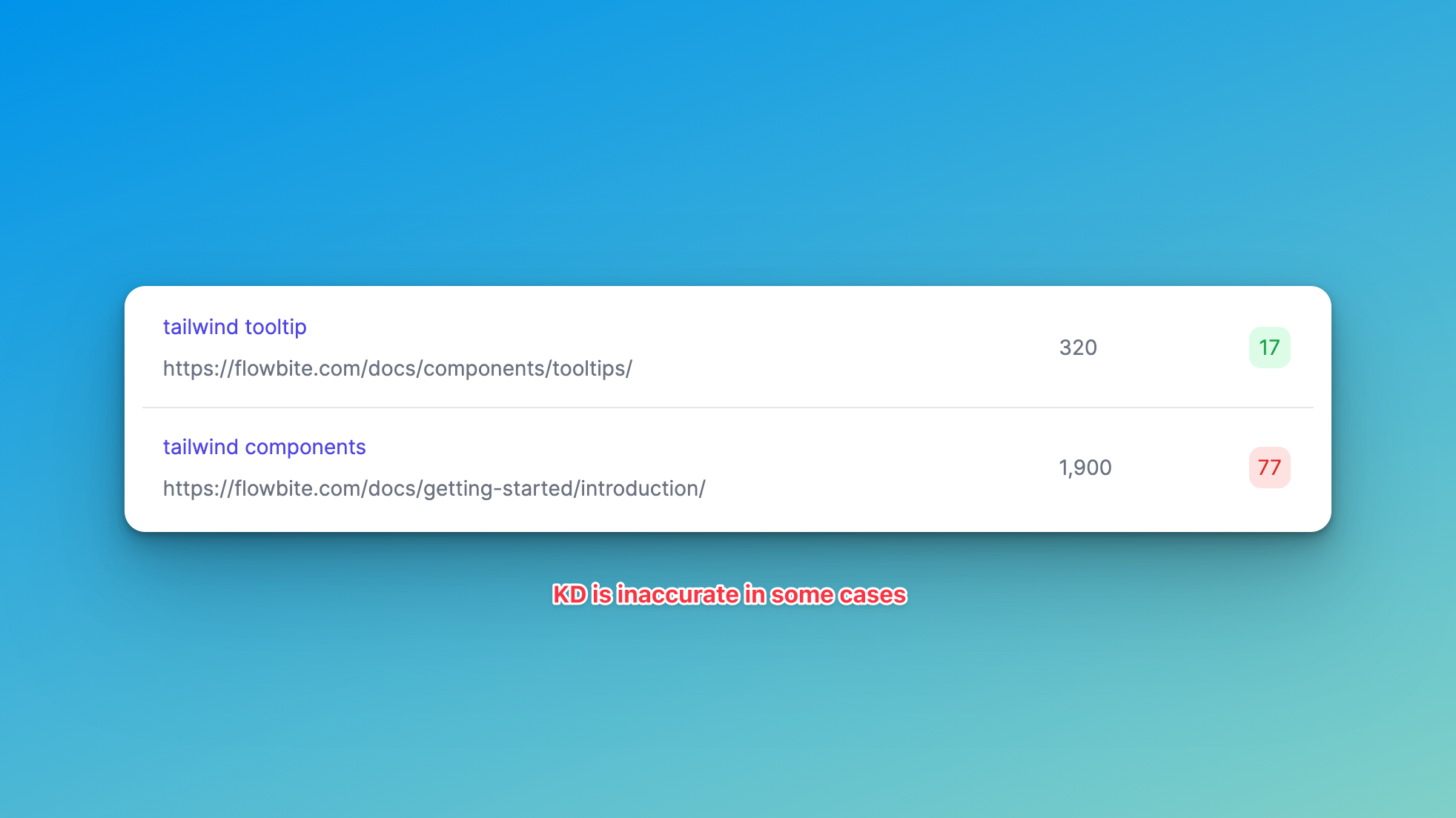 The principle of Keyword Finder is very simple: find keywords that weak pages can rank for in just a few clicks. Instead of depending on a calculated measure like KD, which is sometimes inaccurate (KD is mainly calculated based on backlinks profile), Keyword Finder focuses directly on whether weak pages can rank for that targeted keyword or not.
The classical way focuses on the bridges, Larseo focuses on the goal. The classical way takes hours or even days, Larseo takes minutes. That's the main difference.
When building Keyword Finder in Larseo, I aim for:
Eliminating the manual process of manually browsing the SERPs to see if I can compete and have a chance of coming out on top.

Generating more keywords than classical tools in a shorter time.
Let's explore how Keyword Finder can help you find untapped keywords in an efficient way. We will go step by step.
Step 1: Enter a seed keyword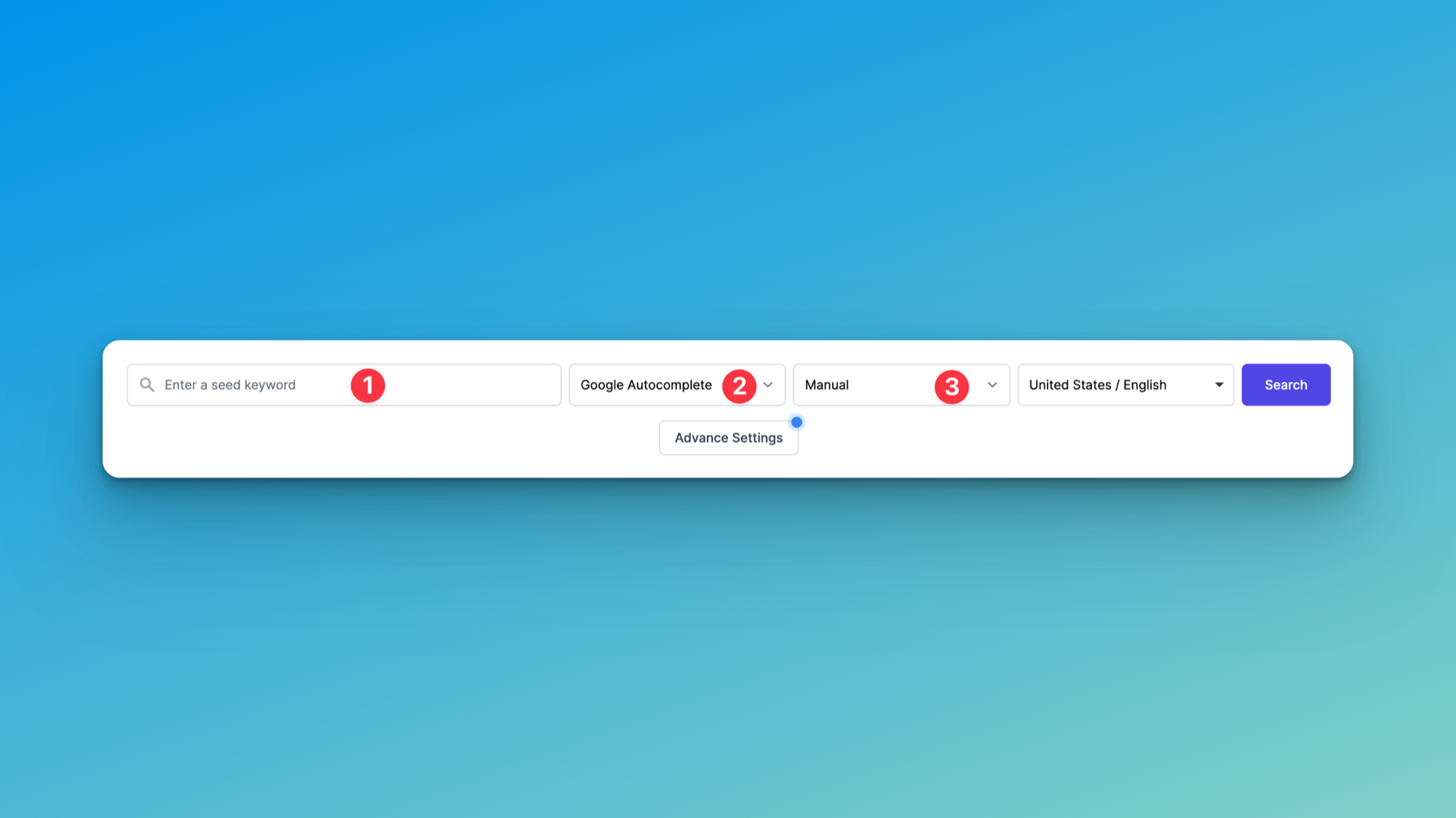 To get started, enter your seed keyword (number 1 in red). For better results, I highly recommend you use a narrow keyword or keyword with a wildcard (*).
You can use a wildcard in the seed keyword to generate keyword with a specific pattern. For example:
"best book for *" will only provide keywords that are of type "best book for something".

"how to * book *" => "how to something book something".
Next step, choose the source where you want to find the keywords (number 2 in red). There are 4 options for you to choose from: Google Autocomplete, Quora, Reddit, and specific site. 
If you choose Google Autocomplete, then please choose what type of keyword it is (manual, question, commercial investigation, transactional) in the next drop list for better results.
The unique point of Larseo is that it can help you do keyword research on a specific site such as Quora, Reddit, or any other site you want.
But why Quora and Reddit are worth doing keyword research?
Because they are the largest online question-and-answer platform, where you can find tons of content ideas and, of course, various question-based-long-tail keywords. You can use Quora and Reddit as part of your keyword research strategy in order to generate more ideas for your content, more traffic to your website, and more authority for your brand.
After choosing the search source (Google autocomplete, Quora, Reddit, specific site), please don't forget to choose the target country for the search volume checking.
Finally, click on the Search button.
Step 2: Analyze keyword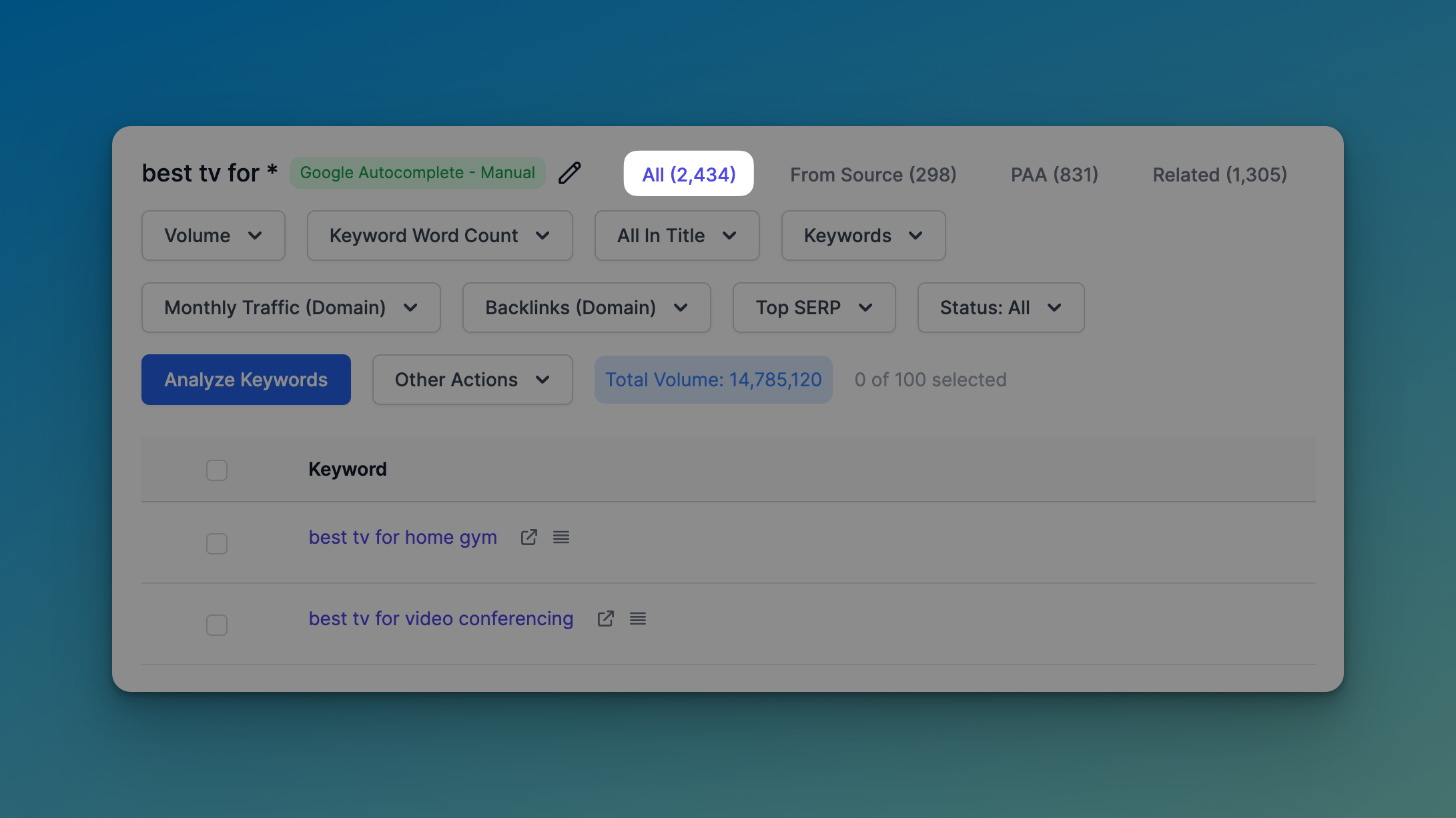 The above image is the list of keywords that were generated from my seed keyword: best tv for *
Please be noted that, before analyzing, there are 349 keywords along with their search volume generated from my initial seed keyword. We cannot get any insights from this full list. You need to analyze the keywords to fully utilize Keyword Finder.
You can choose the keyword to analyze based on the volume or your own interest or simply just choose all. You will see some big differences in a matter of minutes.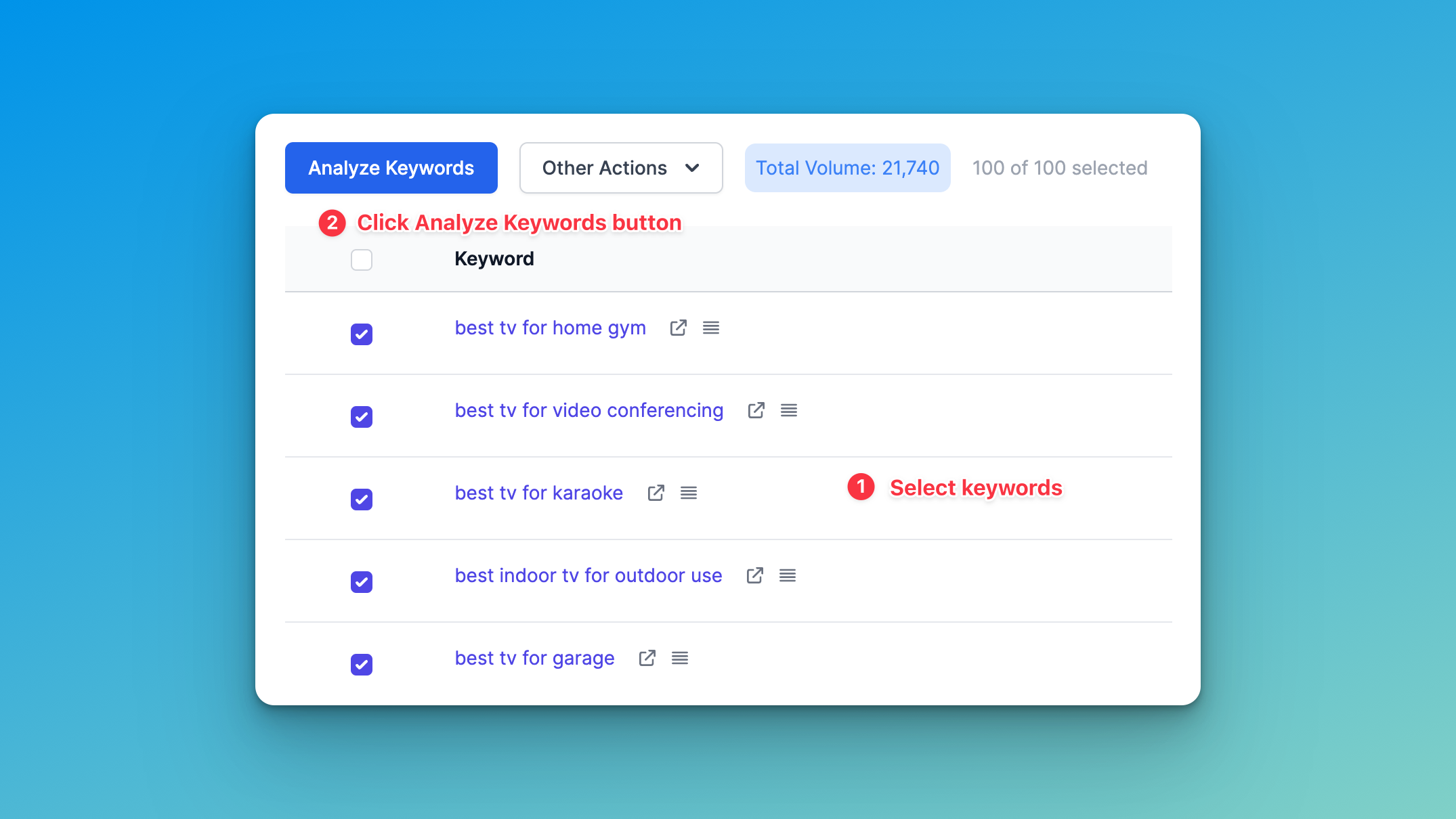 After analyzing the initial 349 keywords, now we have generated 2434 keywords which are categorized into different groups: Source, PPA, and Related. Larseo gathers keywords from the People Also Asked and Related Keywords section on SERPs while analyzing keywords so that you never need to worry about running out of ideas in keyword exploration.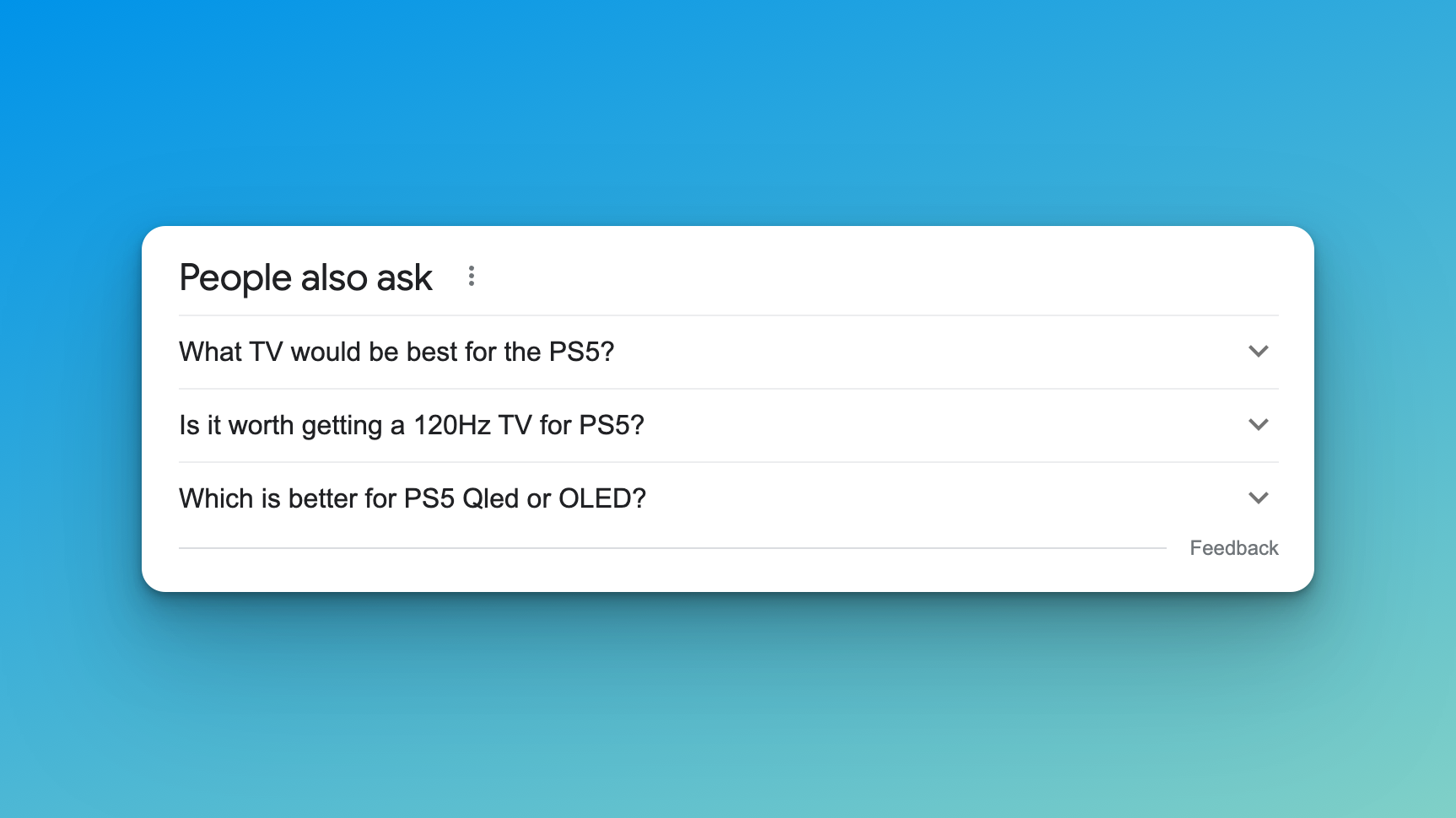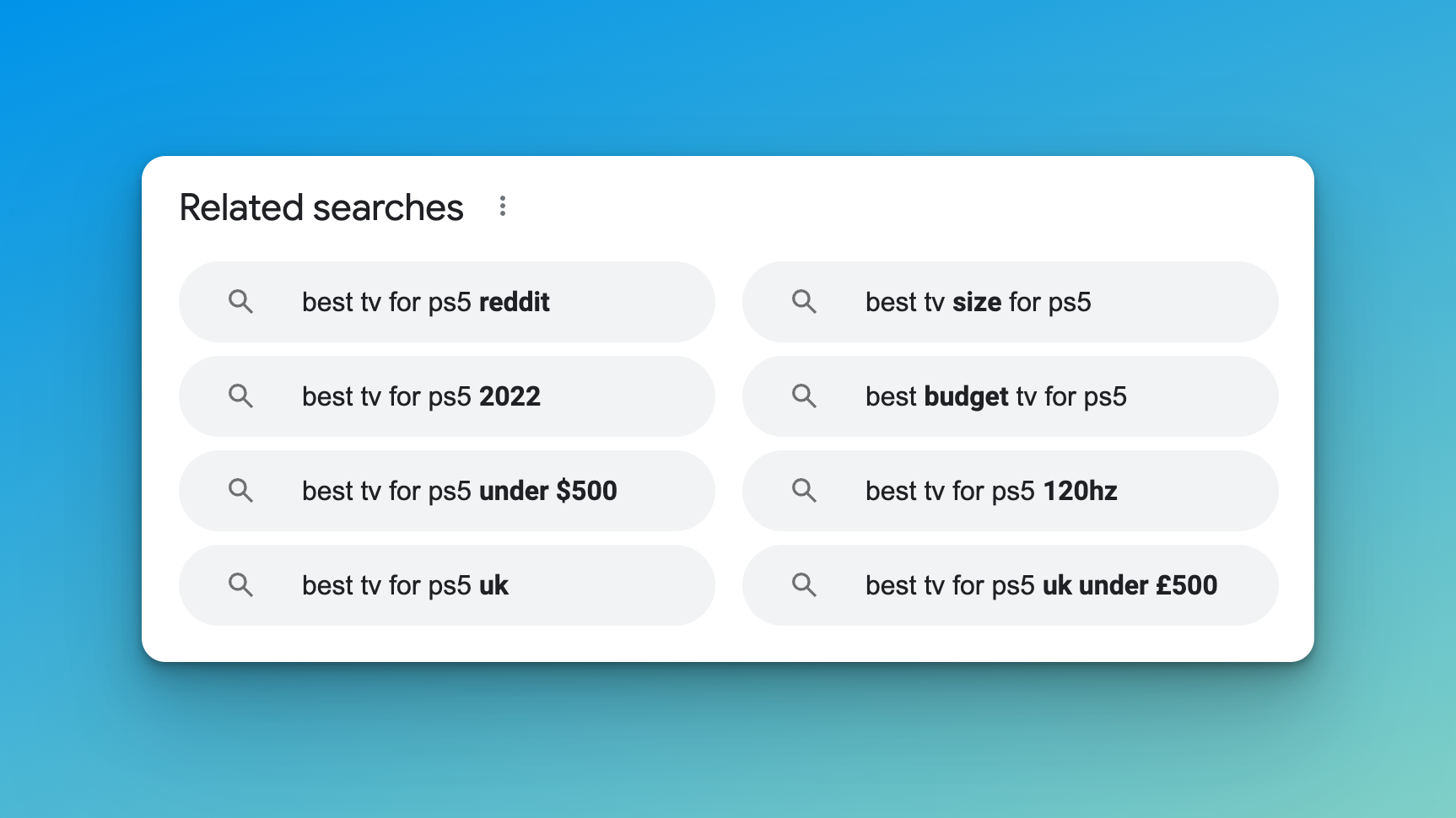 More importantly, the weak pages in the SERP of each keyword are presented on the right along with their logos. We can easily recognize repeated websites by their logos. It is highly likely that they are your direct competitors in your niche. 
So by analyzing keywords using Keyword Finder in Larseo, you can generate more keyword ideas as well as see which keywords many weak pages can rank for.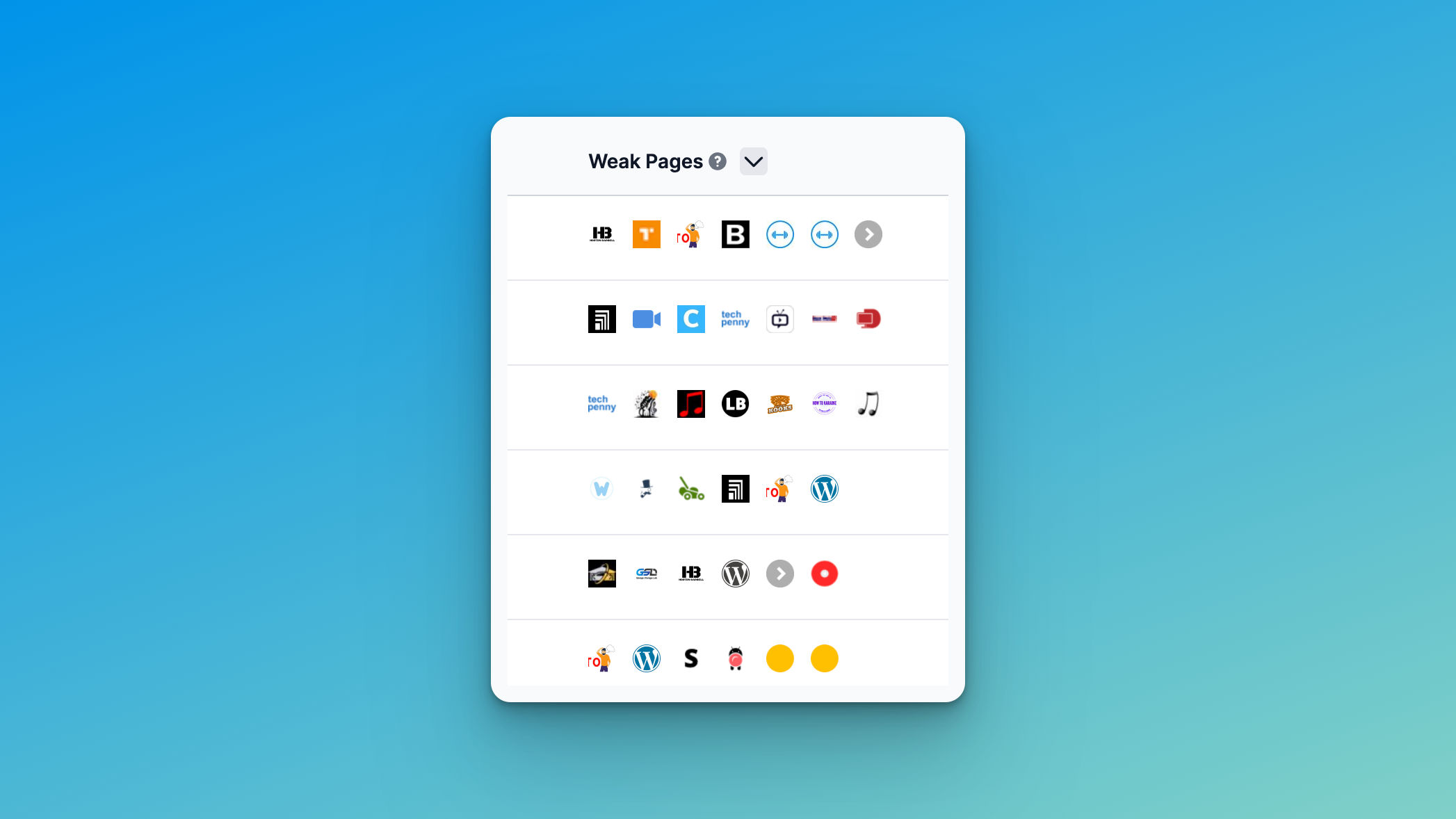 If you wonder whether the presented websites are weak or not and want to check their metrics, just hover on the logo icon, and you will see their ranking positions, Domain Authority, Page Authority, monthly traffic, and backlinks. To visit the page, just click on the logo icon. So convenient, right?
Please be noted that Larseo's default definition of "weak page" is: if a page has DA <= 20 (default) or is UGC (User-generated content), it is considered a weak page. You can also make your own definition of the weak page by clicking on "Advance Settings" before carrying out the search.
In the keyword list, there are 2 icons next to each keyword which allow you to (1) view that particular keyword on Google and (2) see the SERP in a nutshell, as you can see below: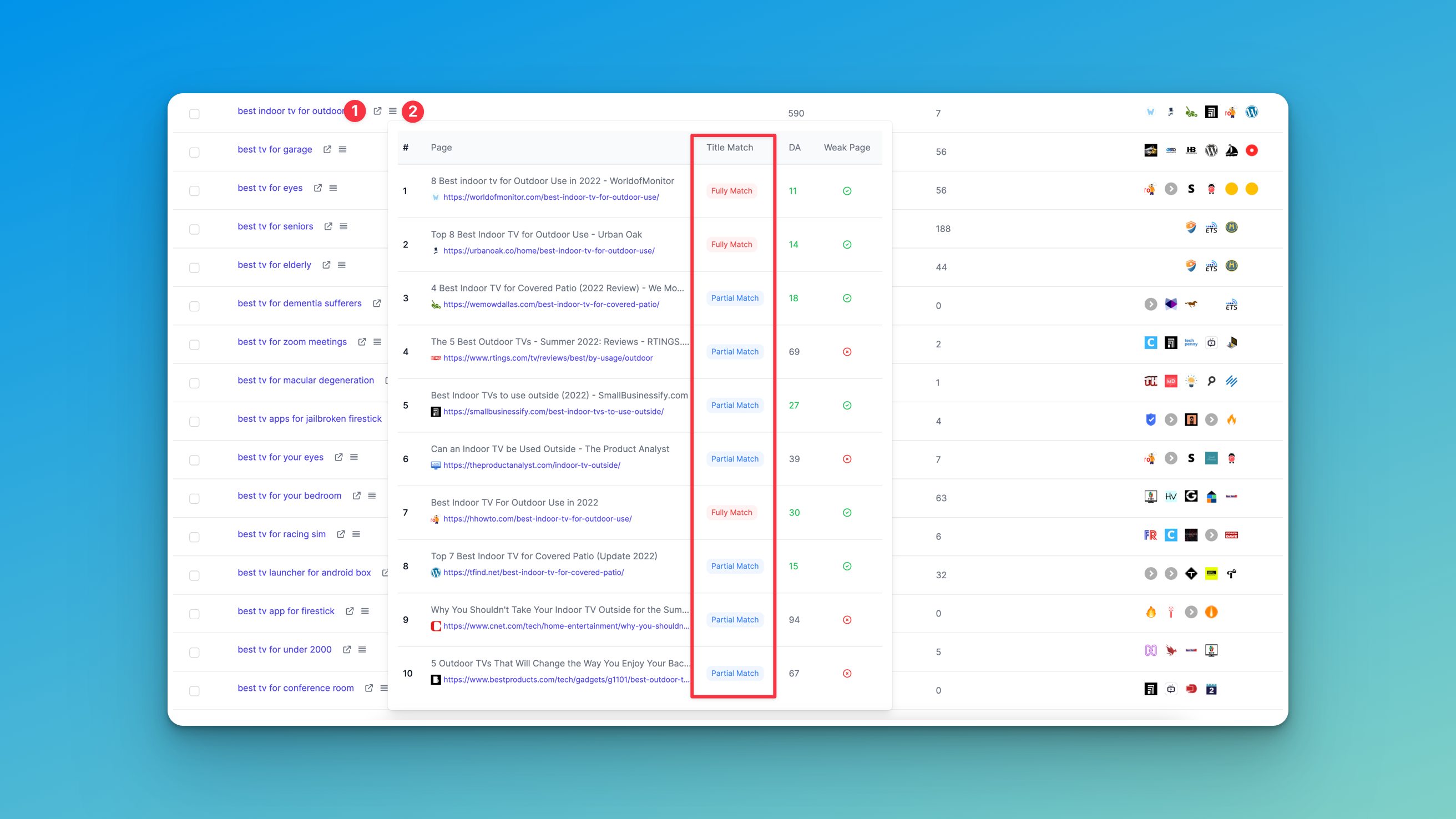 I have a good tip for you.
When checking a potential keyword, if you see any page in the top 3 which has title that doesn't match with the keyword, just grab that keyword and put it in your writing list right away. Since there are not many pages using that full keyword in their title in the Google database. As a result, you will have a good chance to climb on top of SERP if you provide proper content in time.
One more tip is you can quickly see the total volume of selected keywords on the top before analyzing it. It can give you a rough estimation of whether those selected keywords are enough for you or not before actually paying credit to analyze them.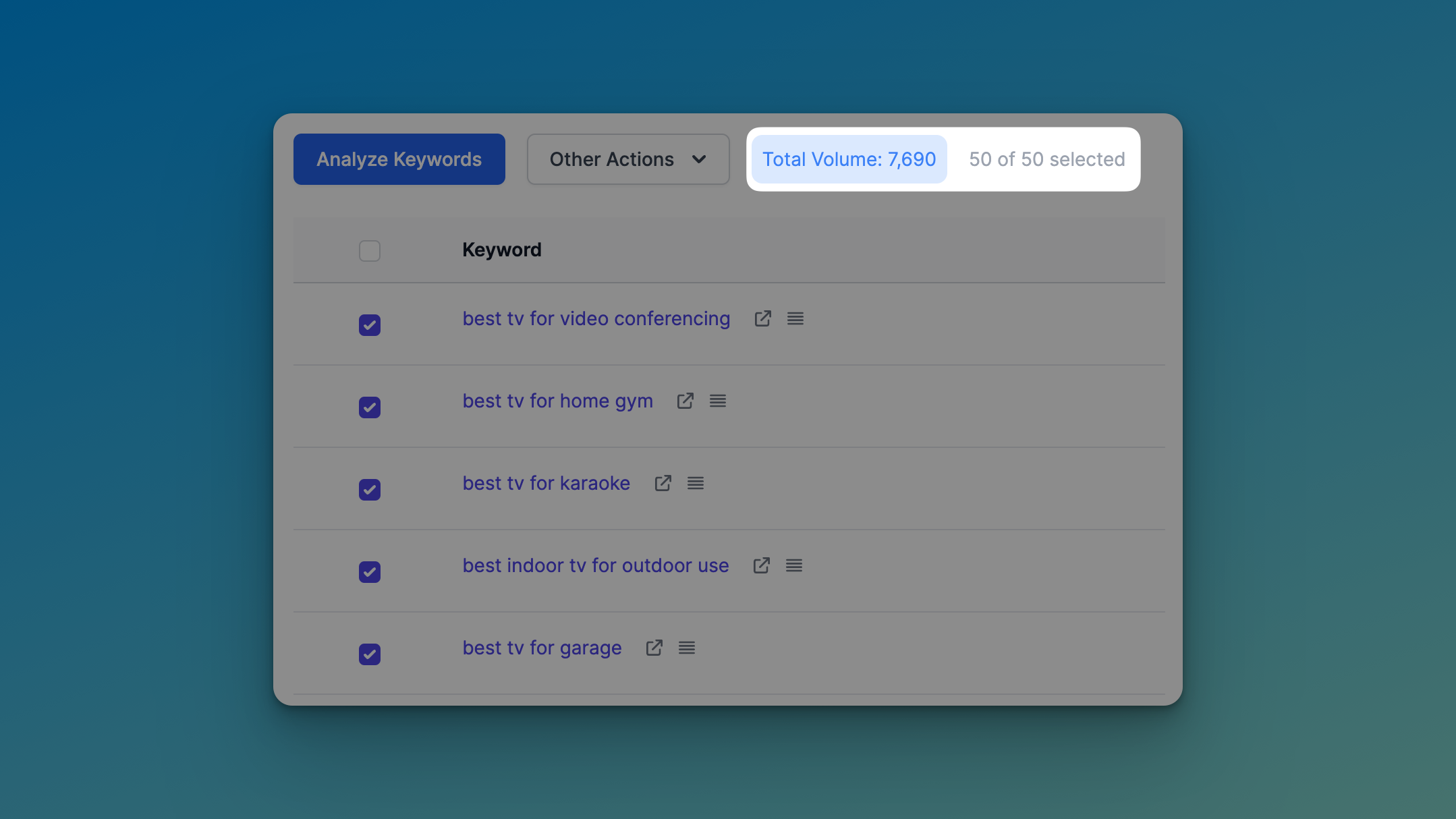 Step 3: Adjust/Narrow Down the List by Using Sorter/Filter
Sometimes it is overwhelming to see a list of 2,434 keywords at the same time. For better results, you may need to apply some filter to narrow down the list, or sorter to see keywords in volume order.
There are 2 groups of filters on Keyword Finder: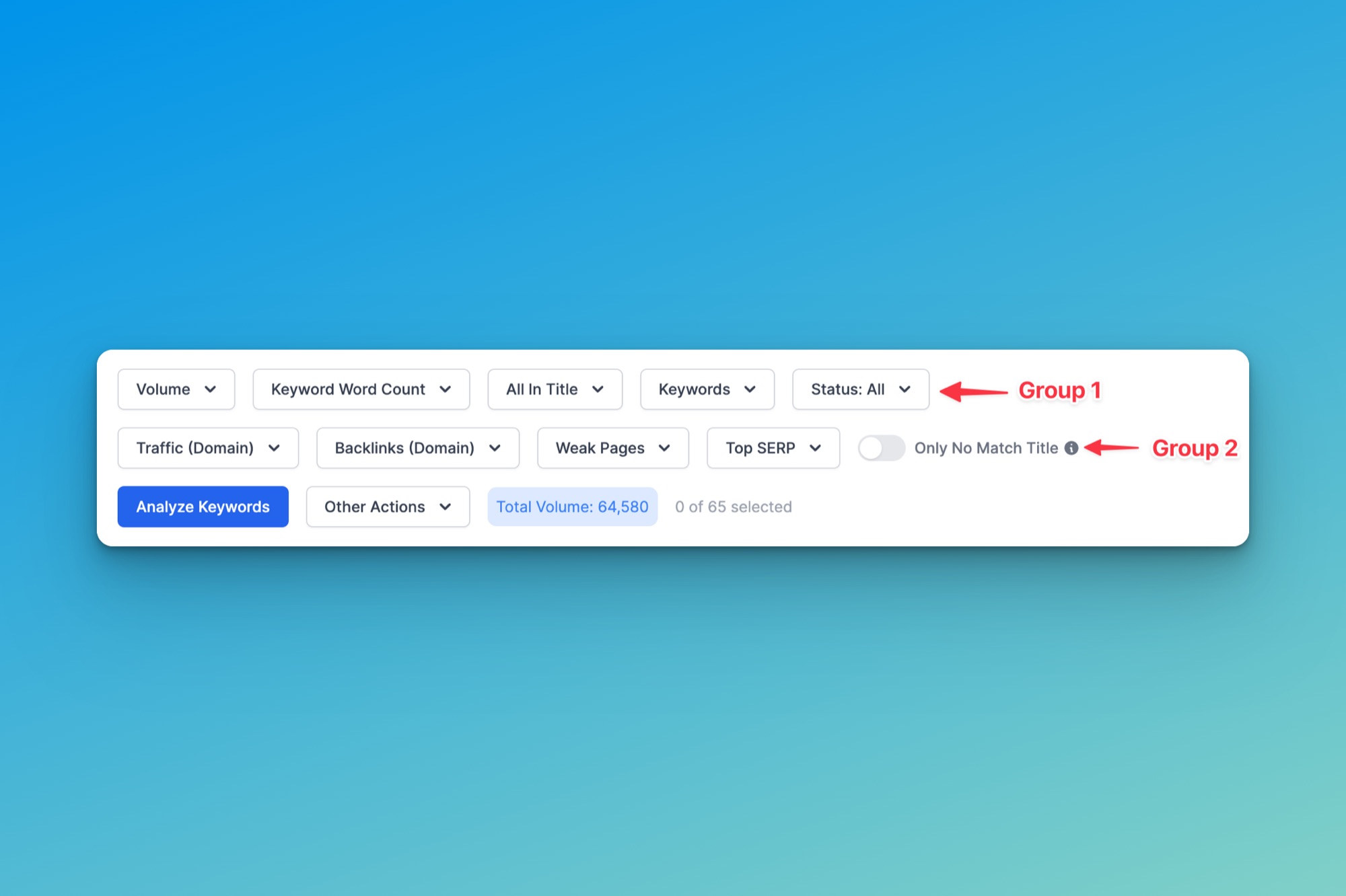 Group 1: Filters on keywords:

Volume. Filter the search volume from X to Y.

Keyword word count. You can use this filter to target long-tail keywords.

All In Title. Filter the All-in-title count from X to Y. Only work after you run "Get AllInTitle Count" action.

Include/exclude some specific keywords.

Status (analyzed, not analyzed)

Group 2: Filters on competitors (These filters only work for analyzed keywords):

Monthly traffic. Filter the keywords that are ranked by websites that have monthly traffic from X to Y.

Backlinks. Filter the keywords that are ranked by websites that have backlink counts from X to Y.

Top SERP. Filters keywords that have weak pages or only UGCs in the top X on SERP. I usually filter keywords that have the top 3 are UGCs, they are super easy to rank.

Only No Match Title. Only show analyzed keywords that have 10 competitors on SERPs and at least one of 10 competitors does not have title-matched keywords.
Some FAQs on Keyword Finder of Larseo:
Why we should target keywords that weak pages can rank for?
If you are reading this, it is highly likely that you own a weak website and want to get more traffic. You virtually have no authority or are low because of the lack of backlinks (your DA is low).
You will compete with other websites that are at a similar level or that have only a few backlinks at this early stage rather than with major websites with a lot of authority.
In my opinion, when you're just starting out, aim to compete against websites that have a DA below 20.
How many keywords should you analyze in a report?
Choose 20 to 50 keywords at a minimum from the keyword idea list to gain useful insights. 
You may then see the low-fruit keywords, and level of competitiveness in that market.
It is best if you can analyze all the keywords in the list. It may take you some time and some credits but it will bring you the most ideas which classical tools can't provide.
You won't fully utilize the tool by analyzing only 1 or 2 keywords.
What next to do after analyzing the keywords?
Target keywords that have at least 3 weak page icons.
Visit the weak pages to assess their content quality and dept.
Wonder if you can do a better job to answer the intent of the query. If the answer is yes, just go ahead for that keyword.
Recommended: You should use the keyword clustering feature to group all keywords that have the same search intent or are related closely to the original keyword (semantically related keywords).
That will help you to write deeper and better content, avoiding the risk of cannibalization, or improving ranking. Larseo supports 2 methods to cluster keywords. Read more about them at:
Should we care about low-search-volume keywords? 
Search volumes are just estimates based on the partial data that Google provides so it doesn't reflect all number of people searching for that keyword monthly. You can get more traffic by targeting low-search-volume keywords because:
Low competition: your competitors normally don't target low-search-volume keyword

High conversion rate: normally keywords with zero or low search volume target a very specific query. If your content can solve the query, the searcher will stay longer at your site and Google will find your site can satisfy the readers.

Building your authority foundations: Writing content for these keywords will help you establish topical authority and boost positioning for other keywords, more popular, more difficult-to-rank keywords.
Is there a way to know if a low-search keyword brings traffic to my website? 
After analyzing keywords, you can hover over the competitor icons to check how much traffic your competitors are getting. For example, this website is ranking at position 2, if you can take that position from them, you will potentially get that much traffic.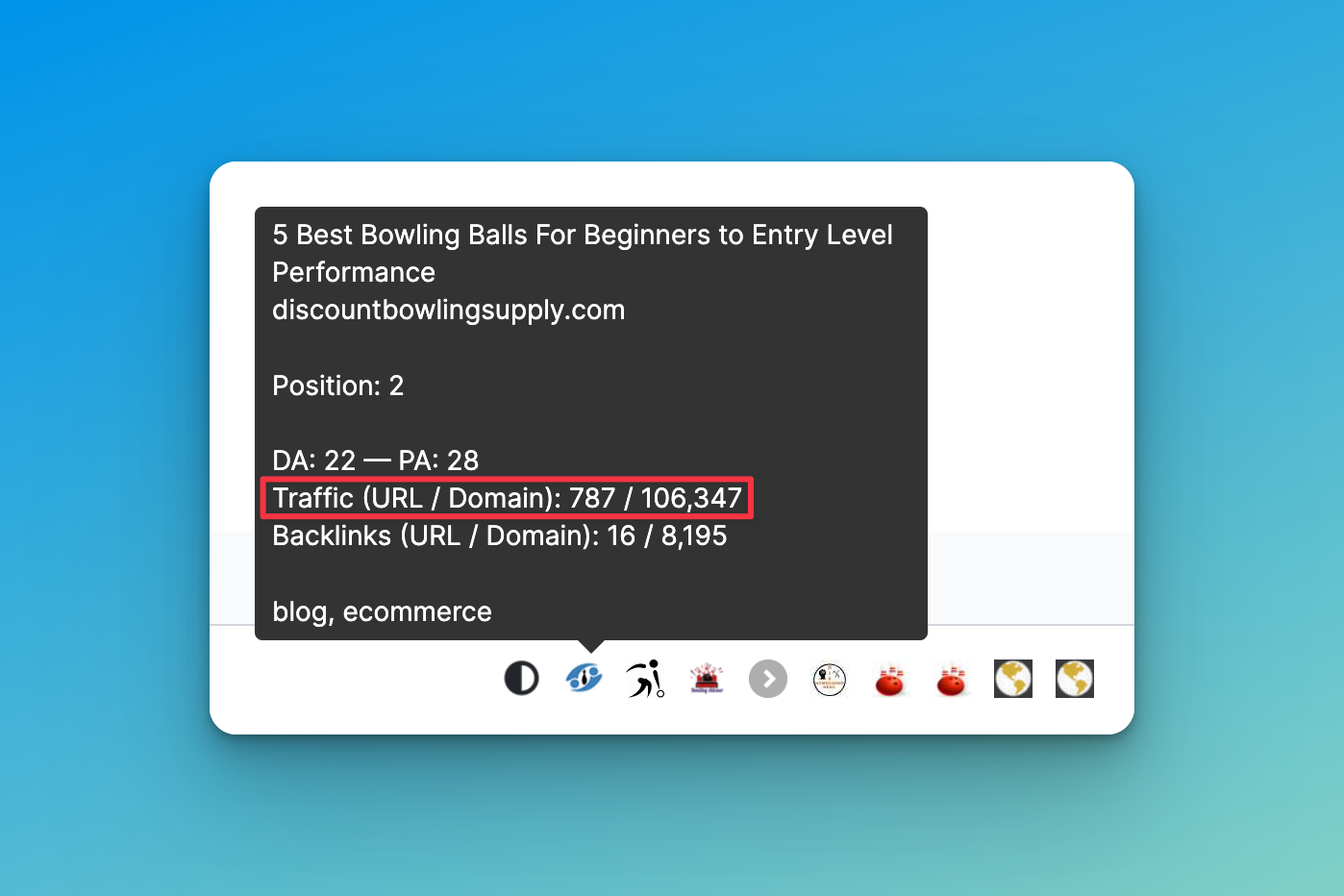 Which keywords should we prioritize the most?
The keyword is deemed to be very easy if the top 3 positions are occupied by all UGC platforms, new sites (< 1-year-old), or sites that have very low domain authority (<10). You can use the Top SERP filter to detect them easily.
Are you a visual learner?
I made a step-by-step video for finding keywords with low competition on Youtube. You might want to check it out at: https://youtu.be/Y2GbVRqQ38Y