Larseo' Key Metrics: What They Mean and How to Use Them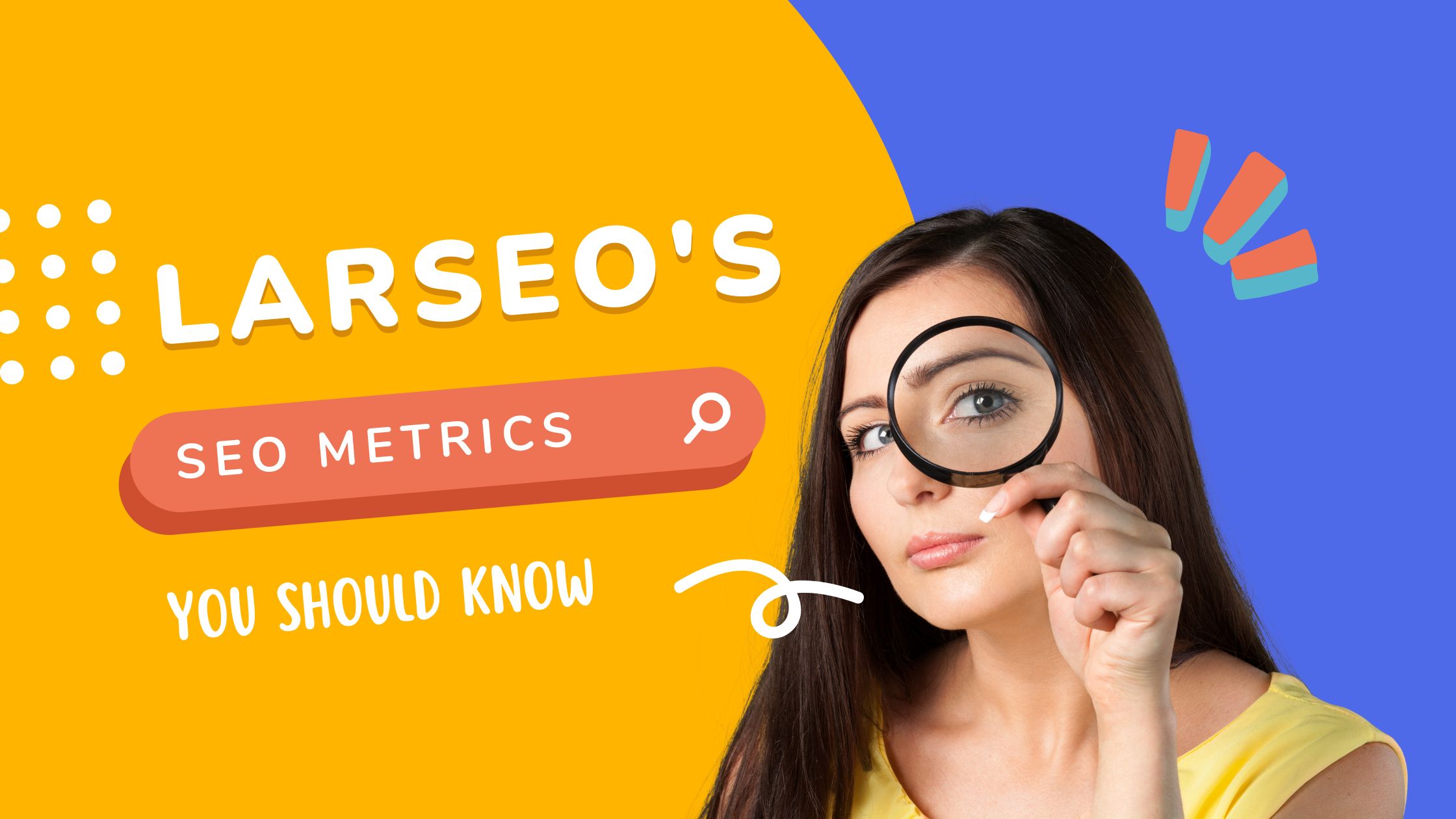 There are a variety of metrics that can be used to measure the success of a website or individual web page in terms of SEO. Digging into a tool with too many SEO metrics could be overwhelming for some people. So if you're new to SEO, it's perfectly normal to feel lost. The good news is I am going to explain most of the key metrics in Larseo and how I come up with these metrics.
Here's the list of metrics that I'm going to cover in this article:
Keyword search volume

Cost per click

Organic keyword

Organic traffic

Domain Score

Page Score

Referring domains and backlinks

Spam score

Keyword difficulty
Keyword Search Volume
This metric shows the typical monthly search volume for your chosen keyword in a certain nation. It is also called "Avg. monthly searches:" in Google Keyword Planner, the main source of this Larseo's metric. (We will use data from clickstream to ungroup search queries with similar meaning soon, but not for now).
SIDENOTE: In many SEO tools, Larseo included, the term "Search volume" will often be shortened to just "Volume."
Some important notes you need to know about keyword search volume:
It refers to the number of "searches" instead of the number of "people.". 

The result is based on the latest month's data, not a 12-month average.

It is always location-specific. It means you have to choose the region before coming up to search volume results.

Not all searches result in clicks. The fact that people search for something doesn't necessarily mean they're going to click on any of the search results.

Search volumes aren't 100% accurate even though we use Google Keyword Planner which is widely considered as the best source of keyword search volume data.

Higher keyword search volume doesn't necessarily bring more traffic. This happens because pages don't just rank for a single keyword. Any search term you have in mind will be phrased differently by different people. Google, however, is intelligent enough to recognize that these individuals are essentially seeking the same thing. As a result, it ranks on the same page for all these search query variations. In short, a big number of keywords with low volume could be better than a single keyword with higher volume.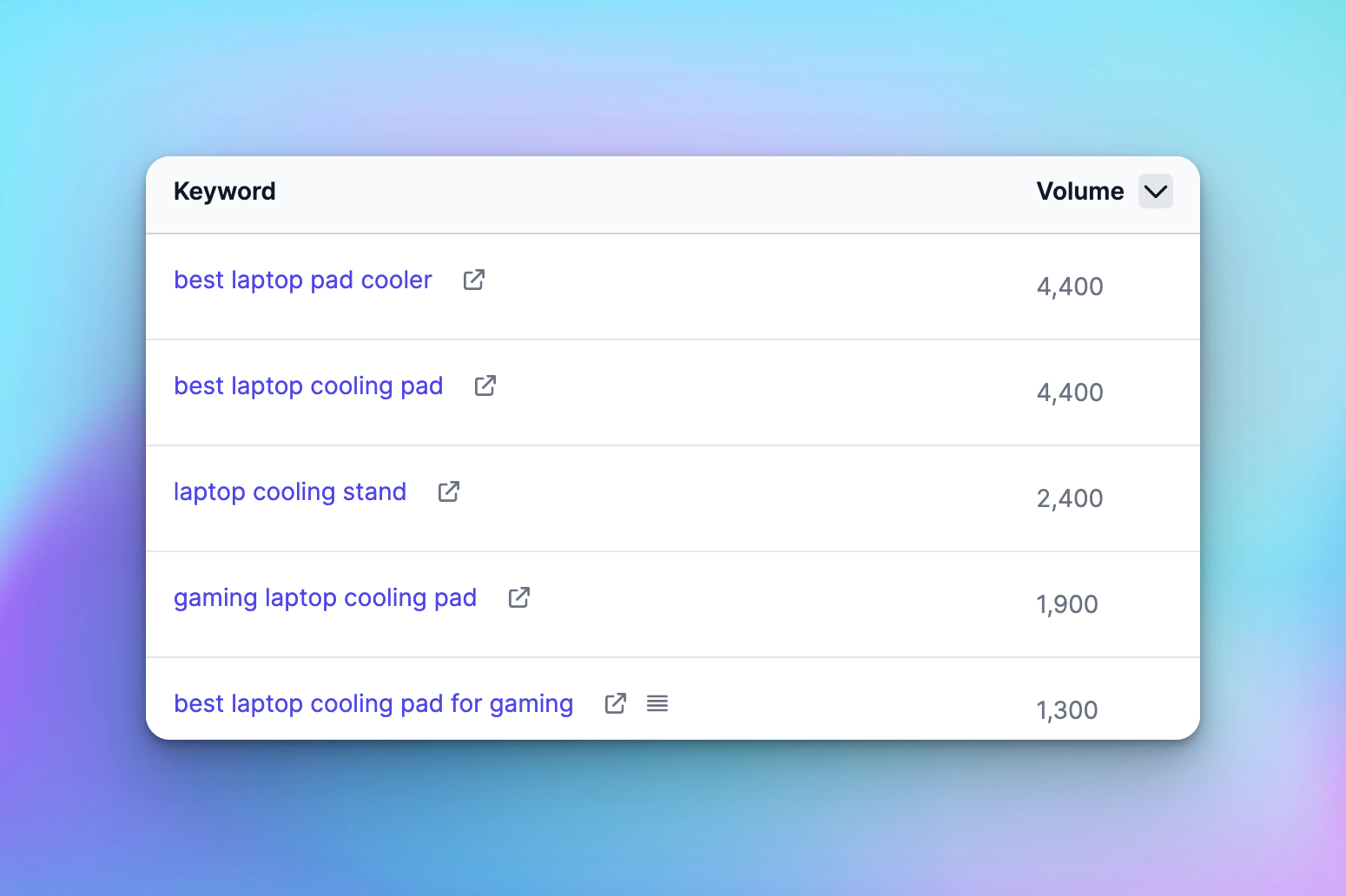 Cost Per Click (CPC)
This metric in Larseo shows the estimated bid (in US dollars) for a given keyword in Google Ads.
The cost per click (CPC) is a highly volatile and dynamic statistic that can fluctuate when marketers alter their ad expenditure. This also means that CPC values can change at any point in time. Because of this, we always advise using Google AdWords to find the most up-to-date and accurate CPC figures for your list of target keywords. Our data originates from there. 
The CPC figures that you may get in Larseo are basically averages. Please treat these with caution since we are merely displaying them for reference.
It is also most likely that other tools on the market update CPC values once in a few months unless the tool allows you to link your Google Ads account and pull data directly from Google Ads on real-time basis.
Organic Keyword
You may view how many keywords a website or URL ranks for in organic search results by pasting it into Larseo's Traffic Explorer:

One more place you can see number of organic keywords is on "Top Pages" tab: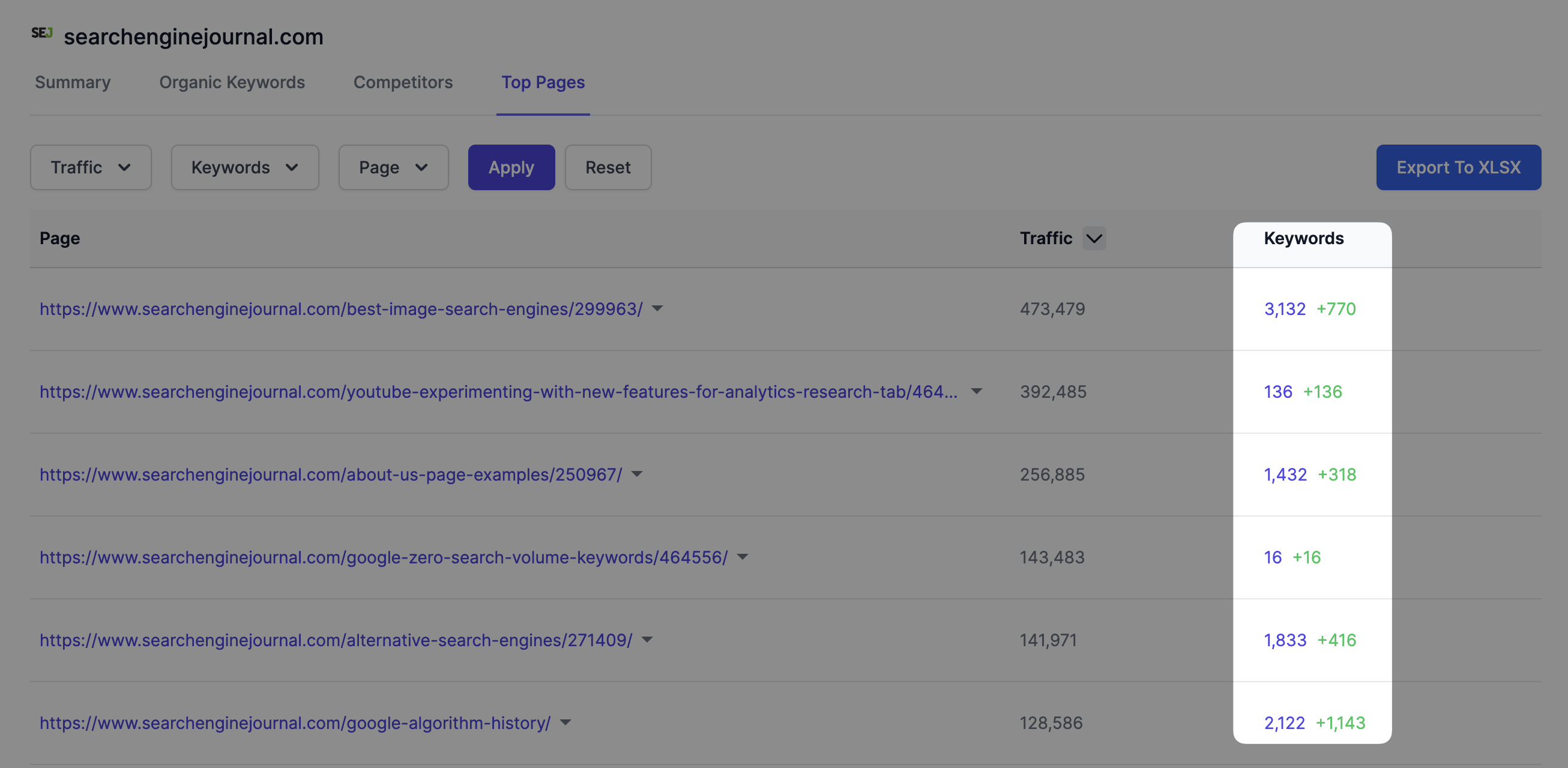 Please be noted that number of organic keywords is also region-specific, which means you have to choose the region before viewing the number.
Larseo updates the keyword data daily, however, due to the huge number of keywords out there, it is only possible to refresh the data every 7-28 days.
Organic Traffic
This metric provides an estimate of the monthly volume of organic search traffic that the target website or web page receives.
Below is the formula for how we calculate the organic traffic each keyword brings to the website or webpage:
Estimated Traffic of Keyword = CTR (click-through rate) * Search Volume
After that, we sum all ranked keywords' results of that particular website or webpage to get the estimated organic traffic. Please be noted that it is only an estimated number, and not 100% accurate. To the best of my knowledge, I firmly believe that no tool on the market can tell you exactly how much traffic a site gets.
Although our organic traffic metric cannot reveal the exact amount of organic traffic a site receives, it works amazingly well for comparing traffic to sites in the same niche.
The popular question
During the beta testing, the question I have been asked the most is "why does the estimated traffic on Larseo differ from other tools like Ahrefs, SEMRush, or Ubersuggest?"
As I said above, the estimated traffic metric is calculated based on CTR and search volume. Each tool has different CTR modeling and search volume data source so the result will be different for each tool. For example, Larseo is using Google Keyword Planner as a data source while Ahrefs is using data from clickstream to calculate the search volume.
I aslo asked some active beta users to have their data from Google Analytics and Google Search Console to compare estimated traffic data on Larseo. Arter reviewing about 100 websites, I noticed that Larseo provides better results for most of the small-medium websites that have ranked less than 50.000 keywords, and not too many keywords have search volume greater than 500.000. However, the estimated traffic for large websites is over-estimated. Below is the data of some typical websites:
Website #1
This data is for Sep 2022 (current month). U.S traffic from Google Analytics is 272, while Larseo shows 236.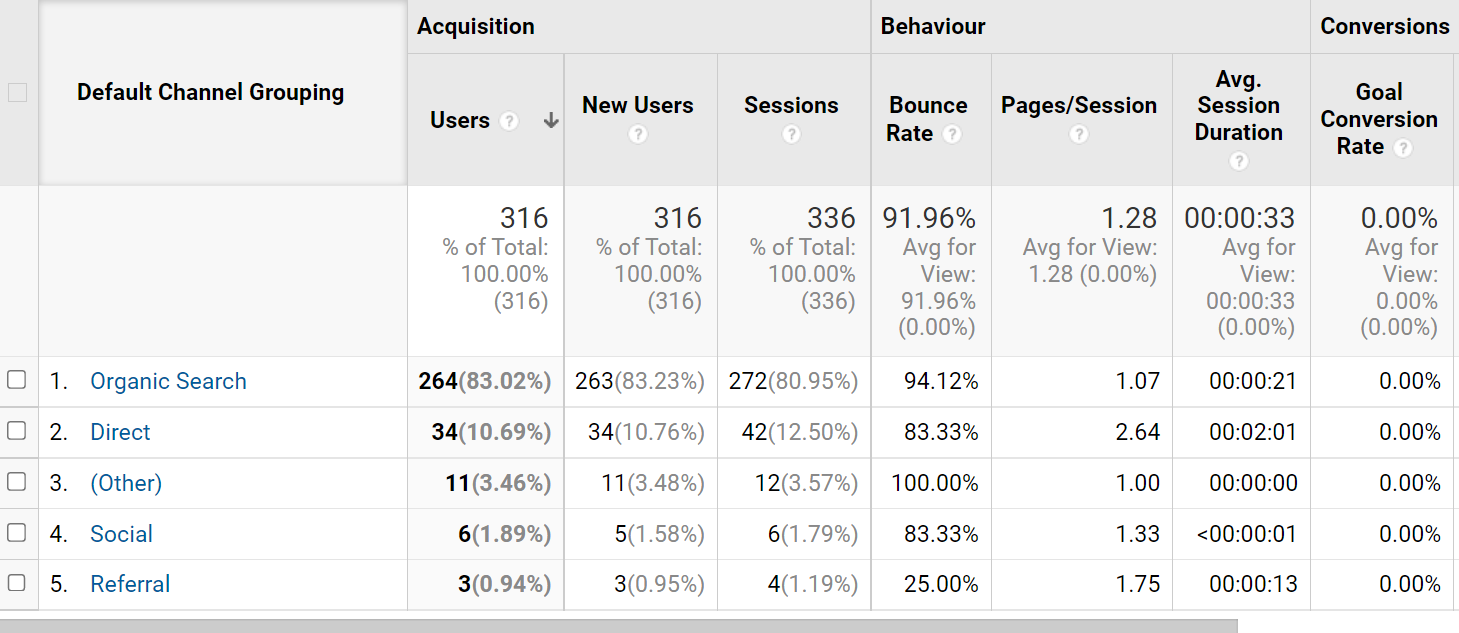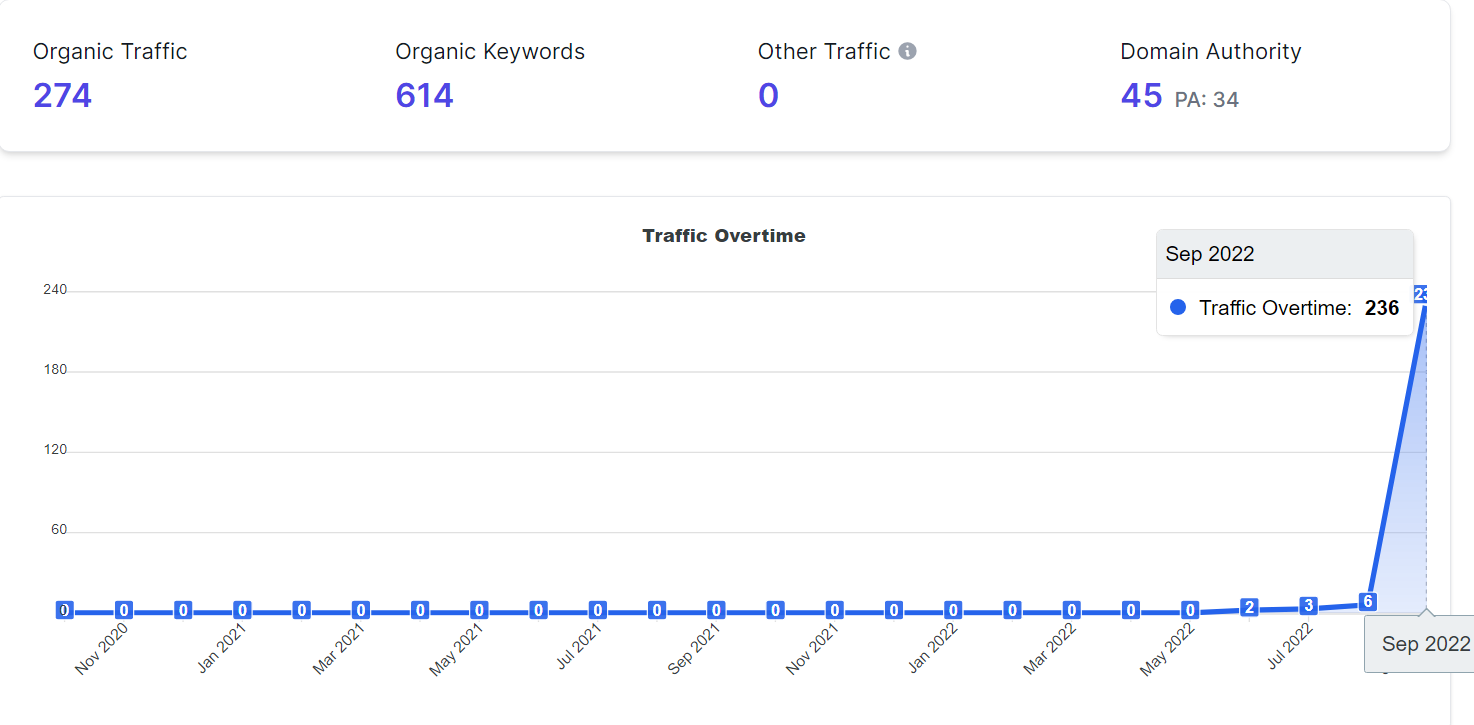 Website #2
This website has 122 clicks from Google Analytics on Step 2022 (current month), while Larseo shows 38 but if you look the Other traffic metric (Paid + Featured Snippet + Local Pack), you will see it has 106, so 106 + 38 = 144 (pretty close with Google Analytics data). The owner confirmed with me his website has paid traffic.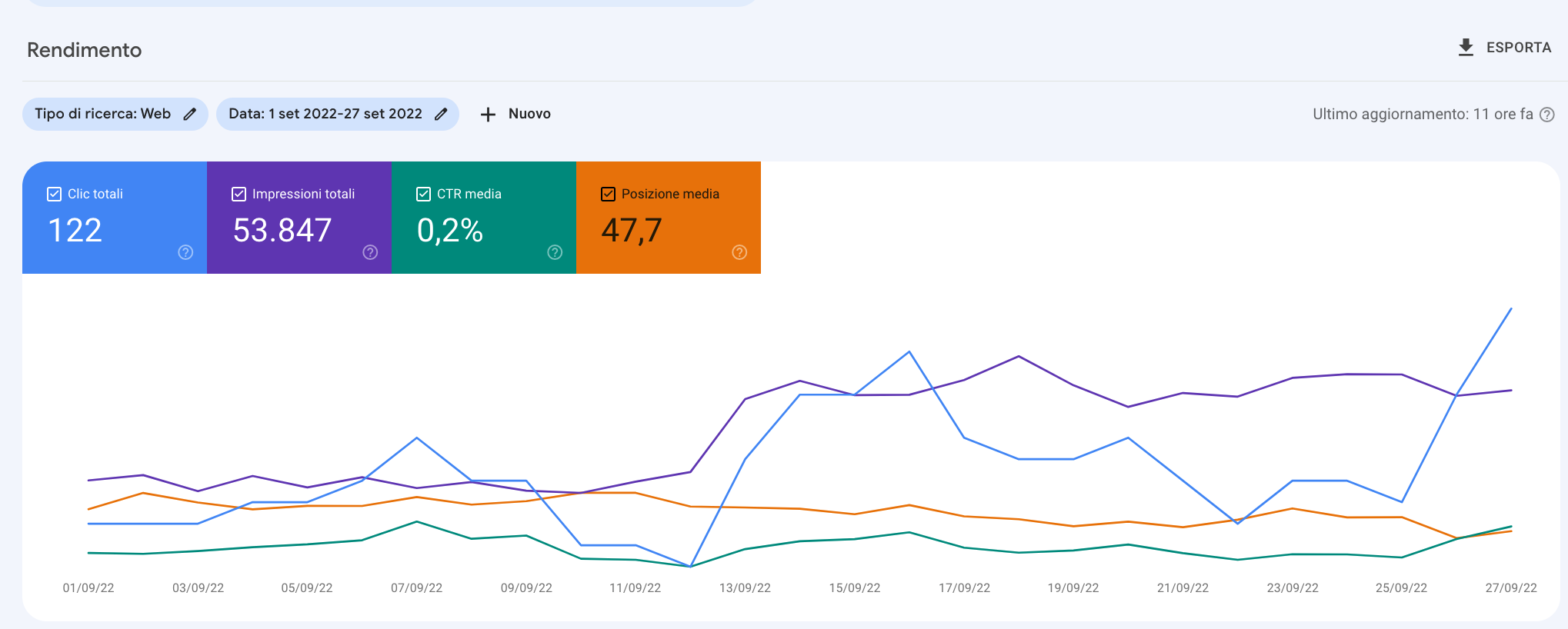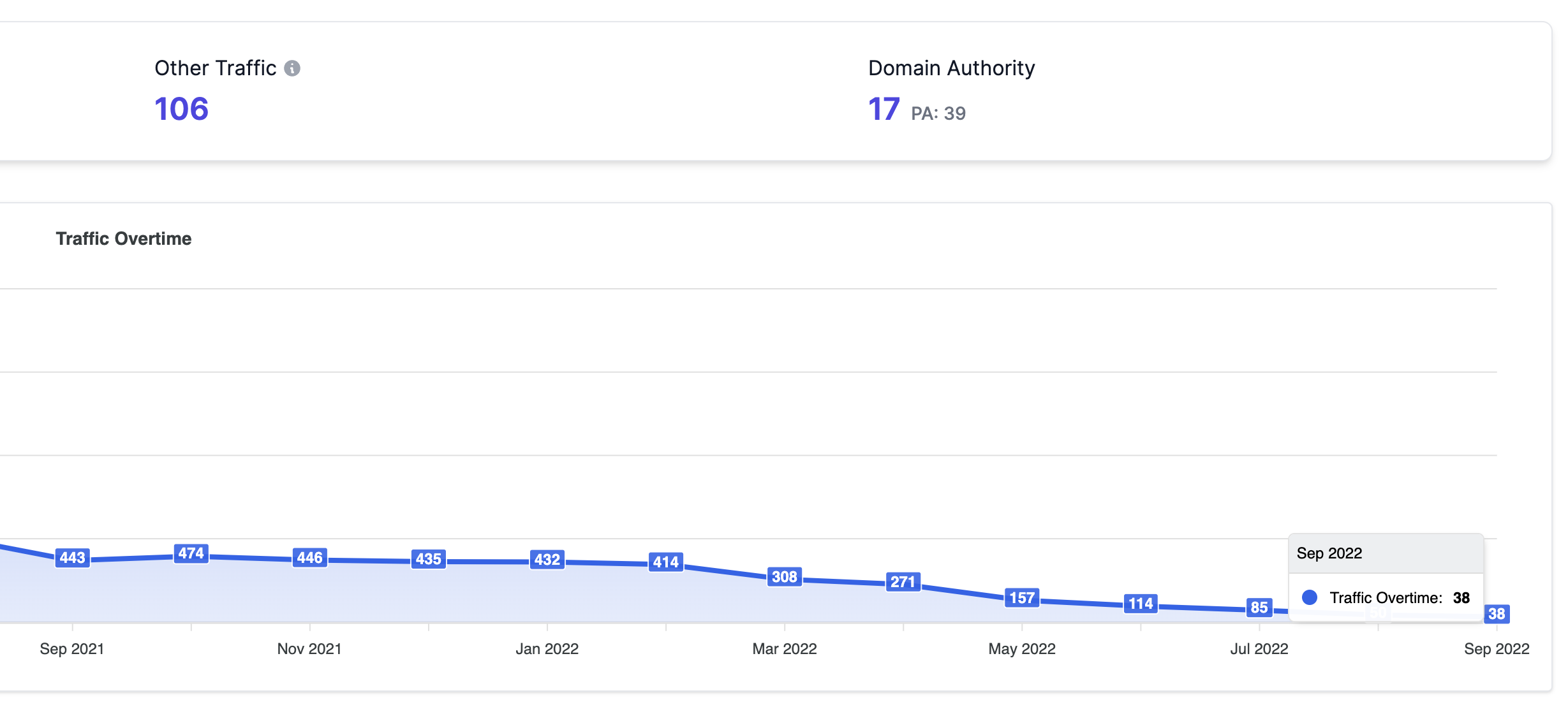 Website #3
This website has 99% traffic from the U.S. Here is data for the current month (Sep 2022).
2.600 sessions and 2.100 users from Google Analytics: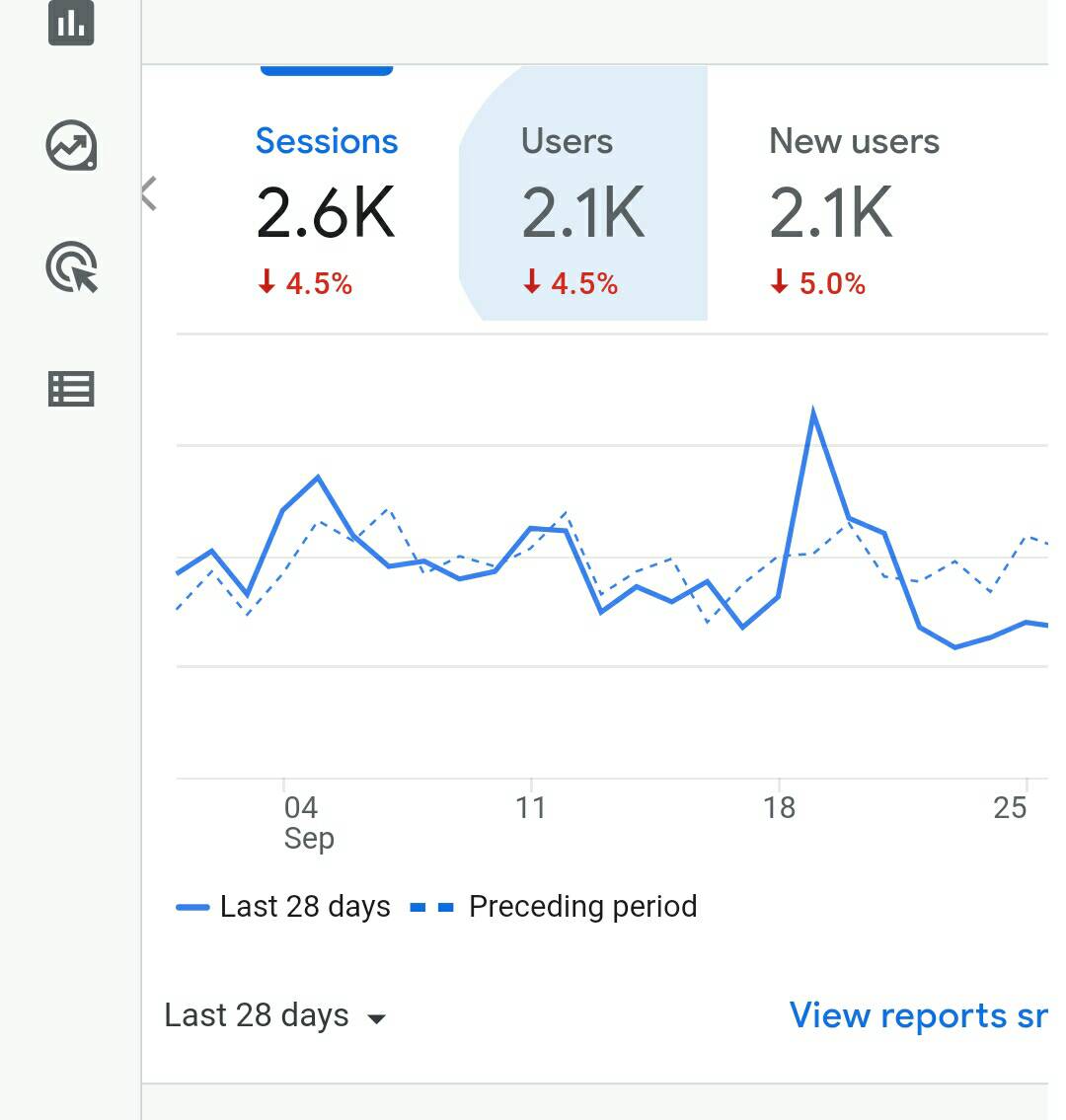 Estimated traffic data from Larseo: 2,300.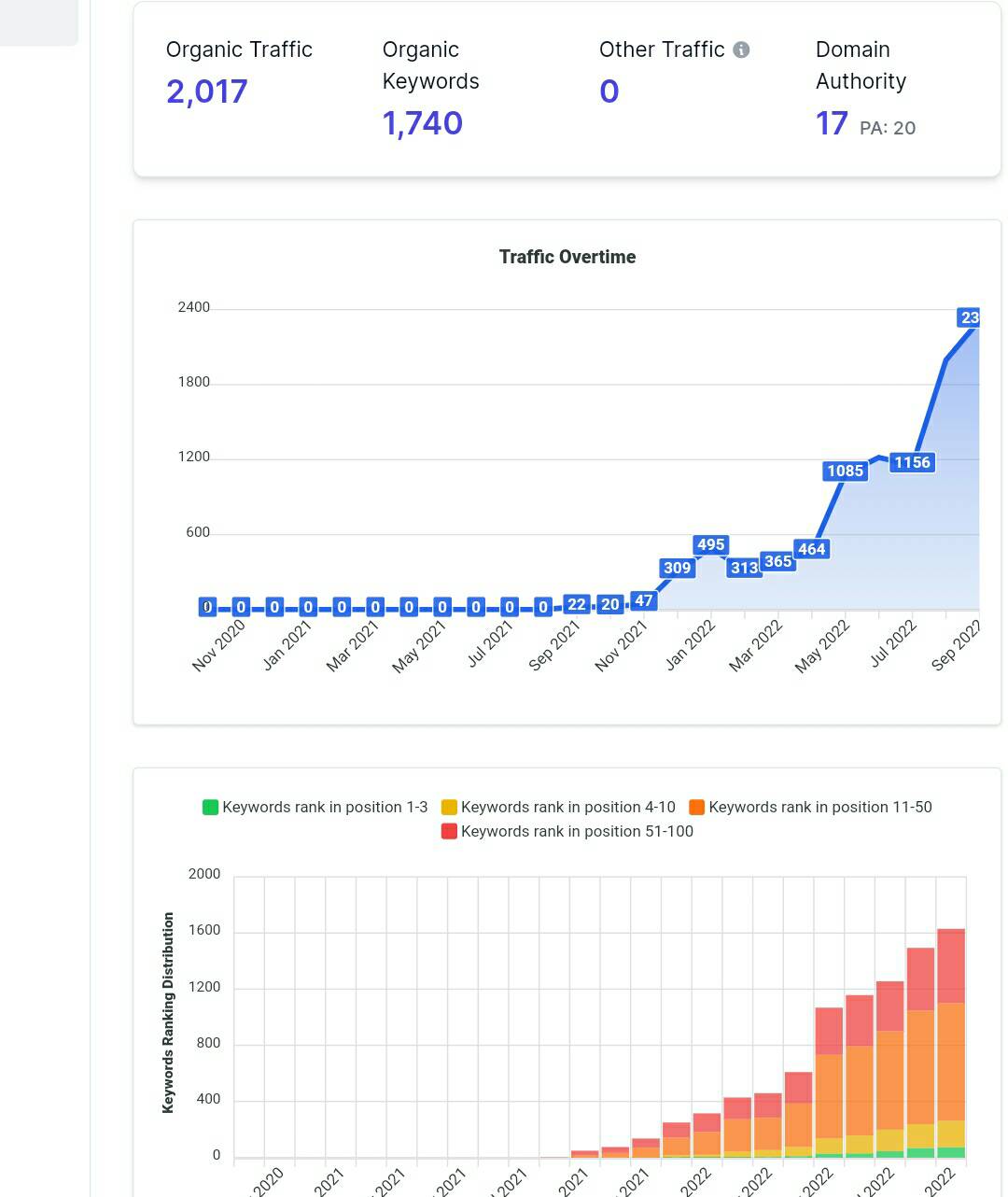 Website #4
This website has 11.042 clicks from Google Search Console in August while Larseo shows 18.895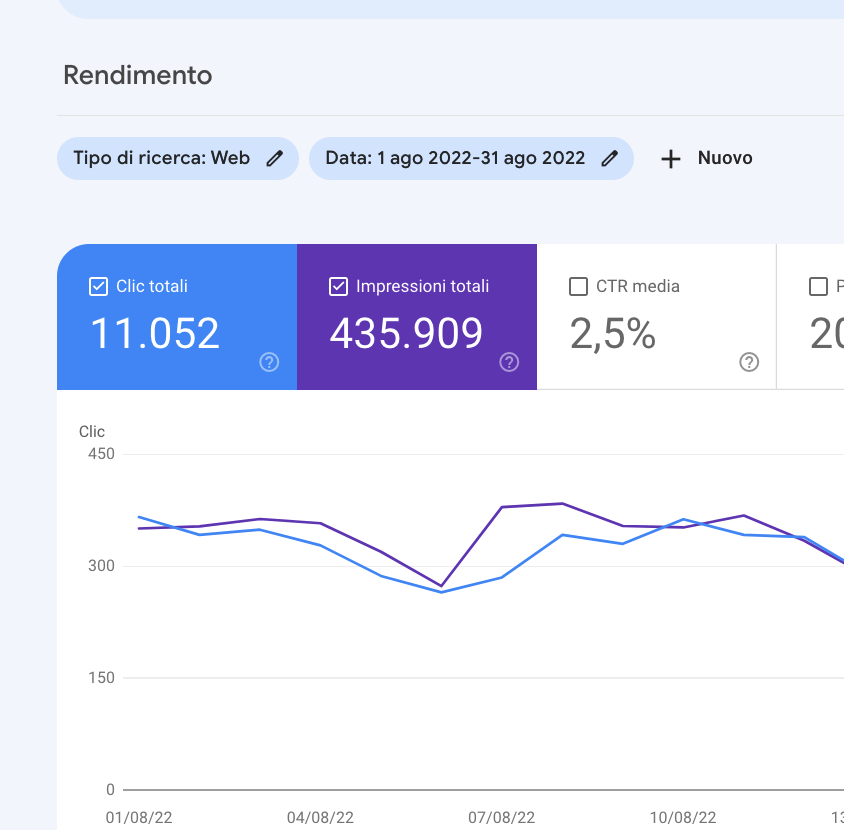 Website #5
This website has 62.661 sessions from India and Larseo shows ~72.000.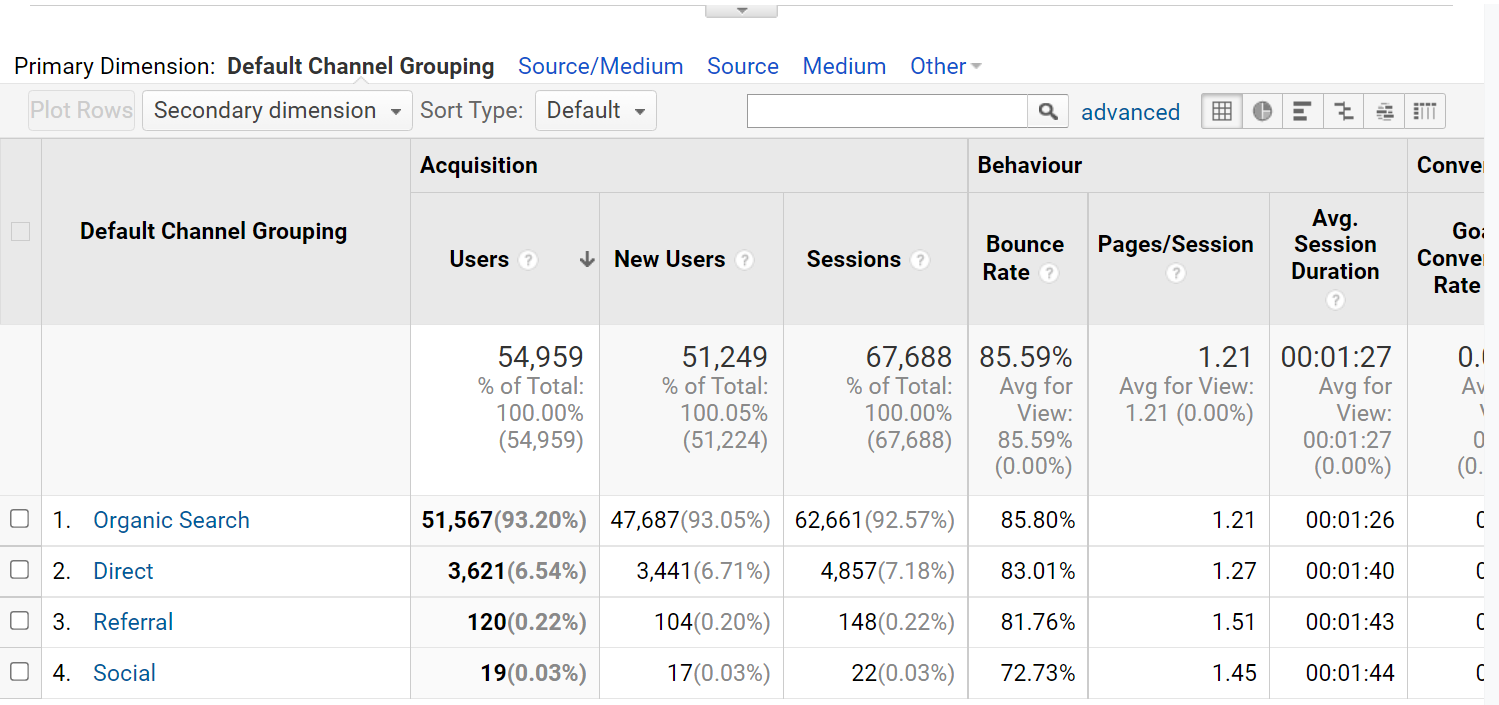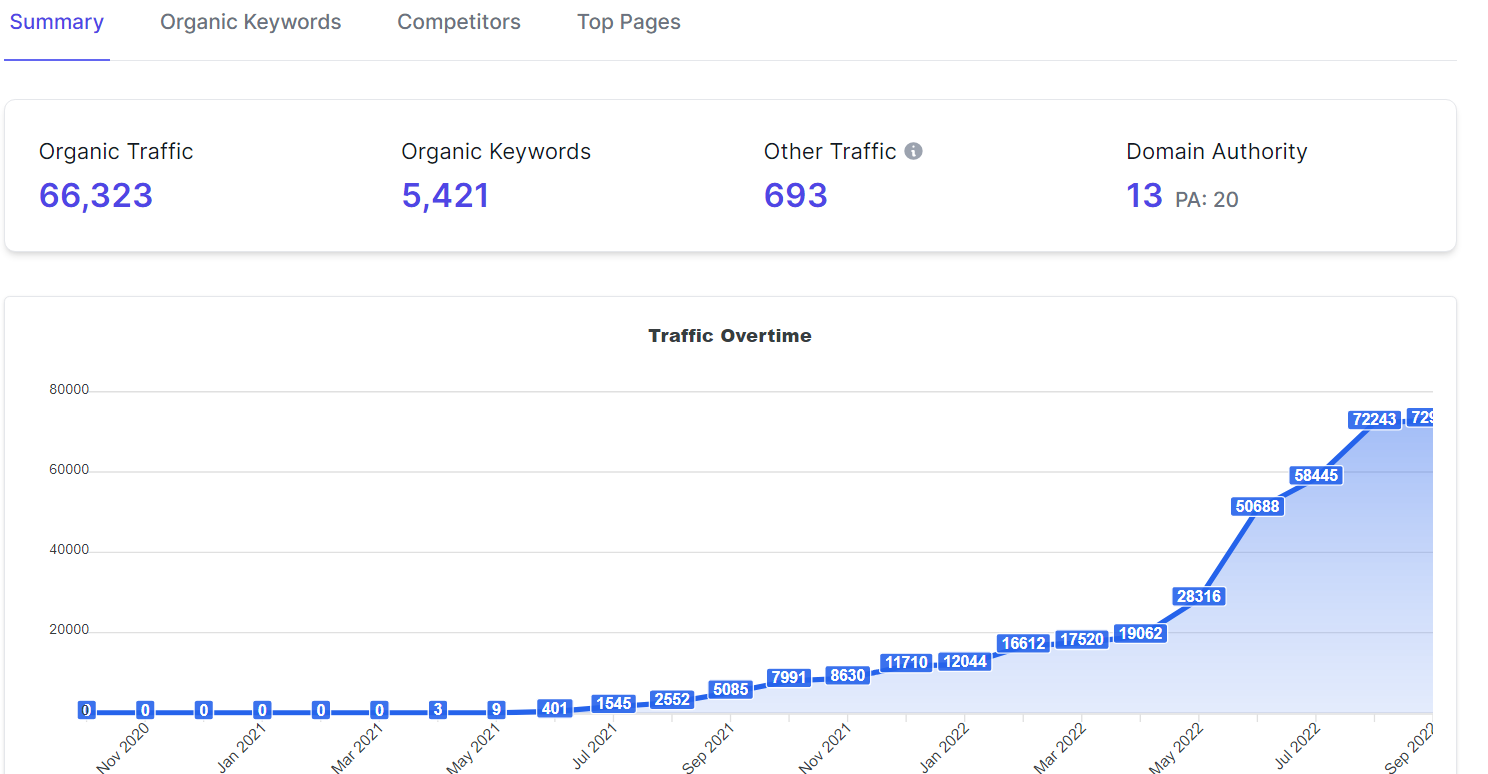 Website #6
This website has 10.646 users (Användare = Users) from Google Analytics in August and Larseo shows ~7.000.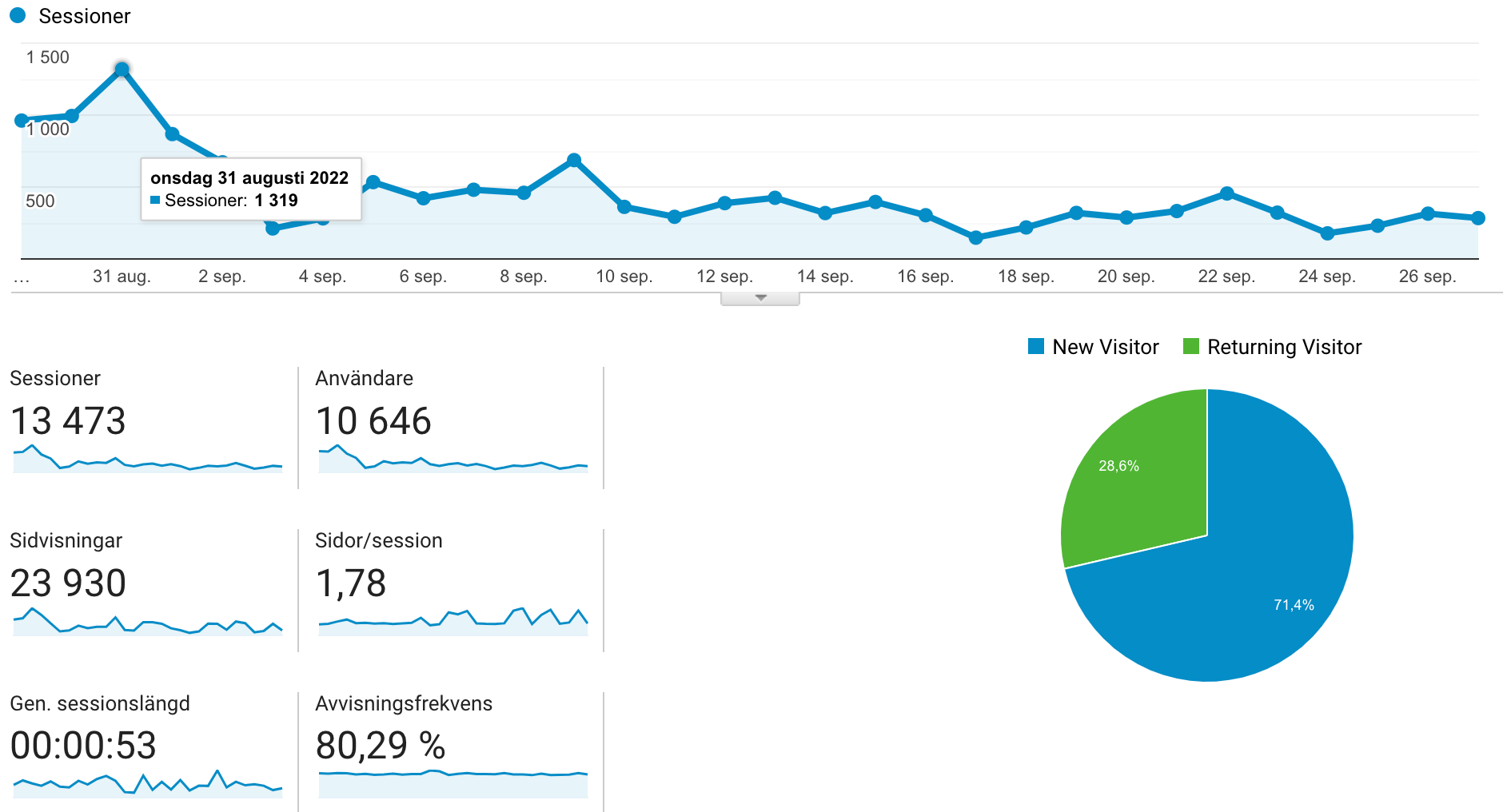 Website #7
This website has 12.615 sessions on Sep 2022 (current month) and Larseo shows ~16000.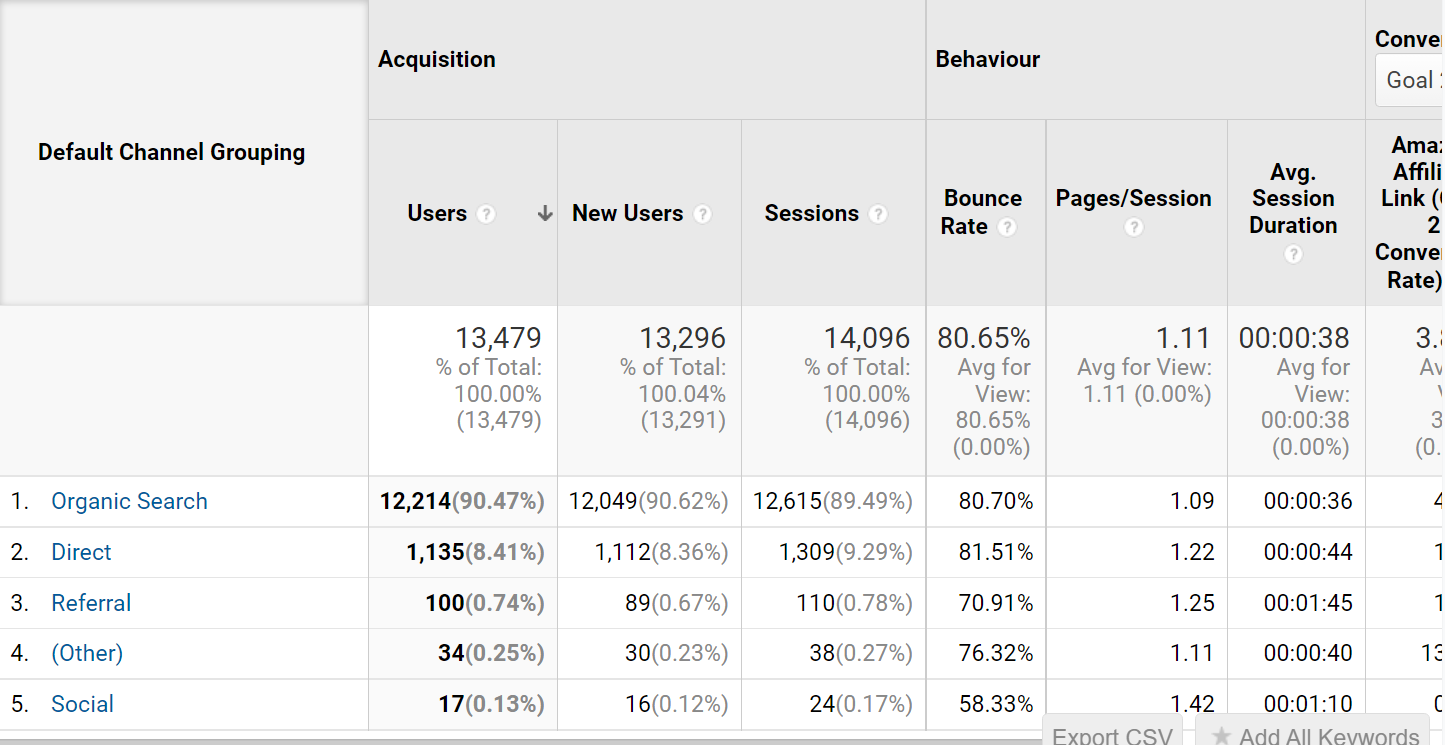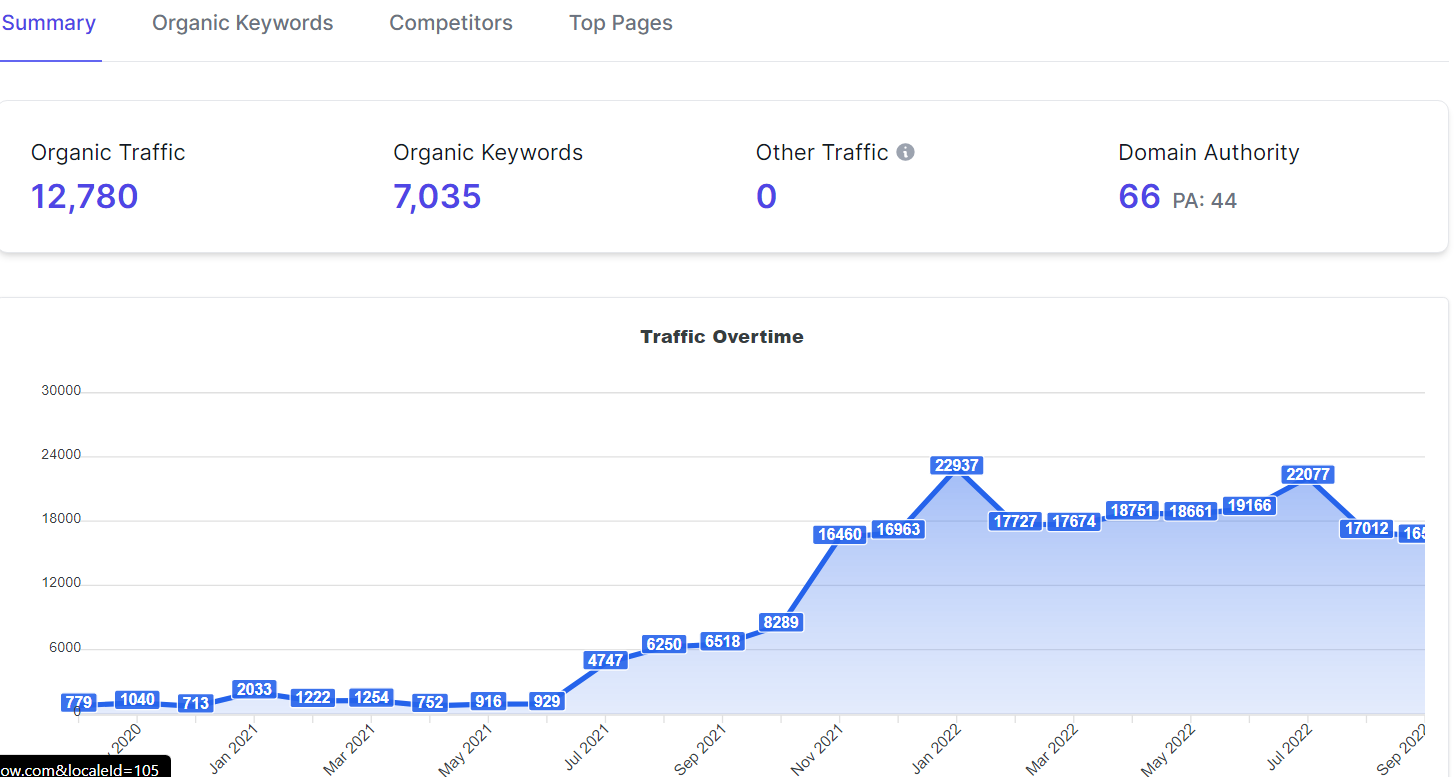 Website #8
Sessions metric from Google Analytics is 236 (U.S data) and estimated traffic from Larseo is 219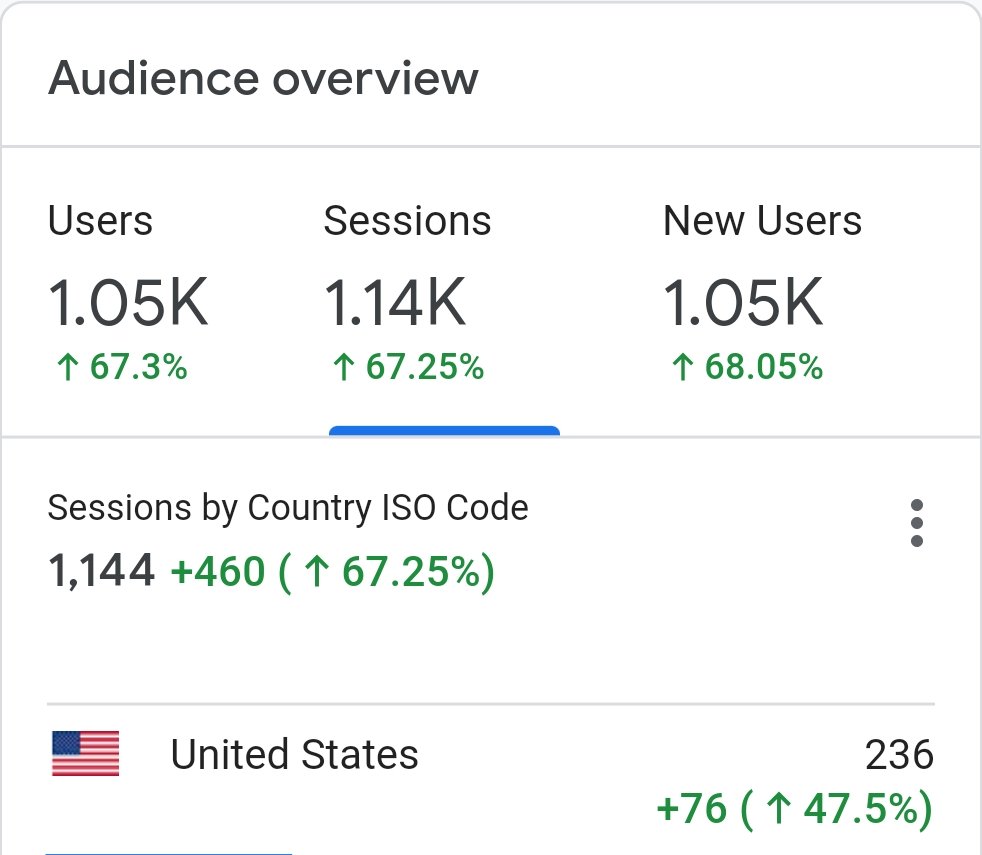 Website #9
This website has 2.740 page views from the U.S and Larseo shows ~2.500.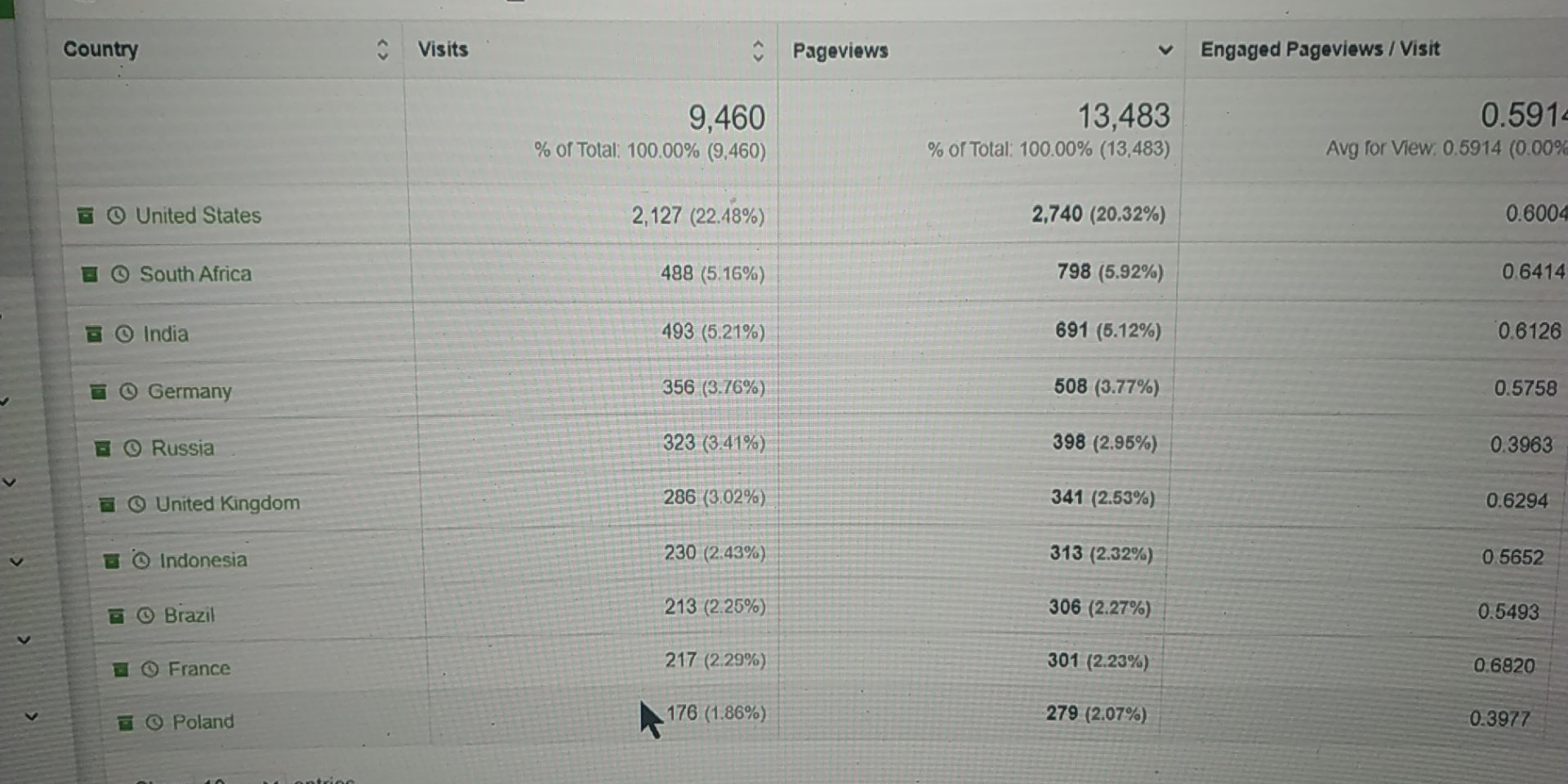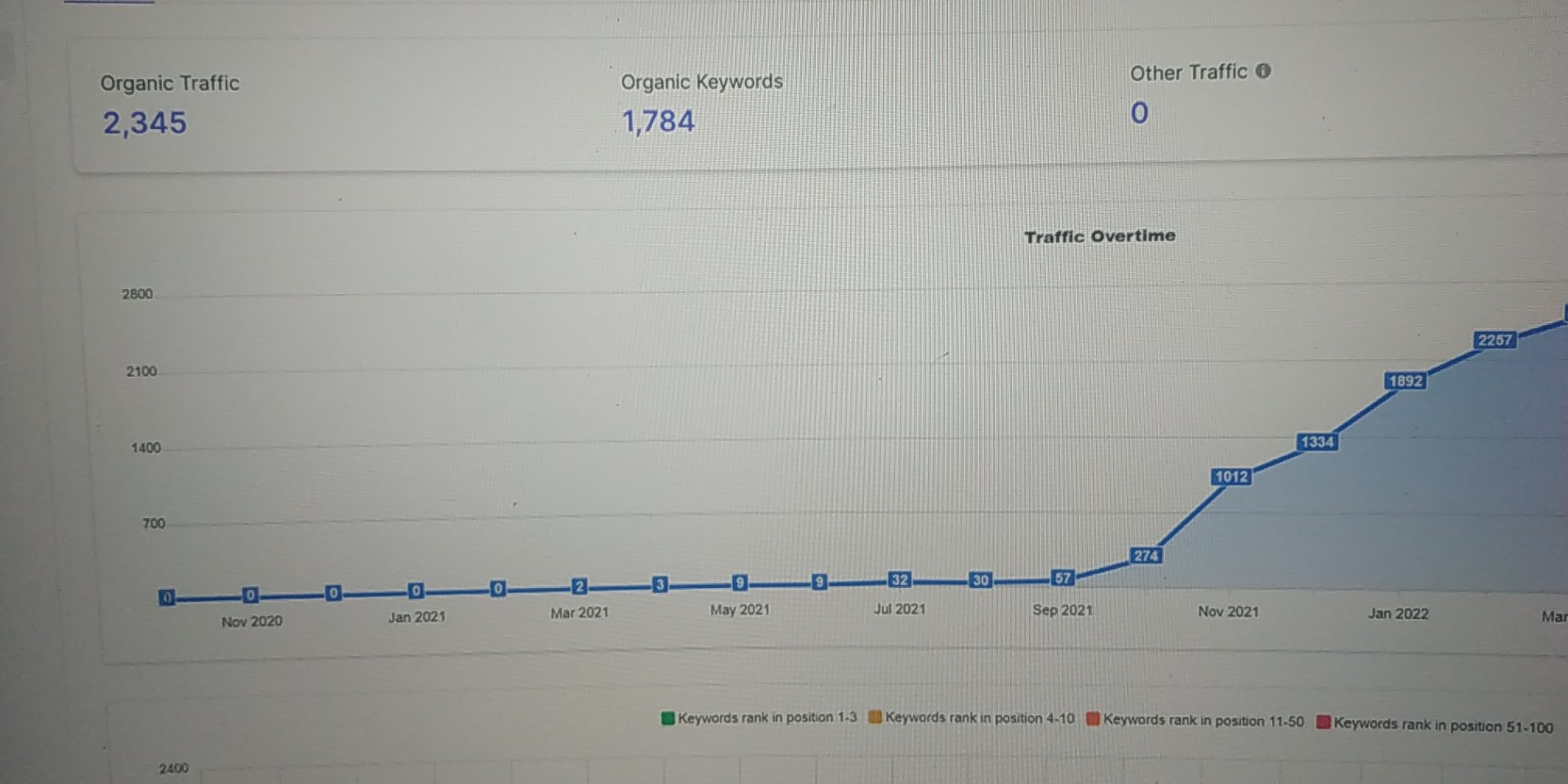 Website #10
This website has ~2000 users from the U.S and Larseo shows 2.261.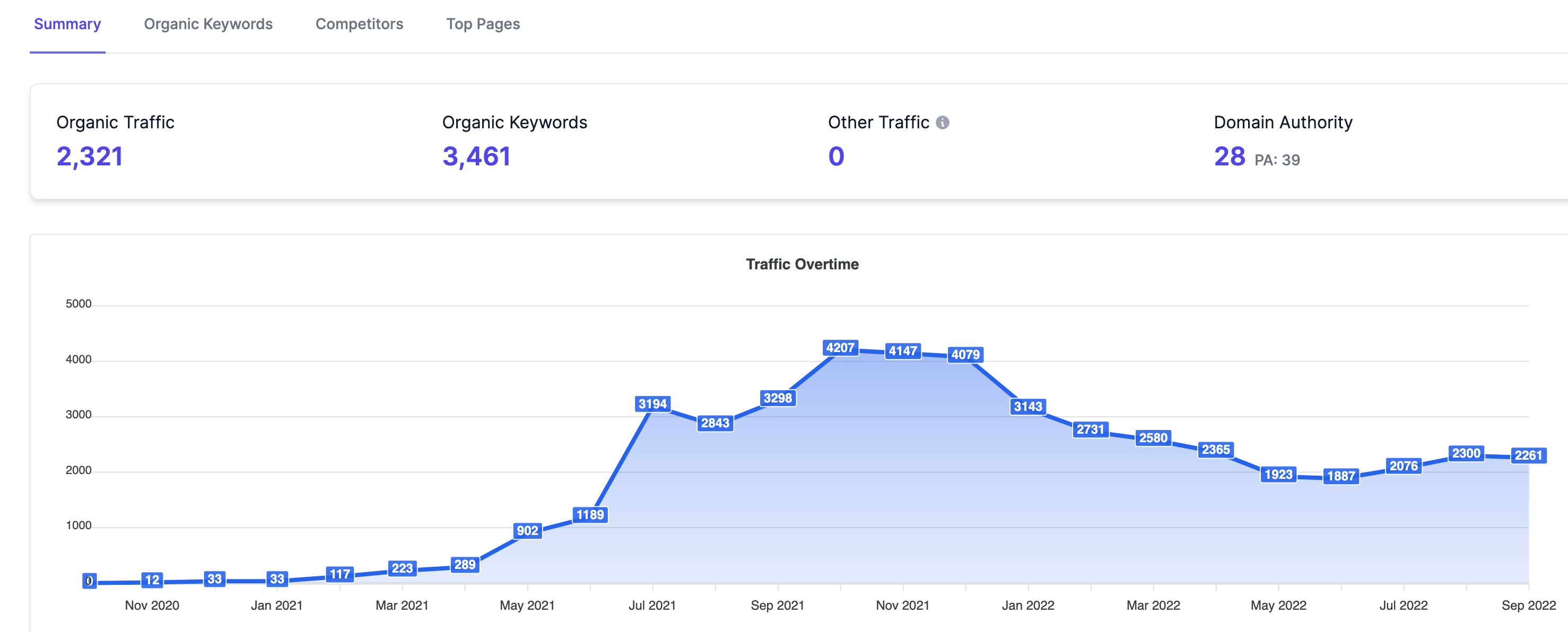 Website #11
This website has 22.577 sessions from the U.S and Larseo shows 66.115.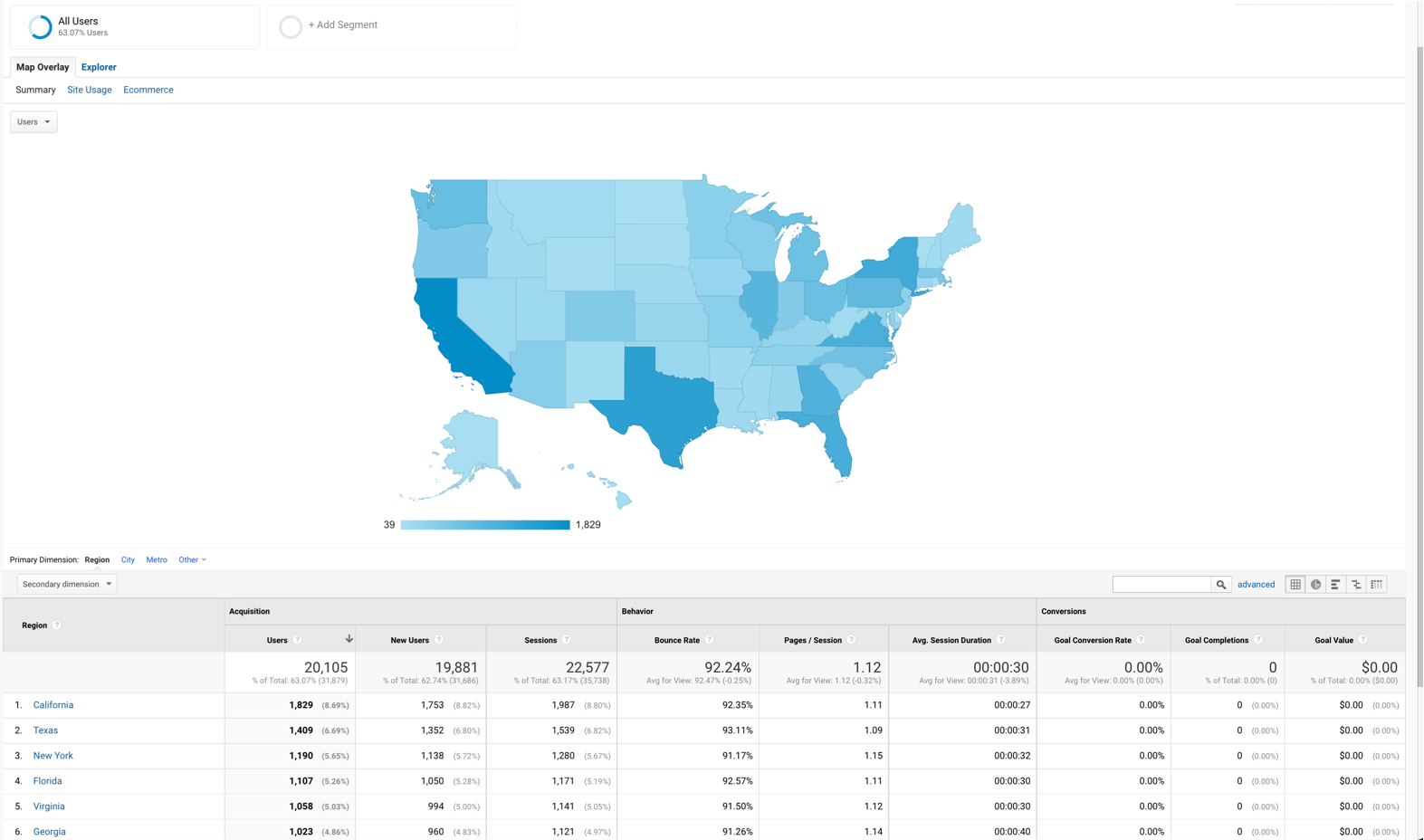 Website #12
This website has 1.029.431 page views and Larseo shows 4.389.717 (This is way too much off).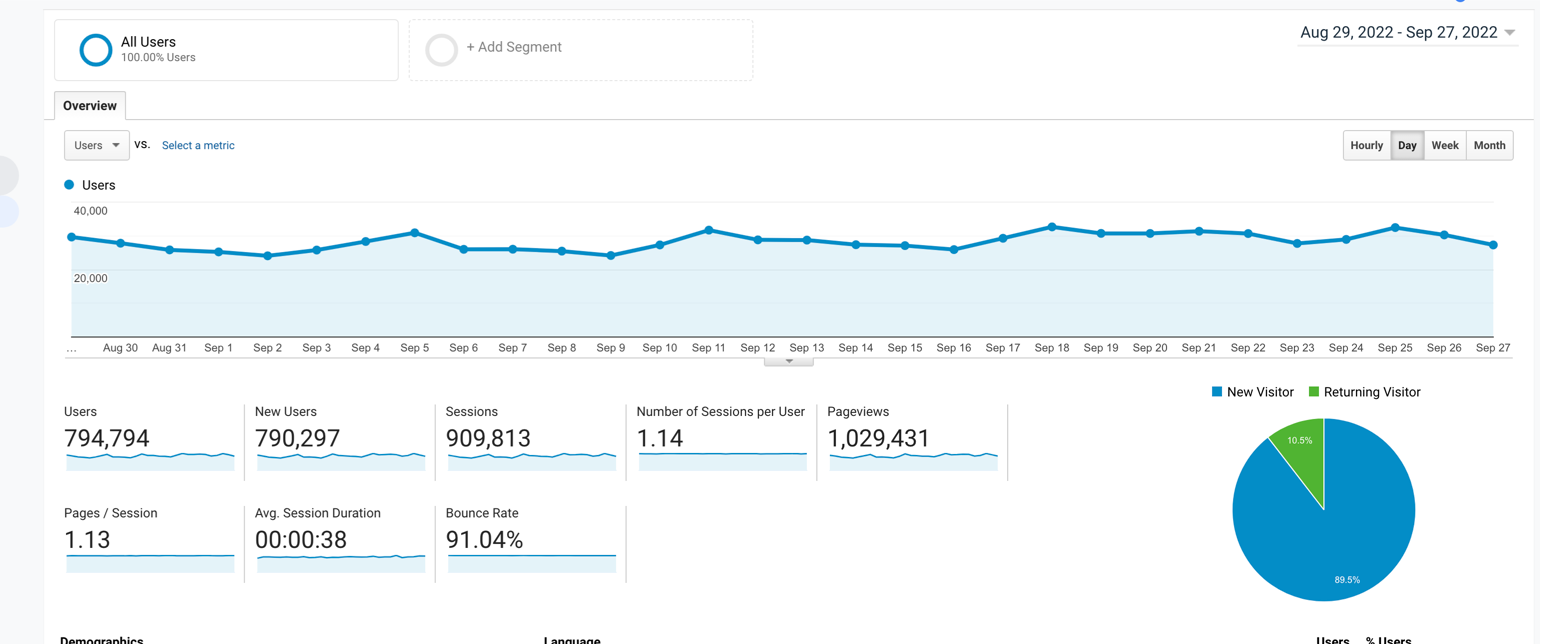 As you can see, Larseo over-estimates traffic of websites #11, #12. I am working with some other data providers to get better results for these kinds of websites. Hopefully, I can deploy it, and the global traffic checker in the next month.
Again, there is no tool that can give you absolutely accurate traffic data unless you allow the tool to connect to your Google Analytics or Google Search Console account. You should take it as a reference number or use it to compare with the websites in the same niche. For example, when checking traffic data of this website on Larseo, I can tell this website got a penalty from Google May 2002 Core Update.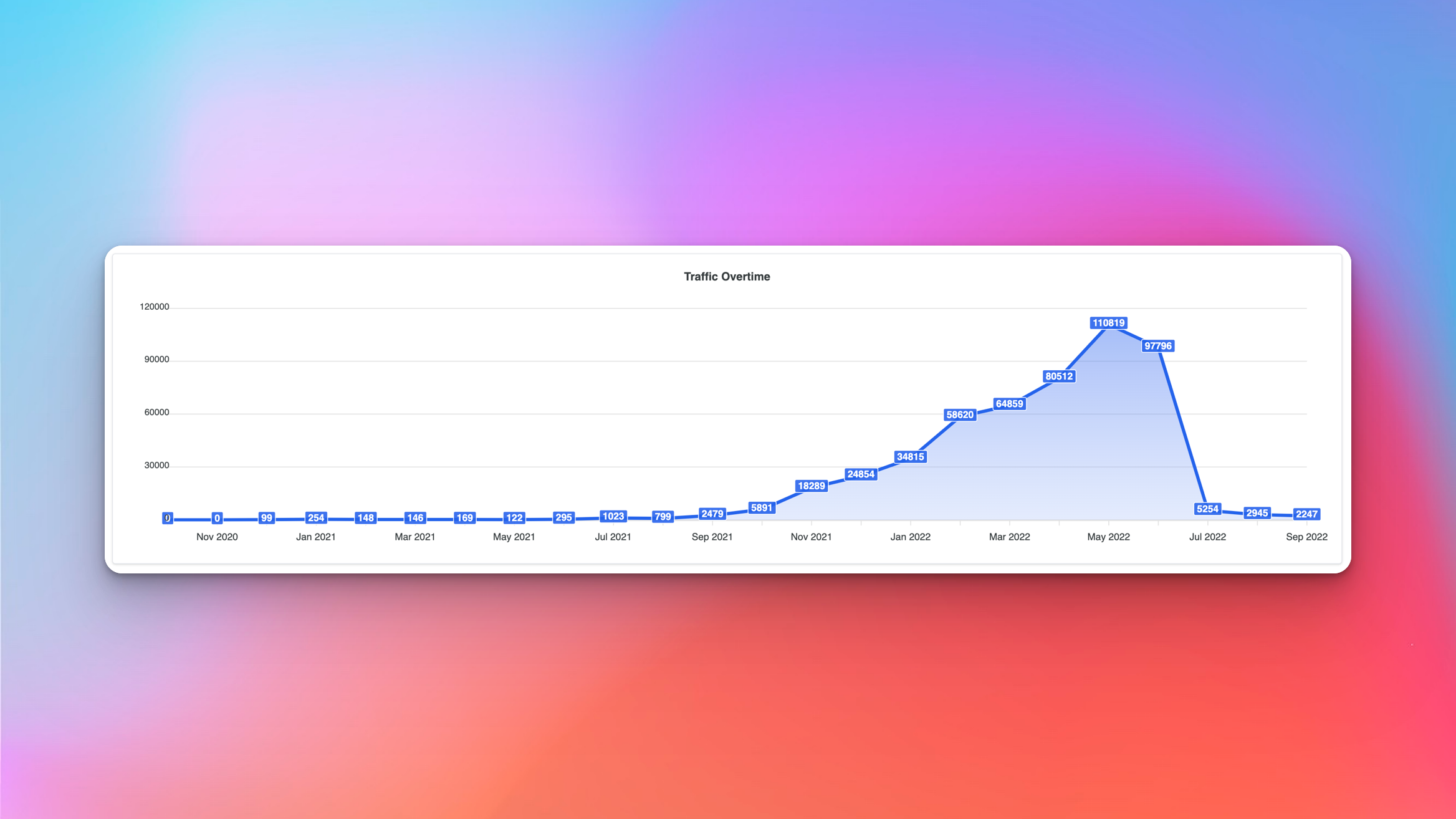 Domain Score (DS)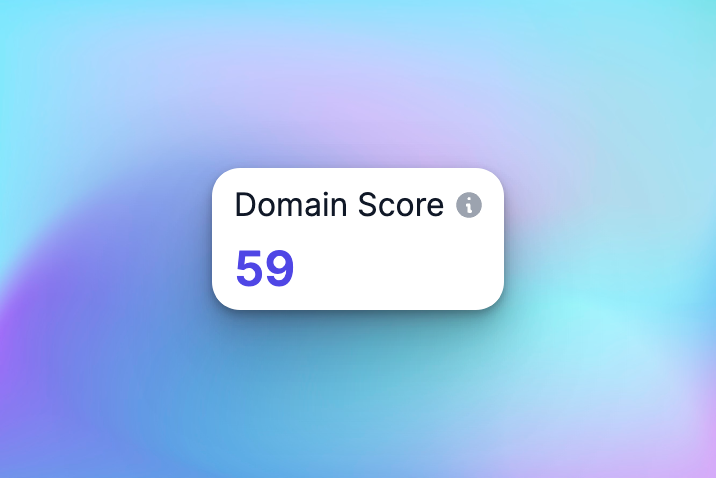 Domain Score (DS) shows the strength of a target website's backlink profile on a logarithmic scale from 0 to 100, with the latter being the strongest. It also estimates how authoritative a site is, how much Google trusts them and how much SEO impact their links have when they send hyperlinks to another site.
When link prospecting, DS is a very useful metric to consider since links from websites with a high DS are much more valuable than links from websites with a lower DS.
Please be aware that Larseo's DR metric is only based on links. We don't consider factors like a website's search traffic, the age of its domain, or the reputation of a parent brand.
Page Score (PS)
It is similar to Domain Score, the only difference is it targets a page instead of a domain.
Referring Domains and Backlinks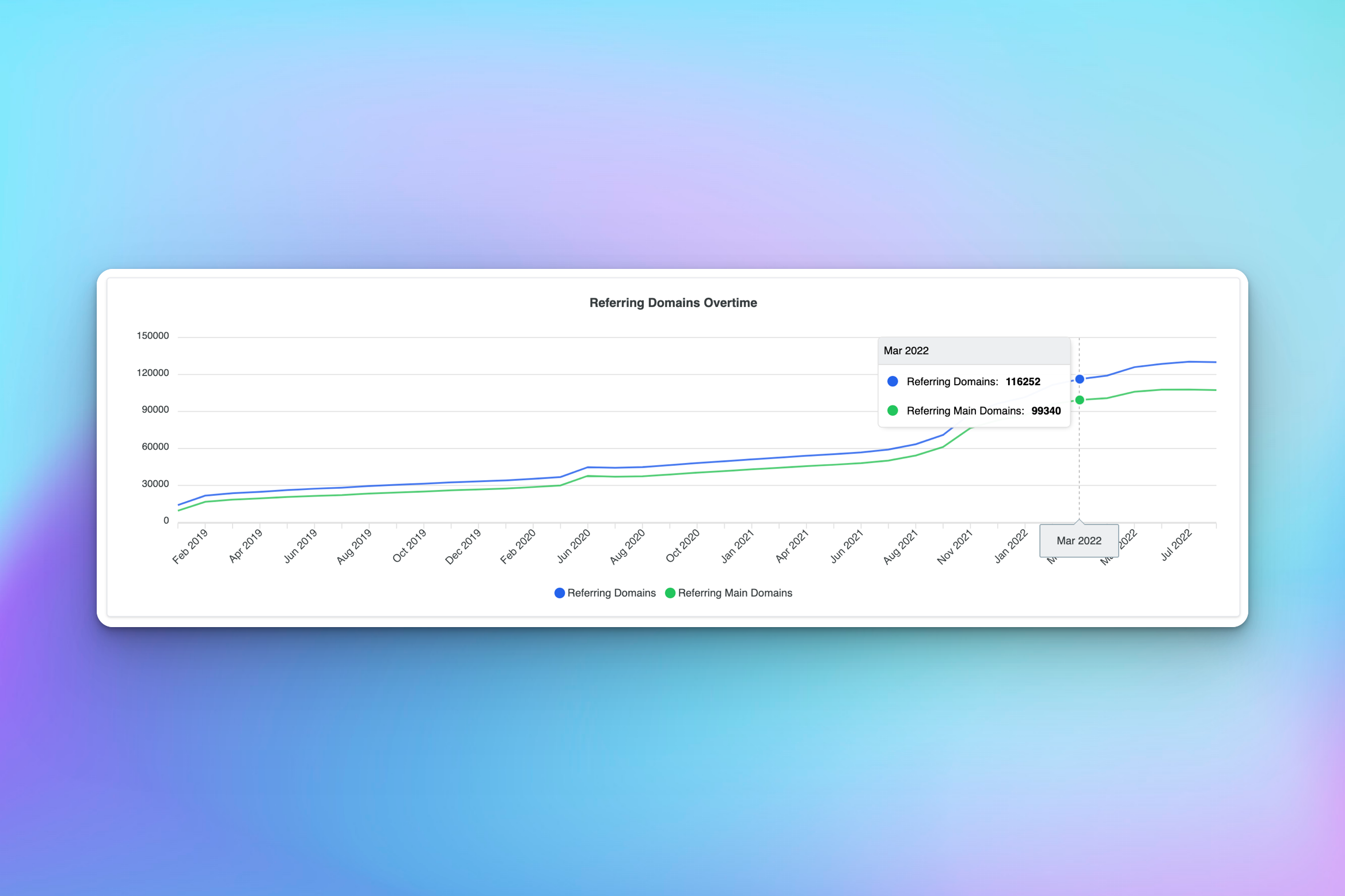 Referring domains are website domains that link to your website.
Backlinks are hyperlinks that point from one website to another. You can have multiple backlinks from a website or web page.
In simple words, backlinks are hyperlinks, and referring domains are the websites that generate these links.
For example, if a web page has a backlink from Backlinko, then it has one referring domain. If it has two backlinks from Backlinko, it still has one referring domain. If it has a link each from Backlinko and Larseo, it has two referring domains.
Backlinks from top referring domains (you can measure it by DS - Domain Score) are critical to increasing organic traffic.
Below are a few factors you need to consider when looking for backlinks:
The quality of the website

The relevance of the website

The authority of the website
Larseo has in-house crawlers to crawl backlinks but those crawlers only have started since 2021, so we still need to use external data from other data providers to merge and enrich Larseo's backlink database.
Larseo updates the keyword data daily, however, due to a huge number of backlinks out there, it is only possible to refresh the data every 1-3 weeks depending on how big the website is.
Spam Score
Spam Score is Larseo's proprietary metric measuring the spam level of a page, or an entire domain (depending on the endpoint you're using). It adopts values between 0% and 100%
A score of 0%-30% is considered a low Spam Score.

A score of 31%-60% is considered a medium Spam Score.

A score of 61%-100% is considered a high Spam Score.
The score is calculated based on multiple signals, from whether the page has contact information to which protocol it uses (HTTP or HTTPS), whether pages have title tags, meta descriptions, or the quantity/ratio of external/internal links on each page of that website, etc.
Keyword difficulty (KD)
Keyword Difficulty in Larseo is a metric reflecting how tough it is to rank in the top 10 organic results for a keyword. It can range from 1 to 100, with 1 being very easy and 100 being very difficult.
Larseo calculated KD based on the top 10 websites that rank organically for the keyword on the first page of Google and their backlink profiles. It means, if a site with few backlinks can reach on top 1 of SERPs of a particular keyword, the KD metric of that keyword should be small.
Important: Since KD is only calculated based on backlink profiles (which is the way other tools are also doing), sometimes, this metric is not accurate in the way it is supposed to be: lower KD is easier to rank.
To answer the question of whether your website can rank for a keyword, you should analyze your competitors on SERPs and their content to see if you can outrank them with better content. Luckily, Larseo provides a tool to analyze the top 10 websites on Google's first page along with their domain authority, backlinks, and traffic. Within those data, you can easily find low-hanging fruit keywords.
I highly recommend reading this article to understand how it works: Finding low competition keywords With Larseo's Keyword Finder.
Data & Cache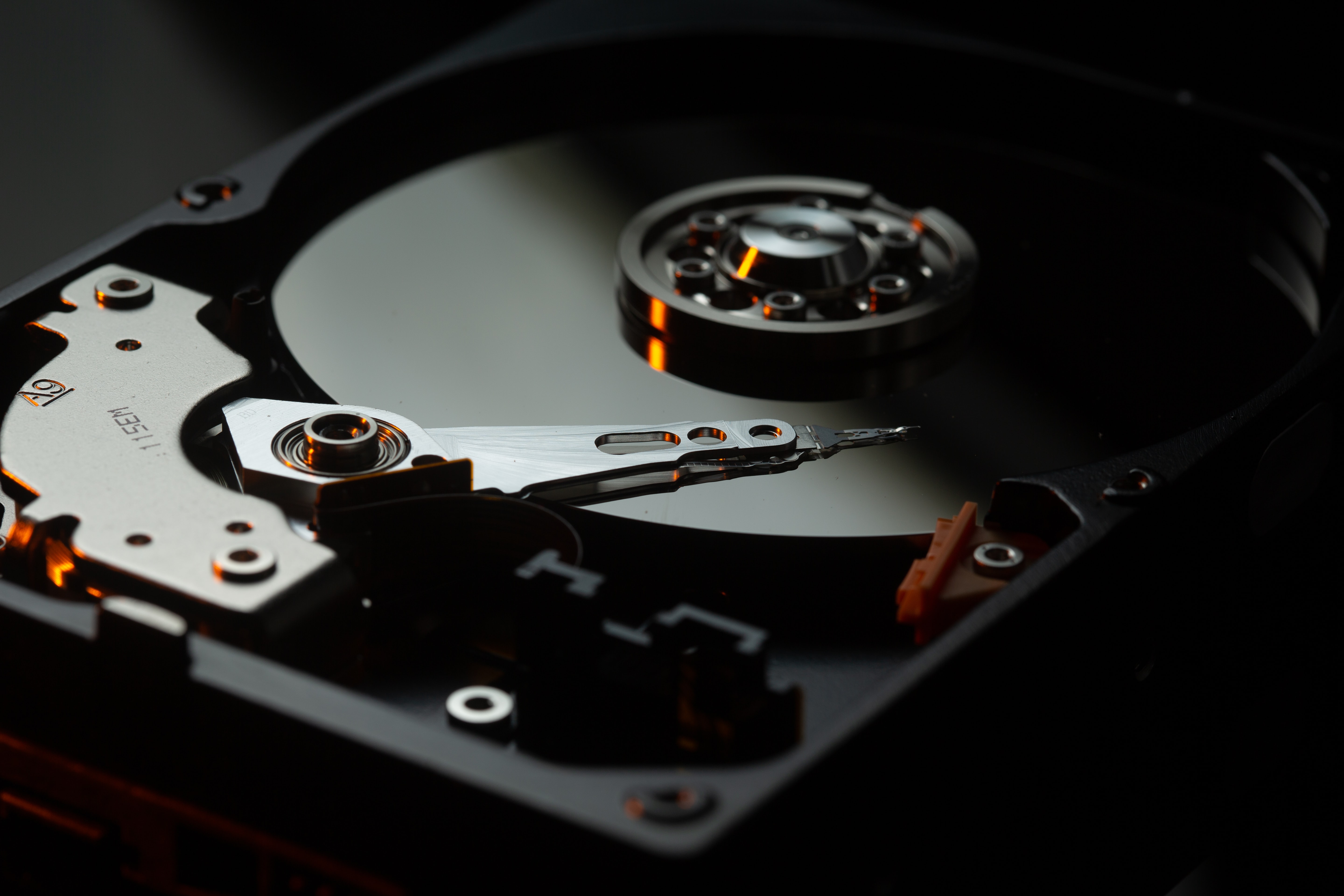 Keyword Finder always gives you fresh data (including search volume, SERPs, keyword database, DA, backlink, and monthly traffic). Apart from that, report data from other tools are cached in short TTL (Time-to-live) to increase the speed.
If you see the total backlinks of a page in the Top Pages report (Traffic Explorer tool) differs from the total backlinks in the Backlink Explorer tool which means the data from the Top Pages report is cached. Larseo store traffic data and backlink data in 2 different databases so every time Larseo pull backlink data for a traffic report, it will cache that data in a short time. By doing that, the next request for the same report will be much faster.
Conclusion
I hope this post should have made it easier for you to grasp Larseo' tools and data, and to derive useful information from them.
If you have any other questions about the metrics you see in Larseo, please reach out to me via Facebook or Twitter, and I'll be happy to help you.