How to Build a Topical Map (Works for Both New & Existing Websites)
In this tutorial, I will show you how to build a topic map from scratch using the new Topic Builder tool. The niche will be "home gym equipment", which is one of the niches I used for testing and benchmarking when building the tool. Let's get started!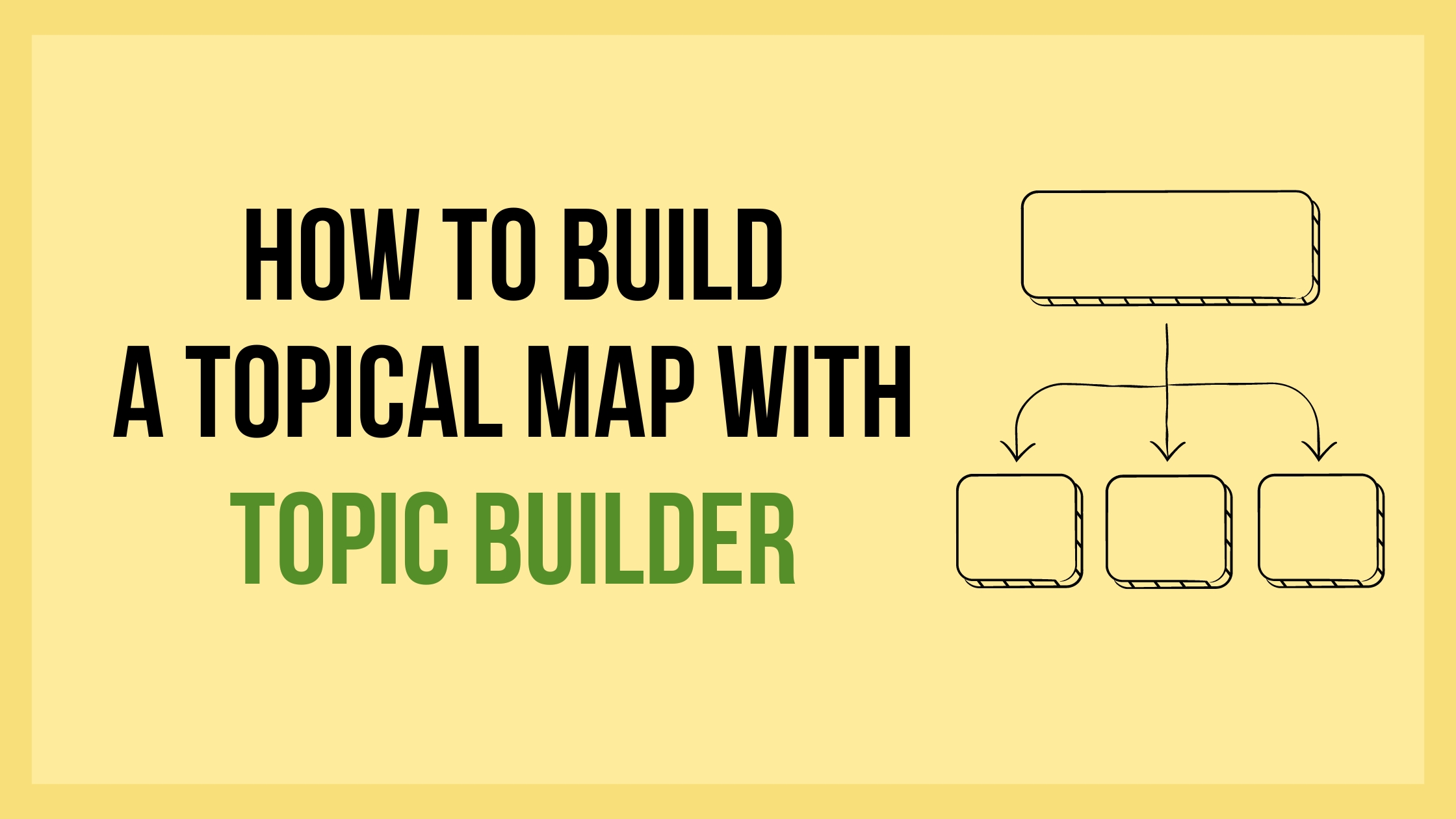 The outcome
Here is what you will get at the end. A topical map with this hierarchy: Niche > Topic > Hubs > Clusters > Keywords.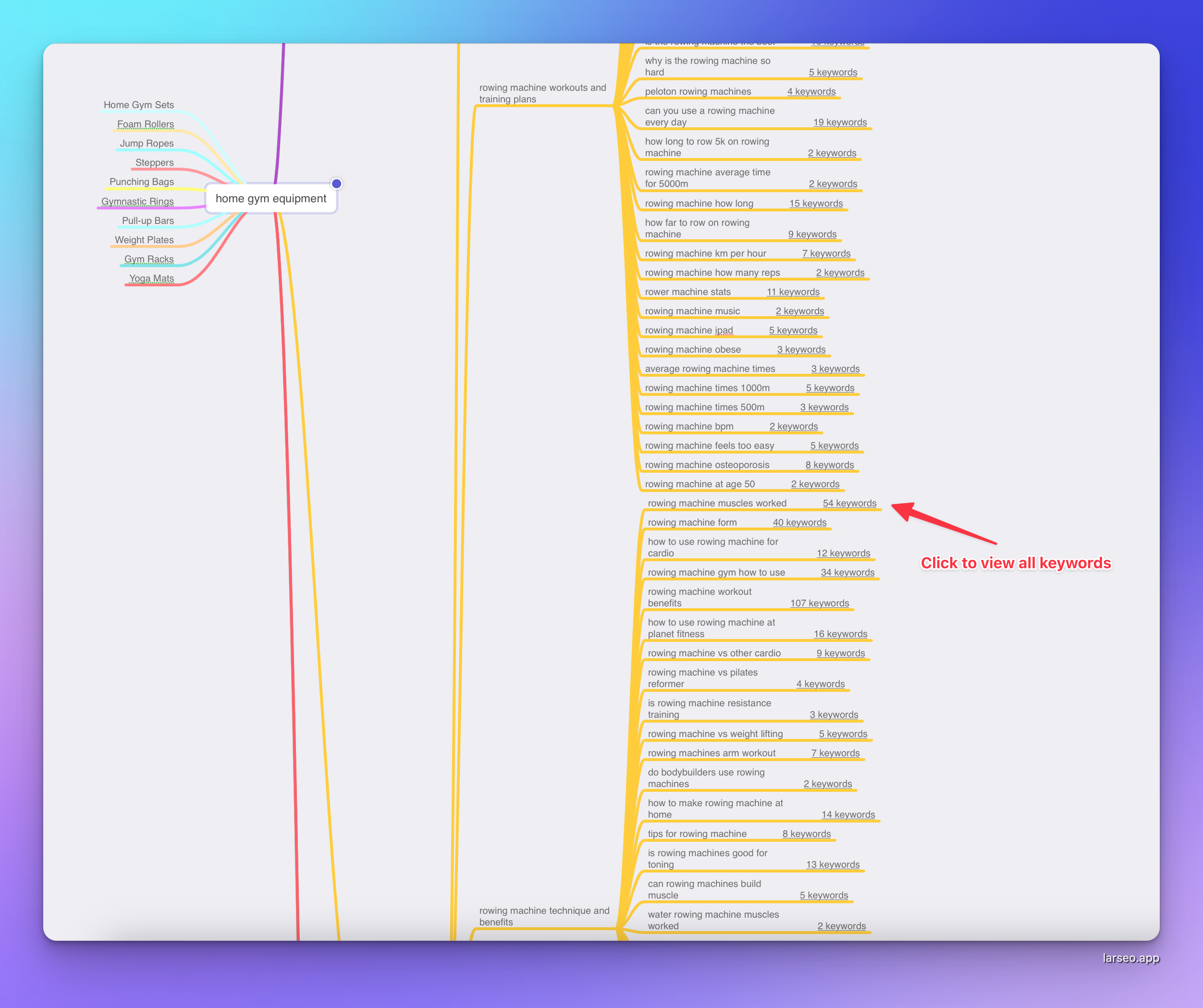 You can download the topical map at:
There are 4 steps to build a topical map with the Topic Builder tool.
Finding topics of your niche.

Discovering or importing keywords.

Run clustering on the keywords to generate clusters & hubs.

Maintain your topical map.
Step 1: Finding topics
To find topics, you can enter your niche in the search bar.

Larseo provides a comprehensive list of topics for your consideration. Nevertheless, it is important to note that each topic lacks associated hubs, clusters, or keywords. In order to proceed (step 2), you must choose a topic and either discover or import relevant keywords.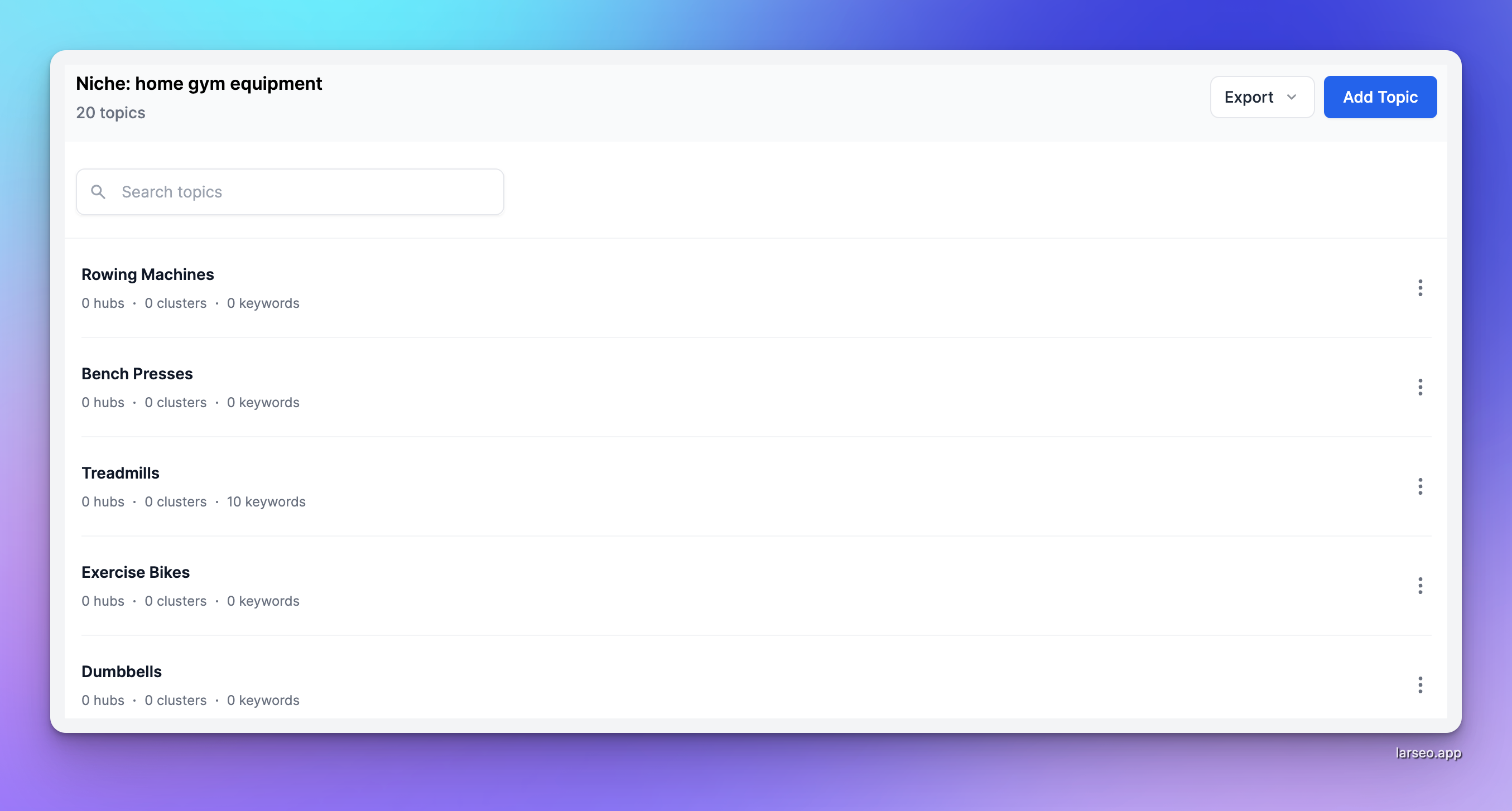 Besides the given topics, you can also add topics manually by clicking the Add Topic button. Larseo will scrape more topics from multiple sources to give you more topic ideas.
My favorite part is the green topics which are topics scrapped from Google Trends. You can see in the below screenshot, that there are so many trending topics that my initial list doesn't have.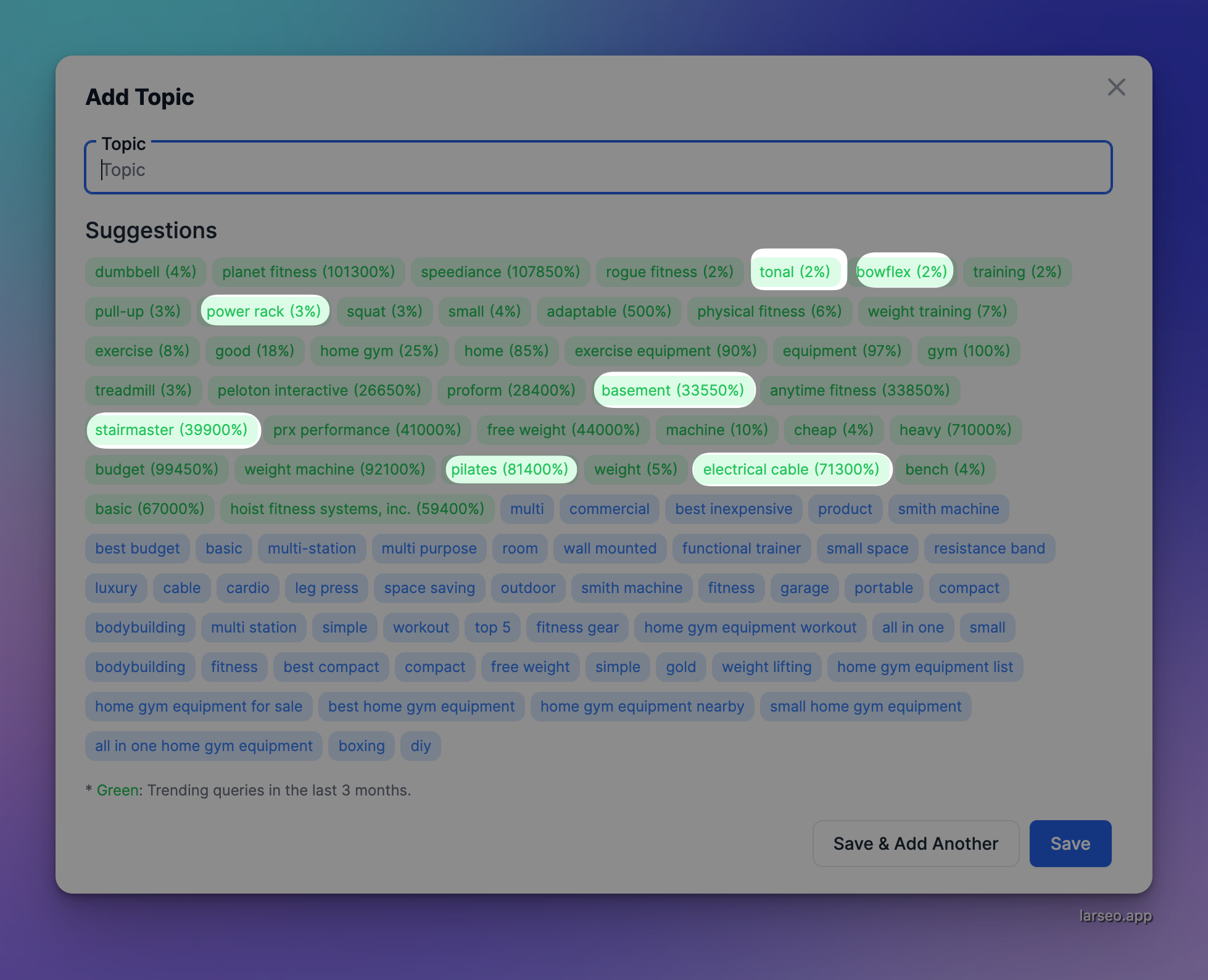 You can see that topics such as StairMaster, Pilates, Basement, and Electrical Cable have had significant search volumes in the last three months. You can click on each of them to add to the list.
The main reason I love trending topics is that they are still new and aren't highly competitive yet, allowing you to find low-hanging fruit keywords easily and rank them without exerting excessive effort.
Cardio, multi-station, and boxing from the blue list are also great additions to have.

If you have a topic in your mind, you can totally enter it manually and click the Save button.
Important: When adding a topic, you need to keep in mind that the scrapped topics do not use the same algorithm as the initial ones discovered by the search bar. Therefore, some of them can be sub-topics of a topic in your current list. I usually pick the ones that have the same hierarchy level as the topics in the list.
In this tutorial, I am going to pick the "Rowing Machines" topic.
Pro tip: There are many ways to organize your topics in this niche. Some other ways:
Home Gym Equipments > Cardio Equipments > Rowing Machines

Home Gym Equipments > Cardio Equipments > Treadmill
However, I will stick with "Home Gym Equipment > Rowing Machines" (without Cardio Equipment) because when you do keyword research (in step 2), you will notice that there are thousands of keywords about Rowing Machines. If I go with the "Cardio Equipment > Rowing Machines" approach, it will be really hard for me to cover all the keywords related to rowing machines in depth. Additionally, I would have to write many more articles to establish topical authority for the "Cardio Equipment" topic, which would require more time and money.
Step 2: Discovering or Importing Keywords
Why doesn't Larseo just import keywords for each topic and automatically run clustering? The main reason is that Larseo doesn't know what your website is about.
Some websites need to do local SEO, so they require location-based keywords. Affiliate websites prioritize "best" or "review" keywords. In contrast, e-commerce websites don't need to rank "review" keywords.
It's all about your target audiences, your goals, and your budget for the content. There are no two identical topical maps. Each keyword list will give you a different topical map. Therefore, don't obsess when your topical map differs from your competitors. There are multiple ways to structure your content. As long as you cover all aspects of the topics, everything will be good.
To continue, you need to select a topic that you want to explore first and then click the "Discover Keywords" button.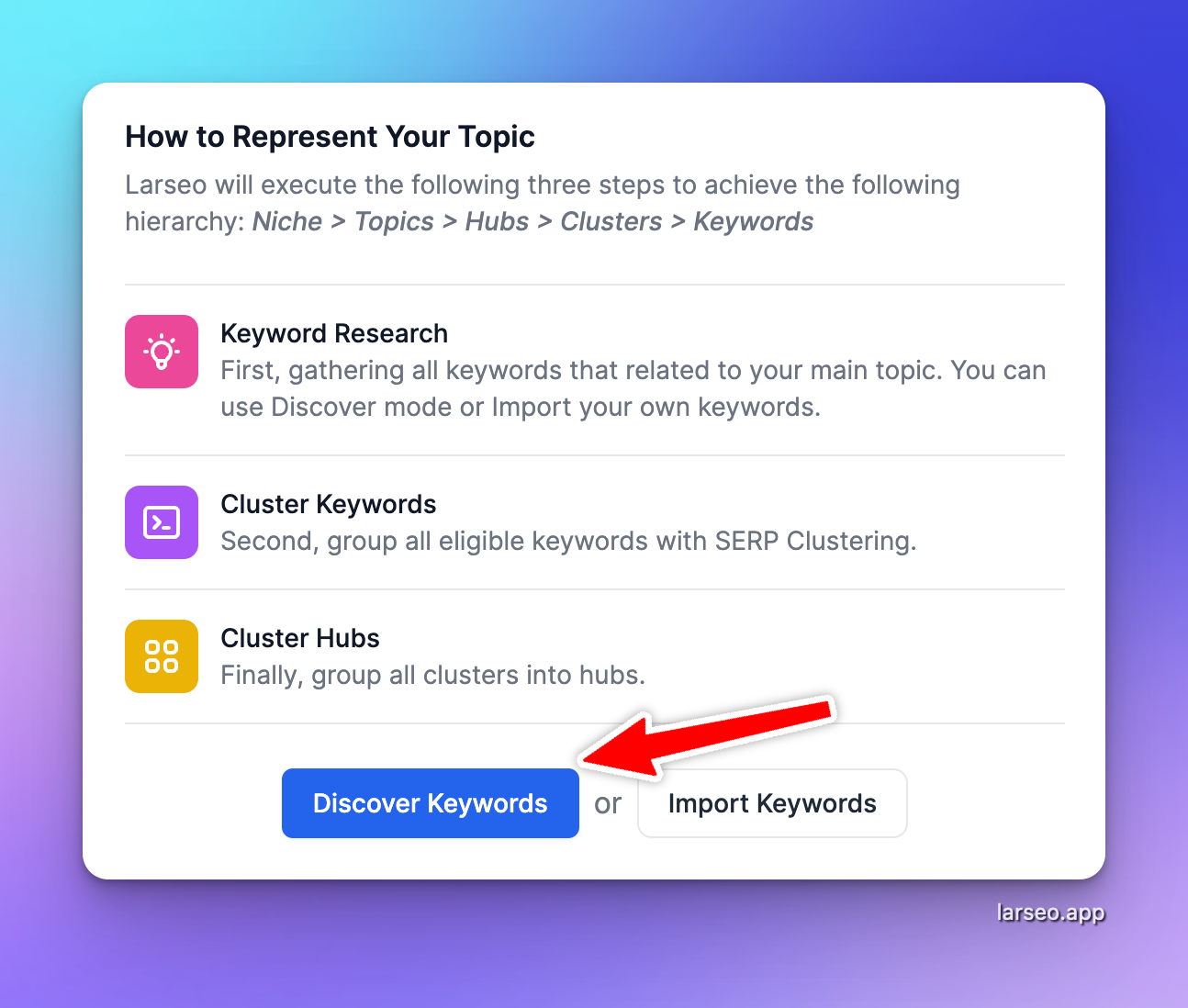 A modal will appear, enter your seed keyword. Please note that the seed keyword must be related to the topic you are currently on. My topic is Rowing Machines, so I can enter "rowing machines", "water rowing machines", etc.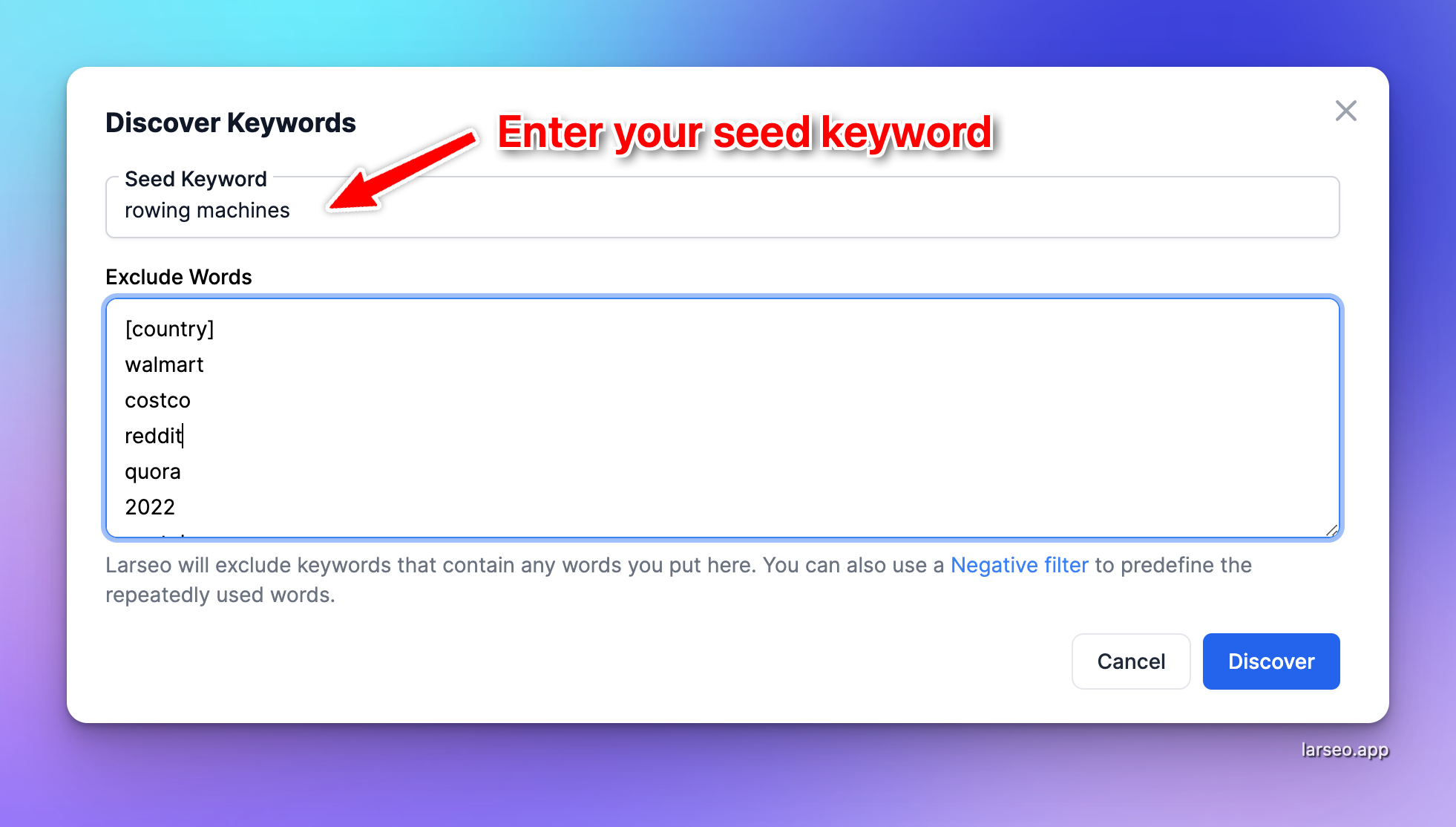 I don't want to fetch keywords that contain countries, Reddit, Quora, and certain companies because their search intent doesn't align with my content (reviews/best articles). You can use Negative filters to predefine the repeatedly used words.
You can access my list of excluded words here.
It will take seconds to fetch the keywords from Google Autocomplete & Larseo's internal database and check their search volume. Here is the result: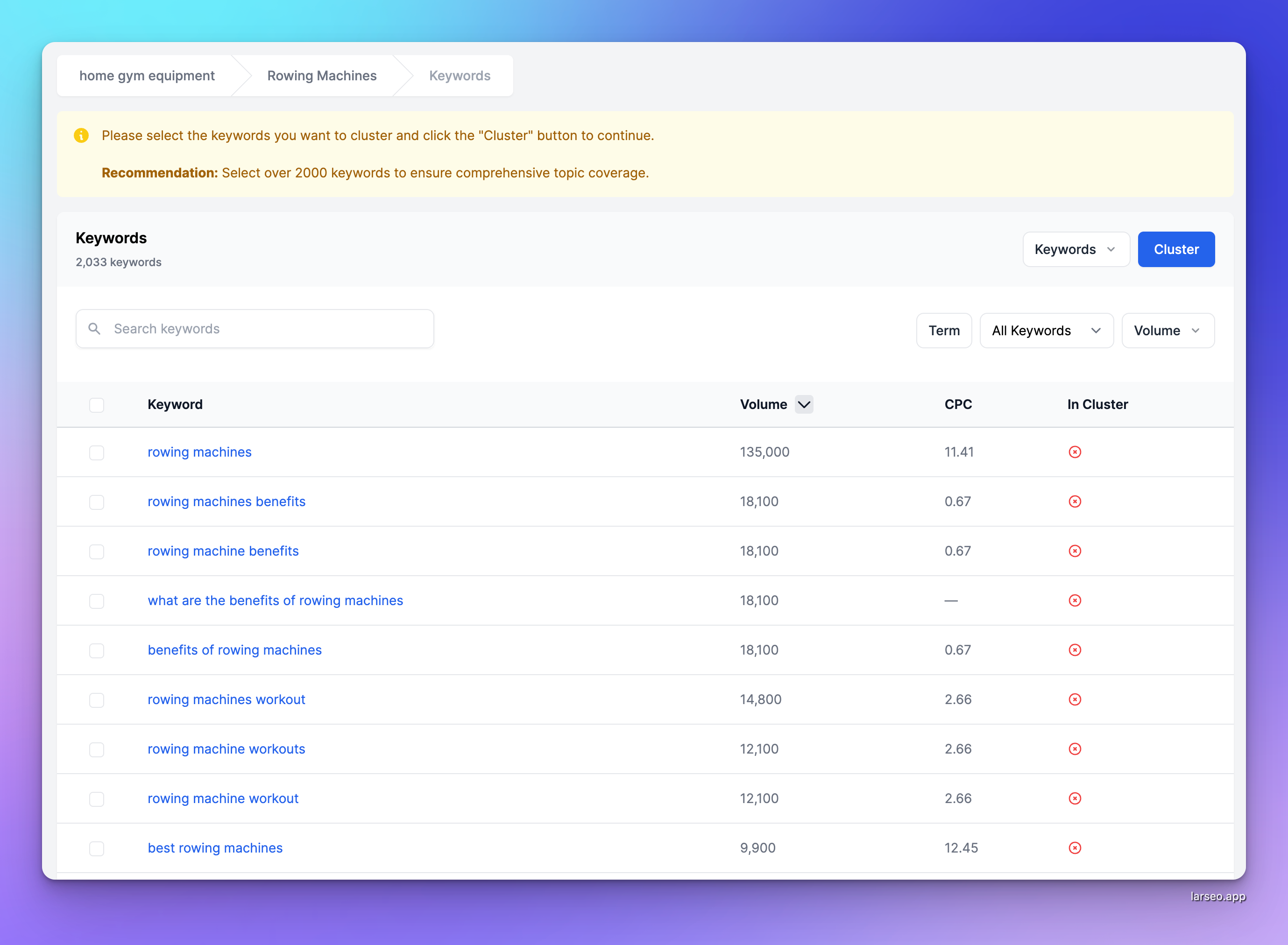 You can enter more seed keywords or import keywords from external sources to collect more keywords if you want by clicking the Keywords dropdown. Larseo will remove the duplicated keywords for you.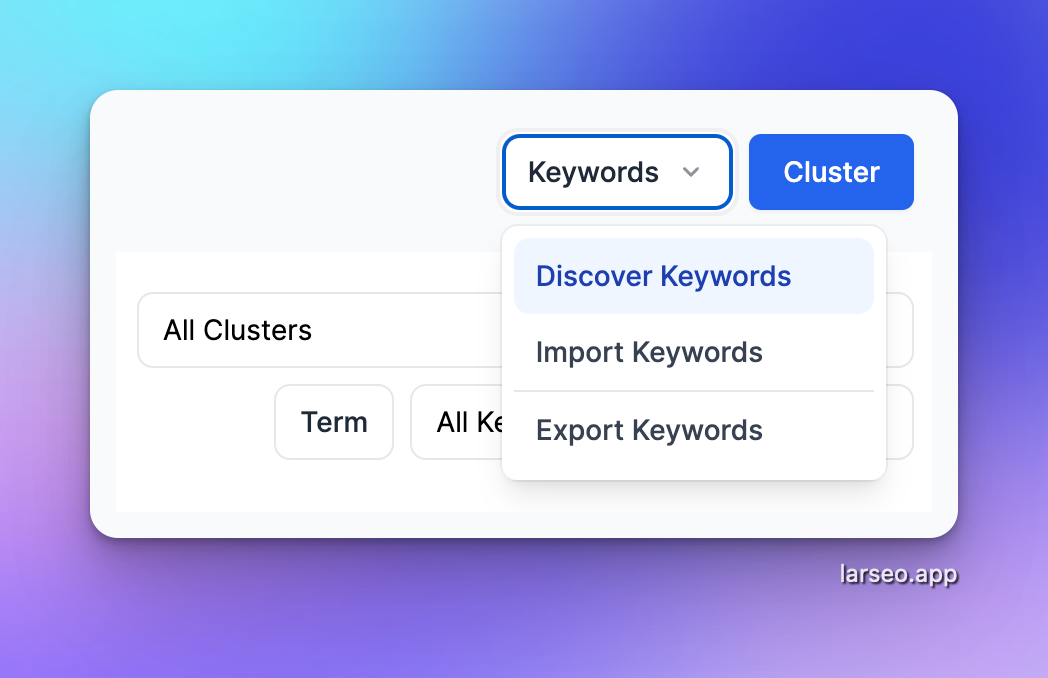 You can also use the Term filter for prospecting keywords quickly.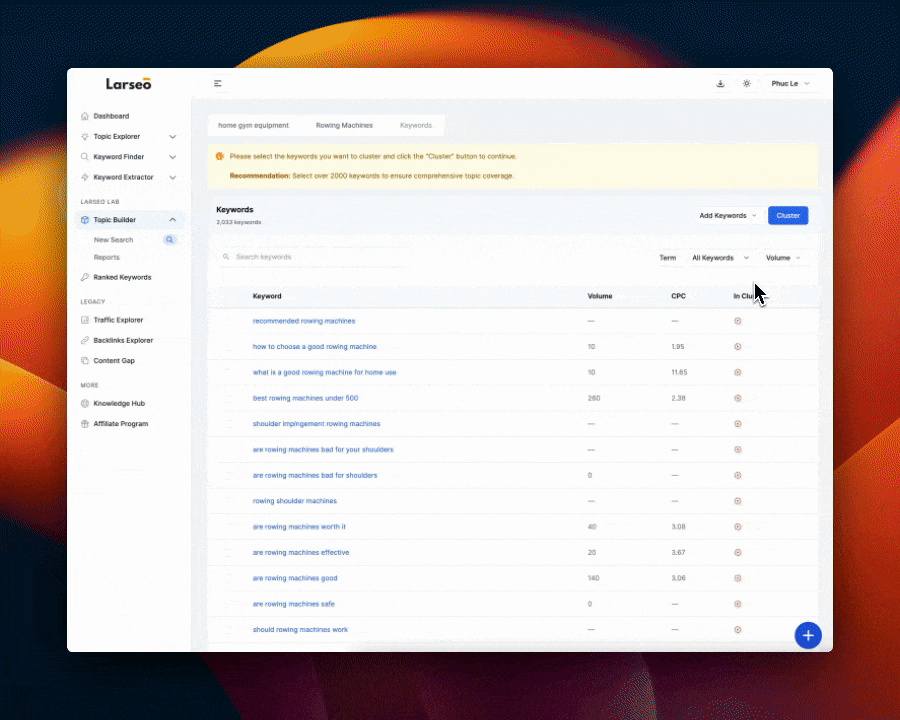 Pro Tip:
When you're in Discover mode, Larseo gives you only keywords that are connected to your topic. But if you're importing your own keywords, make sure they're related to your topic and not broader than yours. So, here's what I usually do to find broader keywords than the current topic: I use the Word Count filter to get keywords with just 1-2 words. If I come across something like "cardio equipment," I can simply remove it because it's the parent of "rowing machines."

You can archive keywords instead of deleting them to hide them from the list and you can come back later to restore them.

The quality of your keyword list will directly affect your topical map, so spend more time on keyword prospecting.
Step 3: Run Clustering on the Keywords to Generate Clusters & Hubs
After having a final keyword list, you need to select keywords that you want to run cluster one, and then click the Cluster button.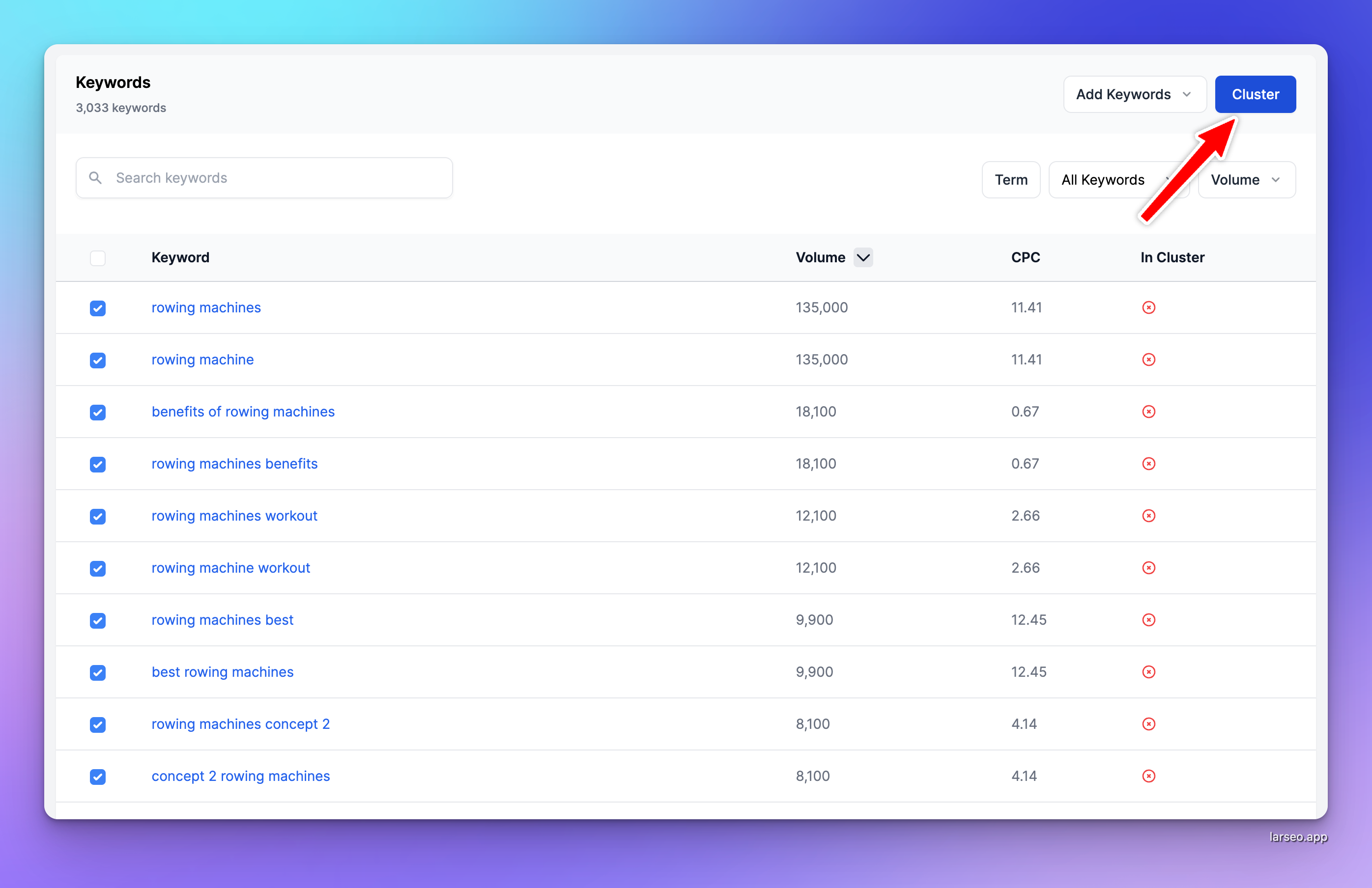 Important: You need to select at least 200 keywords. If you cannot collect enough keywords for a topic it means the topic might be too narrow. Consider merging it with another topic or moving on to a different topic.
Recommended: You should select over 2,000 keywords to ensure comprehensive topic coverage.
How Does the Cluster Work?
First, Larseo will run SERP clustering on your selected keywords to generate clusters. After that, it will run another clustering automatically on the keyword clusters to generate hubs.
This is what keyword clusters look like: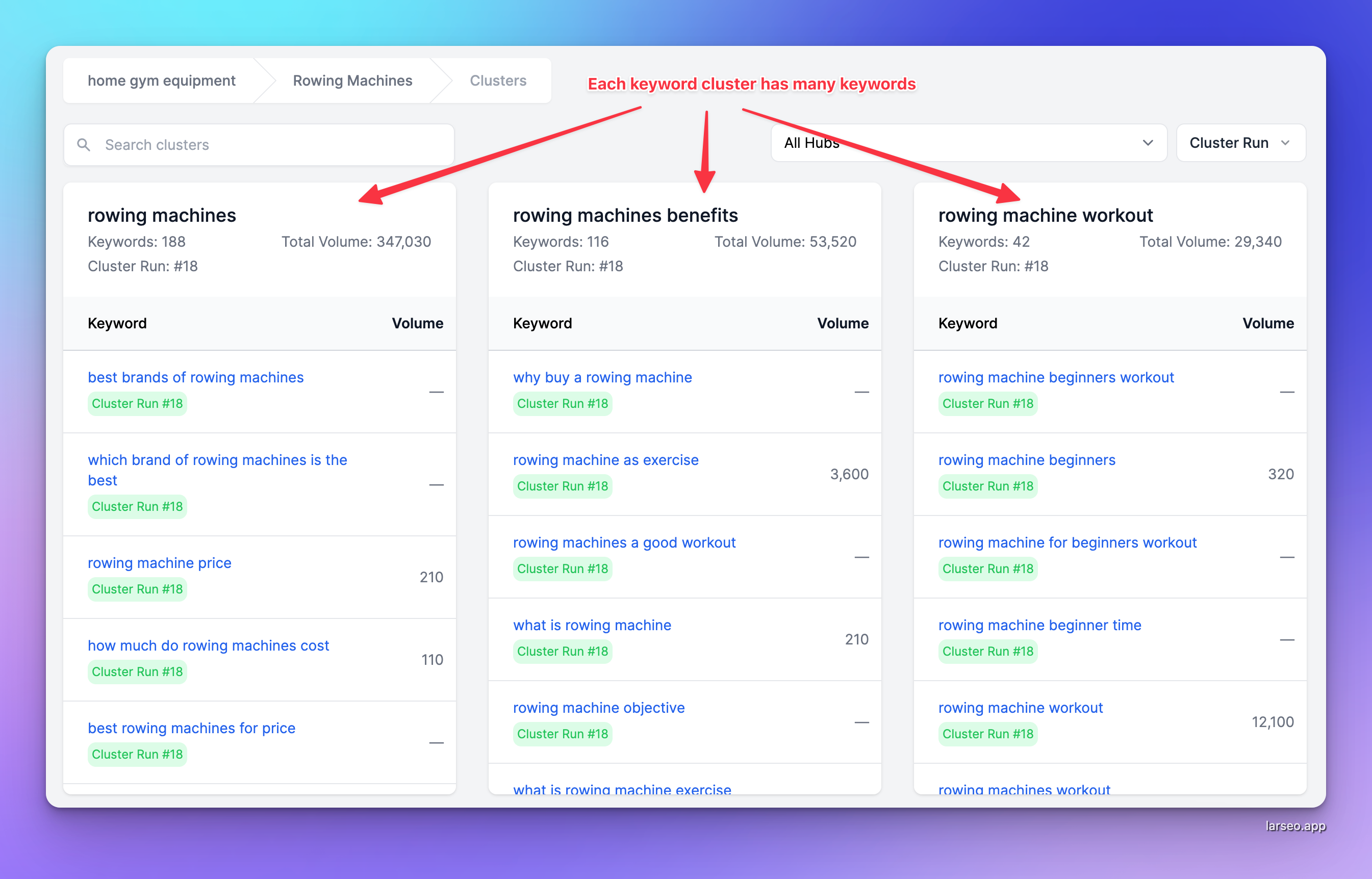 This is what hubs look like: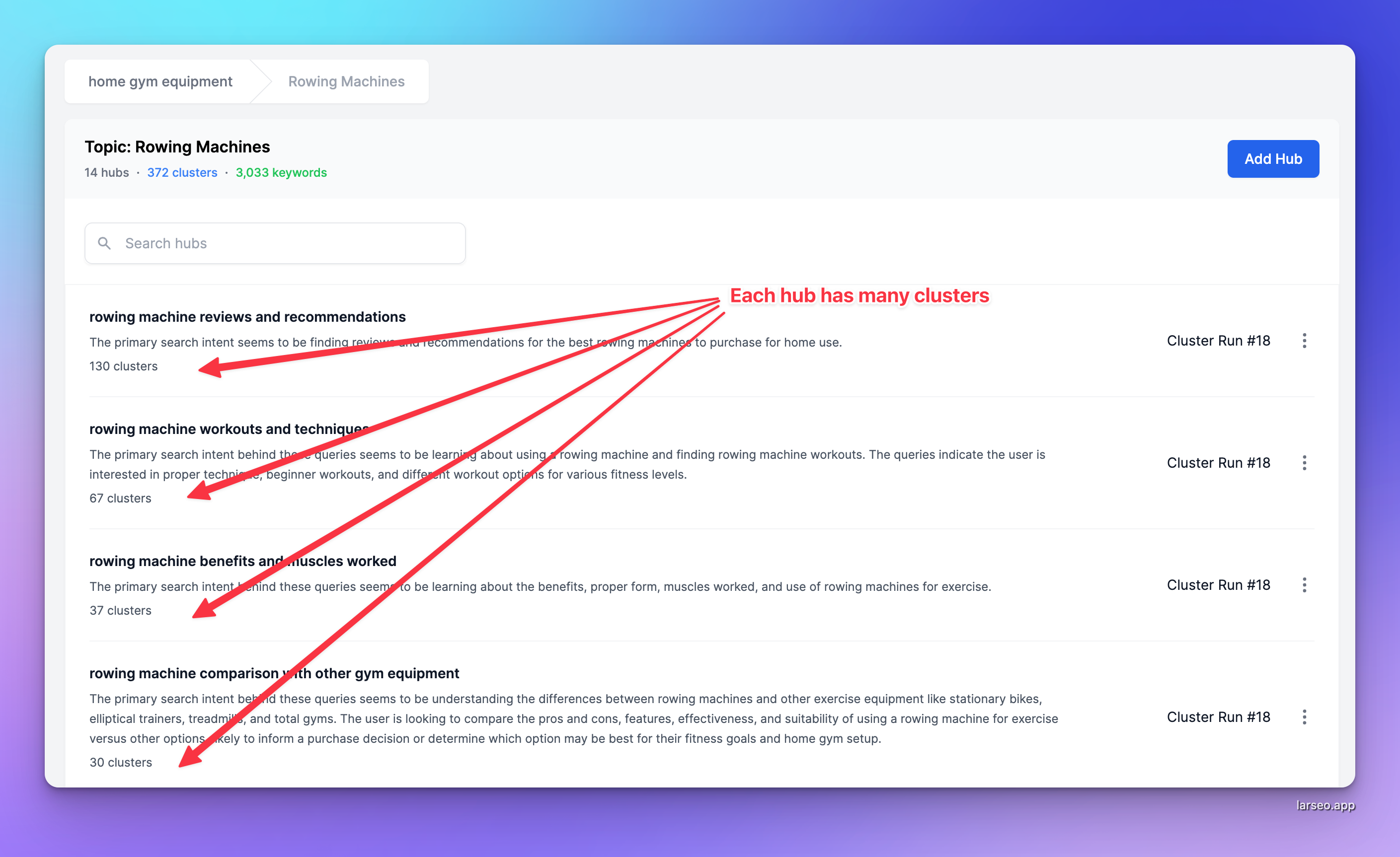 The reason it requires at least 200 keywords (ideally above 2,000 keywords) is that the tool needs more data to understand the niche or topic to run the cluster. Moreover, that ensures comprehensive topic coverage.
You cannot have topical authority if you don't cover every aspect of the topic. So, don't hesitate to run on numerous keywords. The more keywords you have, the more accuracy you will get for your topical map. Within 2,000 keywords, it can probably generate over 50 clusters and about 10 hubs, which is a month's workload. You only do one, you will have tasks for one month.
The price is 2 credits for one keyword (2.25 credits for the Free plan). You might think that clustering costs too many credits. However, as I mentioned, clustering 2,000 keywords will create a workload for one month. I suggest focusing on one topic and completing all hubs/clusters related to that topic first. Afterward, you can proceed to another topic in the next month, and your credits will be refilled.
Understanding the Search Intent Behind Keywords
The coolest thing is that Larseo understands the search intent when clustering hubs.
Check out the below screenshot. You'll notice that 3 keywords don't have the modifier "best", but Larseo still put them in the "rowing machine reviews and recommendations" hub. And guess what? When you search those keywords on Google, 90% of the search results are reviews or best articles!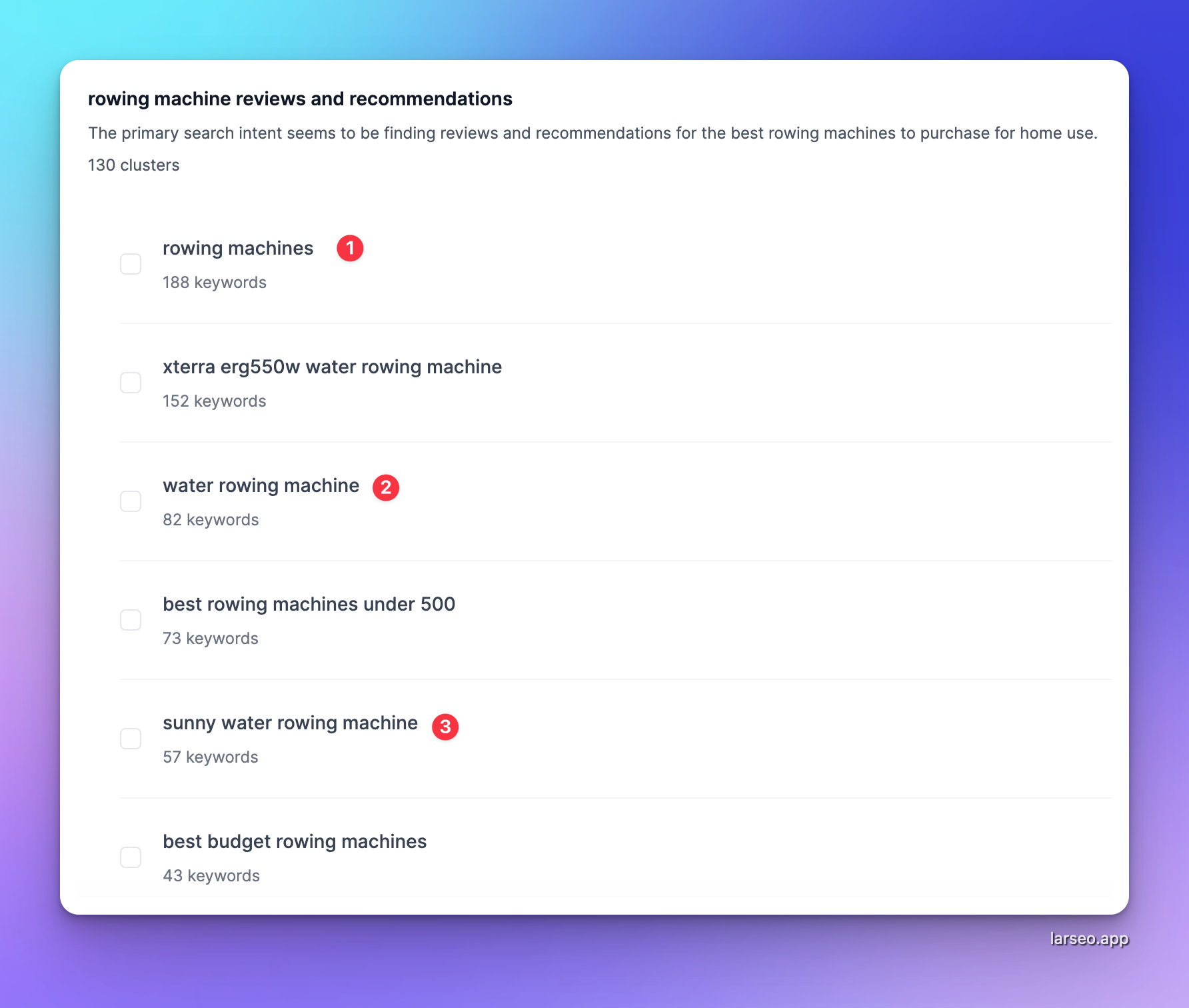 Pro Tip: You can click on the hubs or the clusters to check their SERP.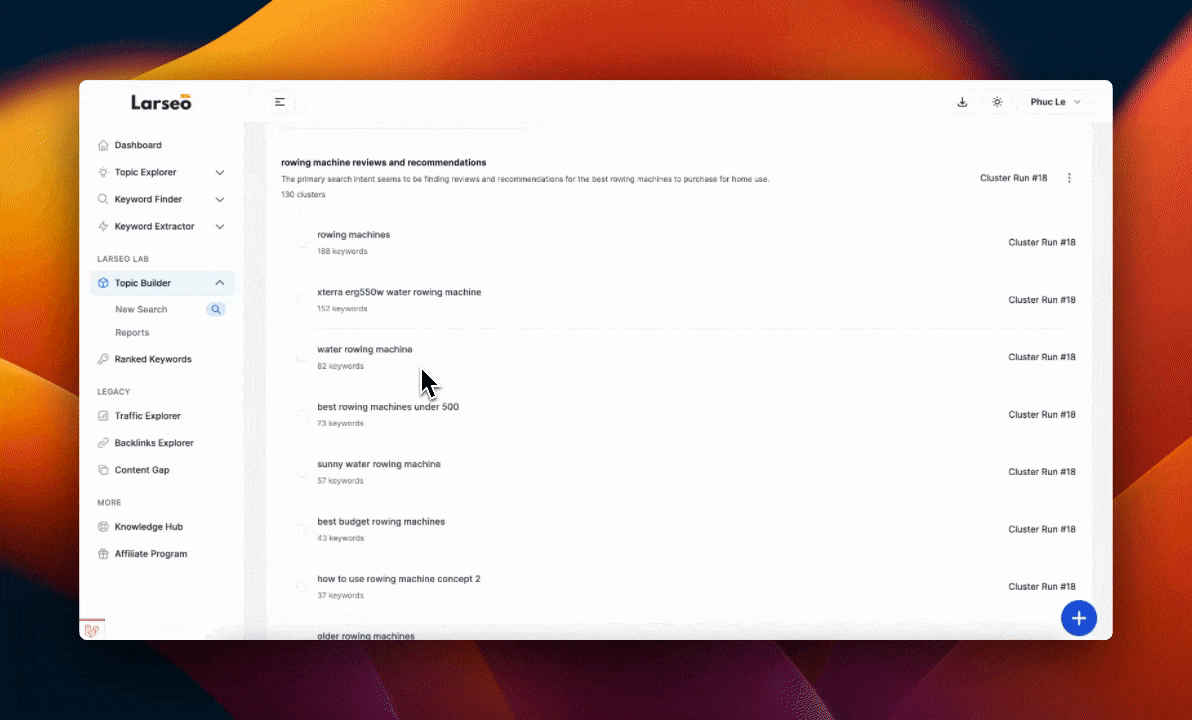 Tweak Your Topical Map
There's no perfect tool, just find one that fits your workflow to boost performance. Understand that, Larseo provides you with the ability to tweak your topical map by merging clusters or hubs.
Sometimes, you may ask yourself whether you should merge two clusters because they are similar.
In the below example, I believe that the clusters "water rowing machine" and "best water rowing machines" can be merged. By using the SERP Similarity Checker, I can determine that both clusters' SERPs have the same search intent, and they share three similarities. Therefore, I have decided to merge them without hesitation. Larseo will merge all keywords of those clusters, so you don't have to do it manually.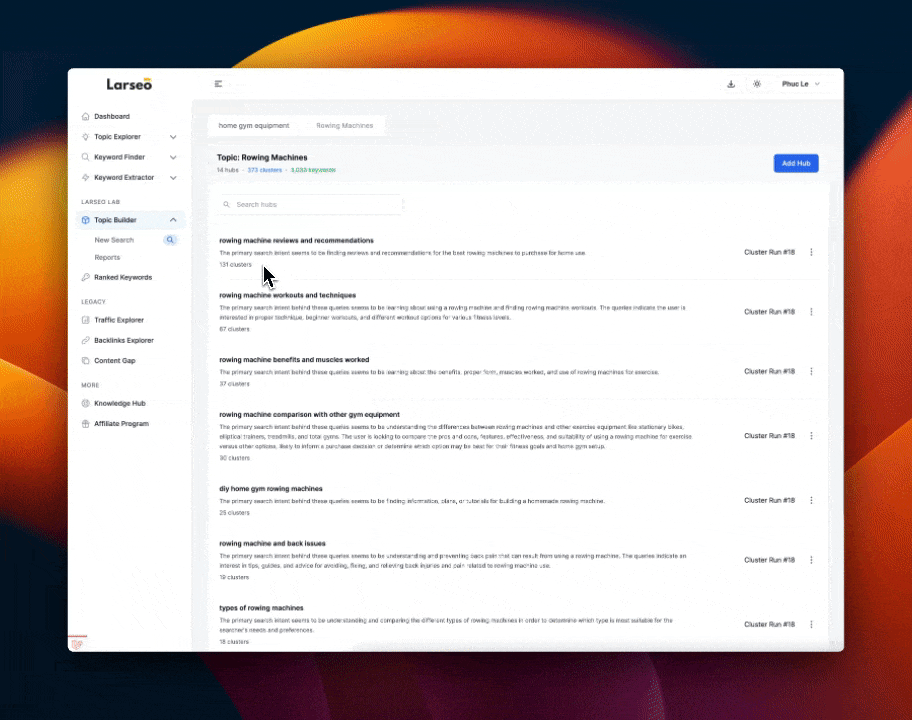 You can also merge hubs if you feel they are sharing a common theme. Again, It all comes down to your goal, target audience, and content budget.
And the SERP Similarity Checker is a handy tool that can assist you in making a decision.
You will notice that there might be some hubs that only contain one cluster. It's because Larseo doesn't have enough keyword data to cluster them. In this case, I tend to merge them into another hub if they are related or remove them, Larseo will set those clusters to not belong to any hubs, and it will try to recluster them when you rerun another cluster in case you have more keywords (in Step 4).
In my case, by checking the SERP, I am confident that I can merge two clusters within the "rowing machine grip techniques" hub into the "rowing machine workouts and techniques" hub.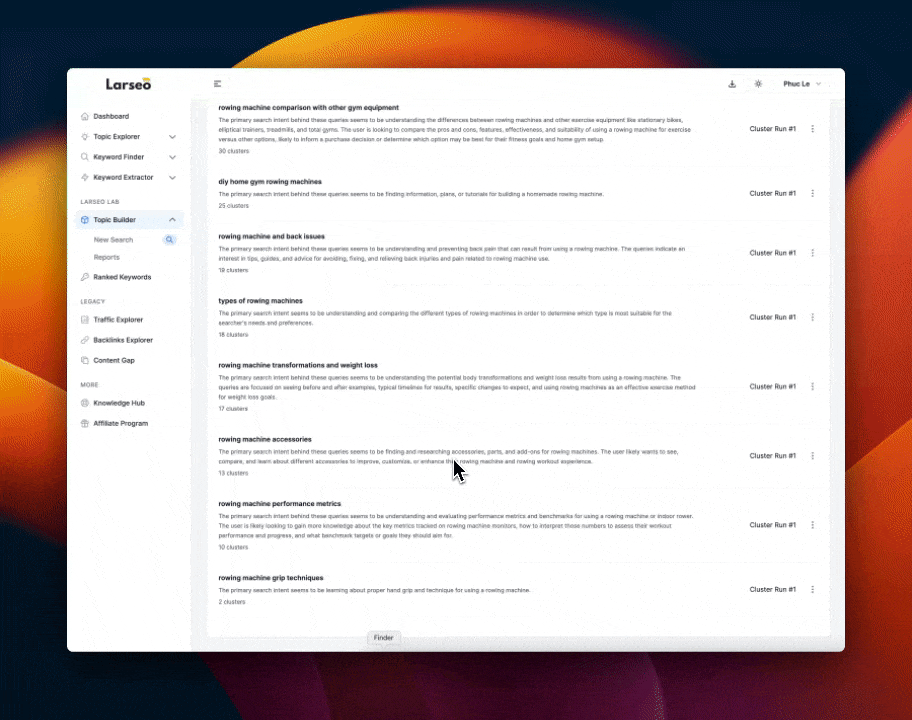 Finally, I can easily spot the three hubs I can kick off right now.
rowing machine reviews and recommendations: Reviews and recommendations for the best rowing machines to purchase for home use.

best water rowing machines

best budget rowing machines

best rowing machines under 500

...

rowing machine workouts and techniques: learning how to use rowing machines - provide information about technique, beginner workouts, and different workout options for various fitness levels.

rowing machine workout

rowing machine proper form

rowing machine usage

rowing machine app

...

rowing machine benefits and muscles worked: Benefits, proper form, muscles worked, and use of rowing machines for exercise.

rowing machines benefits

rowing machine knee pain

rowing machine muscles worked

...
Visualize Your Topical Map
You can export the topical map as an Excel Spreadsheet or Mind Map.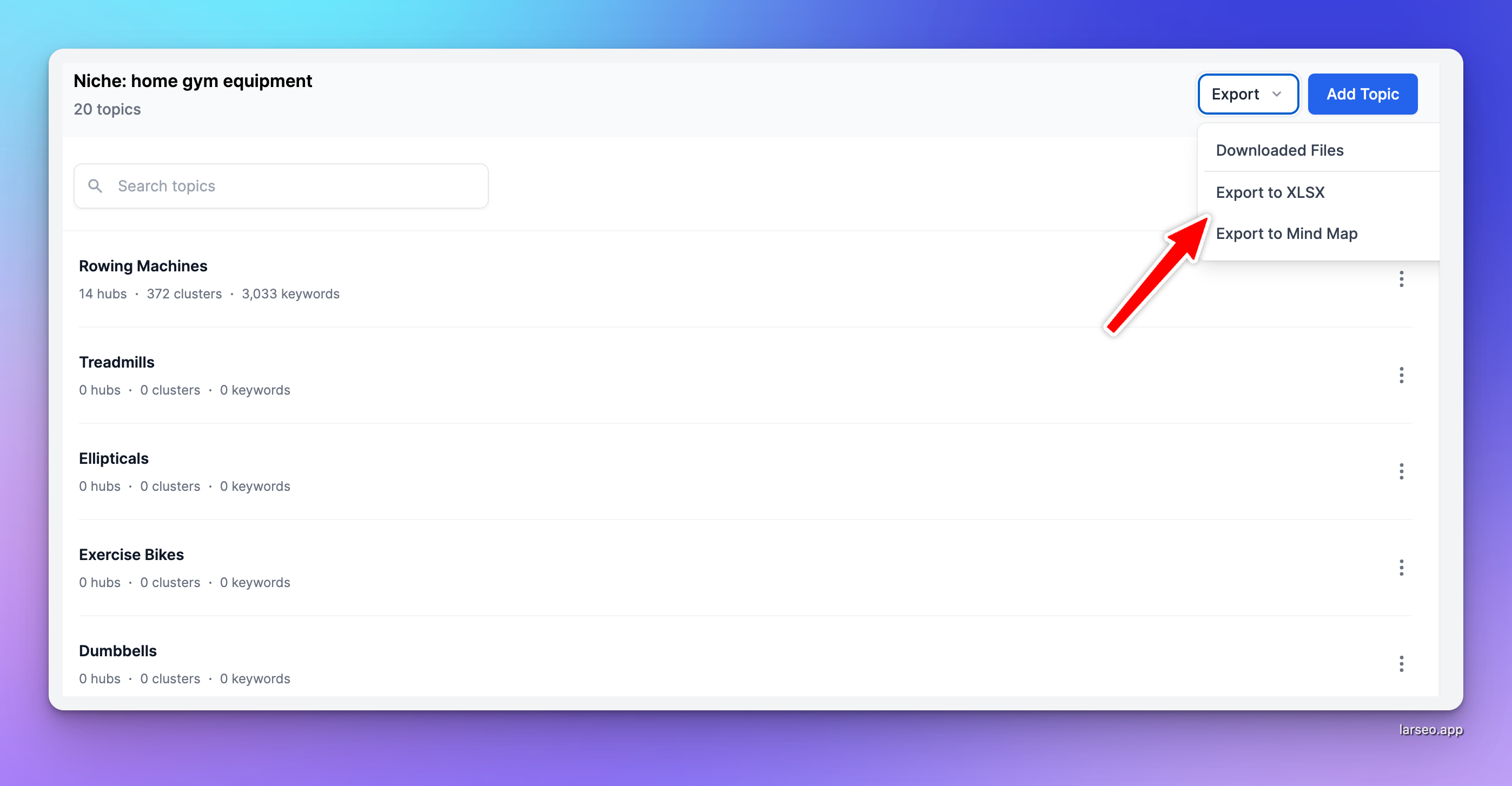 The Mind Map file is in Markdown format, so you can use any Mind Map tool that supports Markdown (.md) to open it. I am using MindNode on macOS to open it.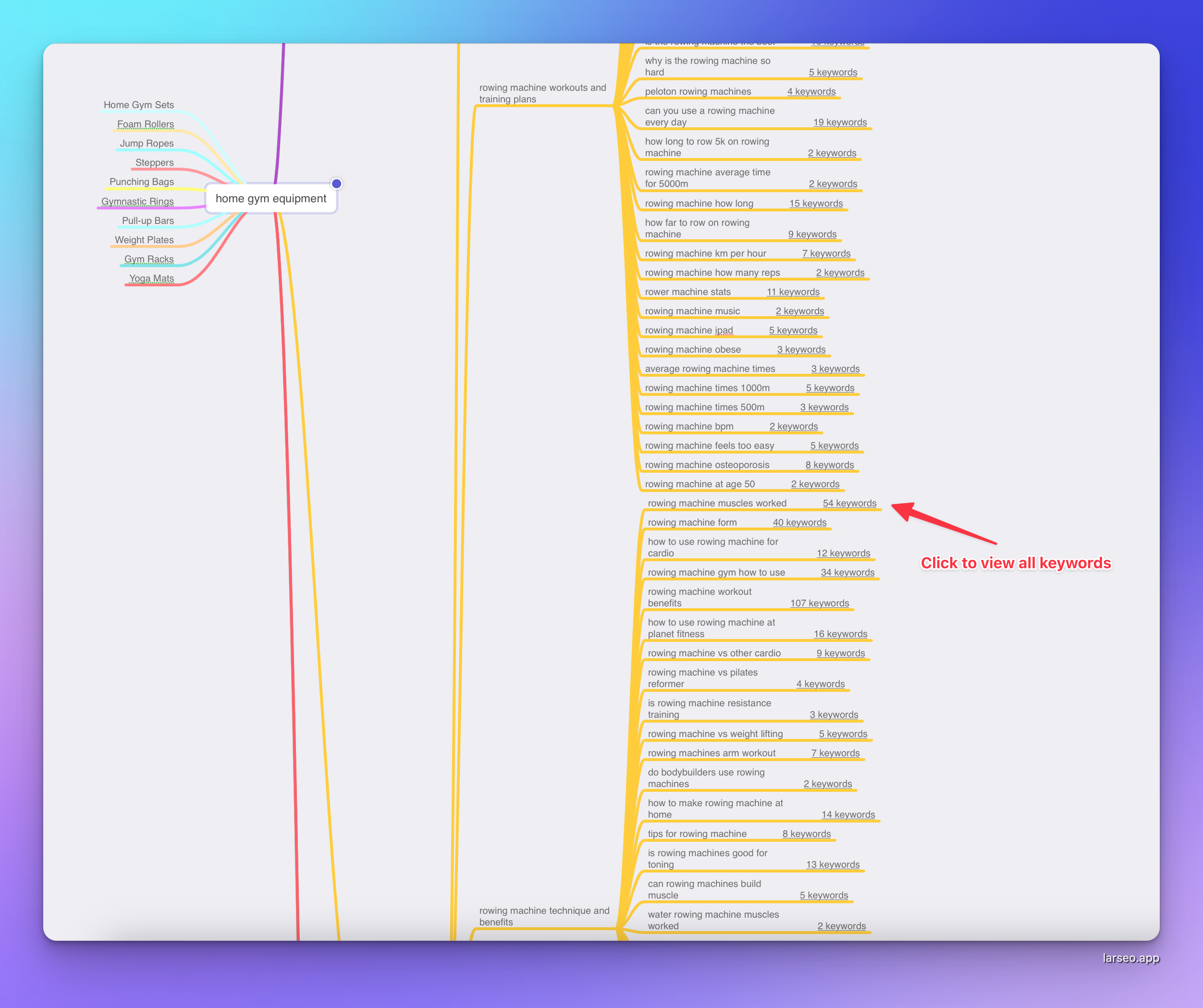 How to Apply the Topical Map on Your Website
First, you need to decide how you want to structure your website's URLs. Some people like to implement hard-silo in the URL, something like: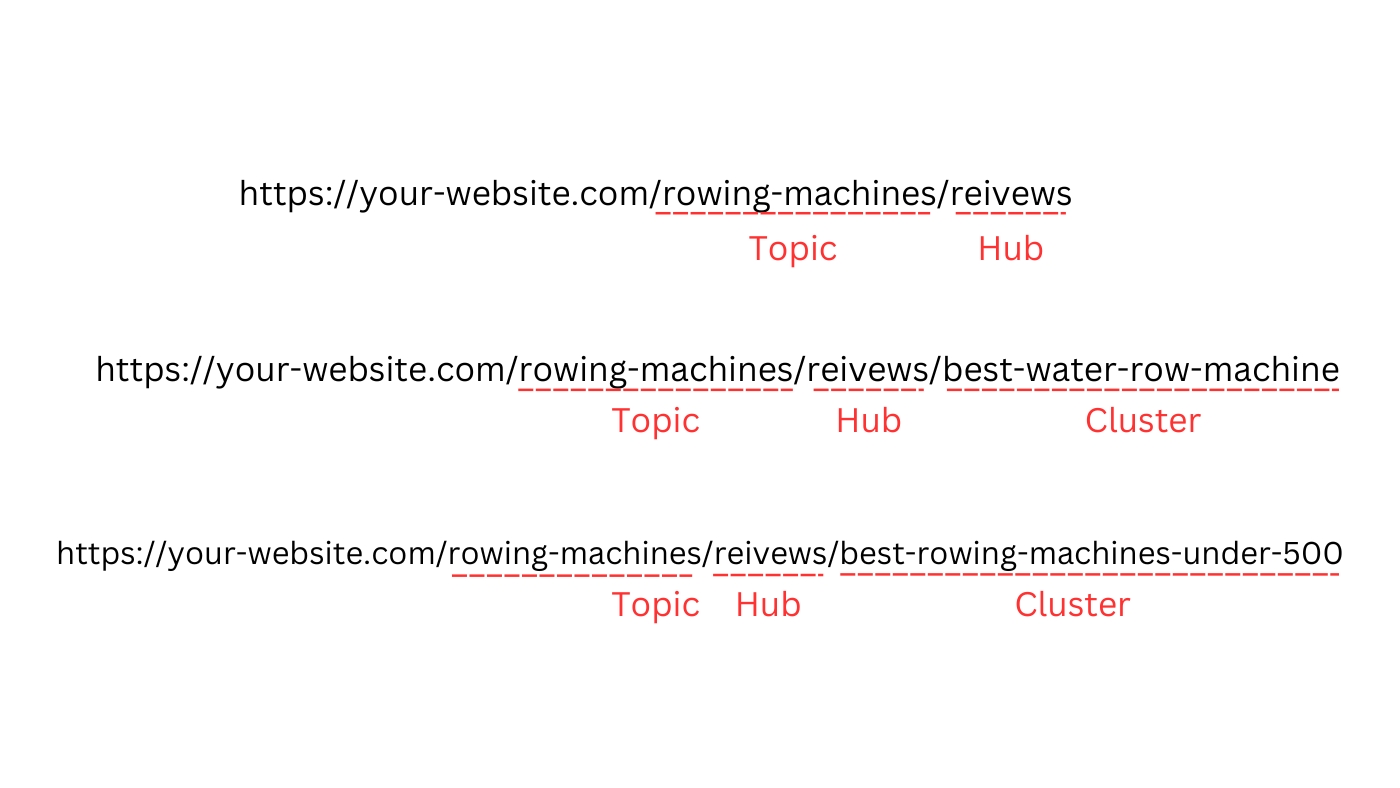 I don't like this approach personally because if I make a change to my topical map, I have to update the URLs, which causes extra work to redirect the old URLs to the new ones. I prefer a flat structure URL and use internal links and the navigation bar to navigate users or search engine bots (soft-silo).
https://your-website.com/best-rowing-machines

https://your-website.com/best-water-row-machine

https://your-website.com/best-rowing-machines-under-500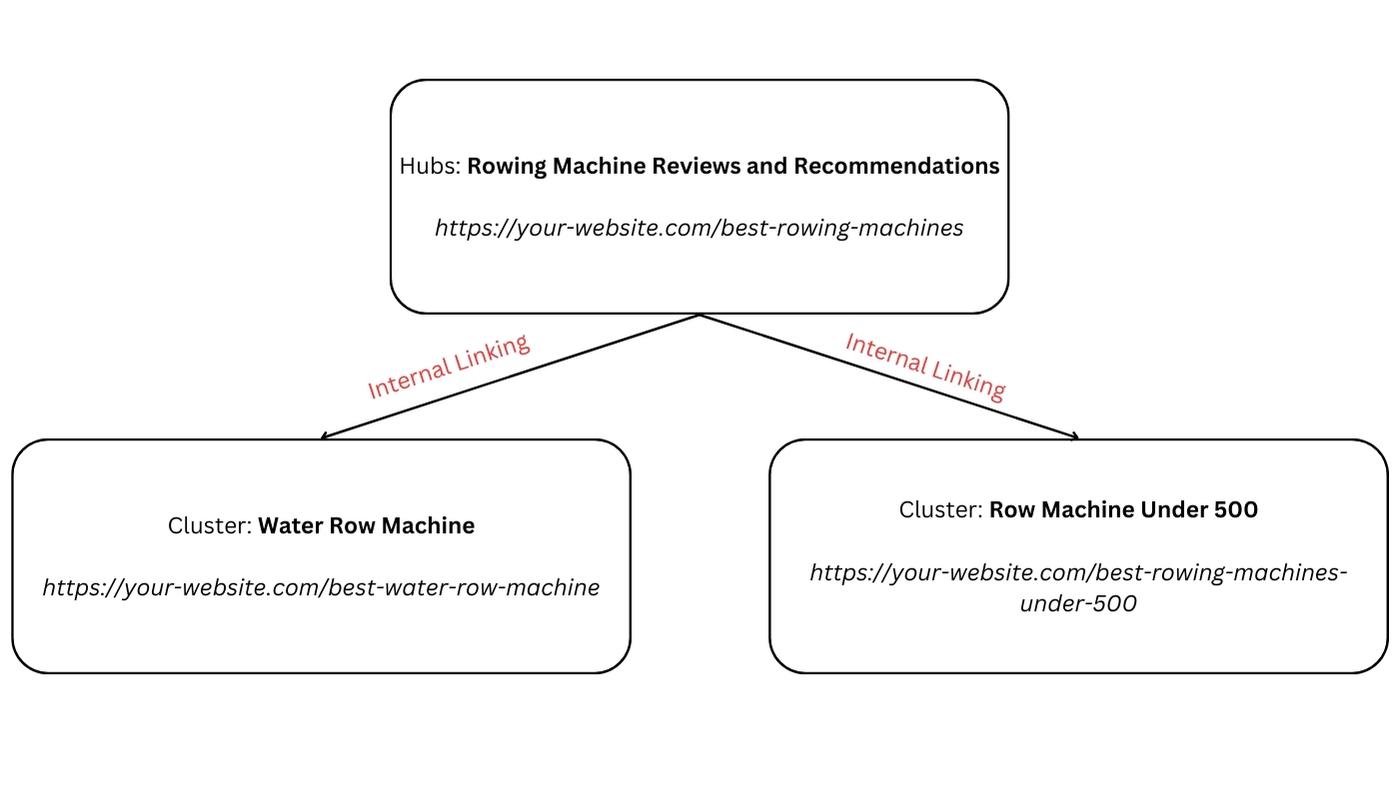 It's up to you! Check out these factors and tips to help you decide:
If you prefer a strict structure and rarely update your topical map (moving clusters or hubs), then go with the hard-silo URL system

If you want something flexible where you can move the clusters or hubs often, then the flat-URL system is a good choice.

Your CMS platform is also essential. WordPress allows you to implement either one, but some static site generators or headless CMSs don't support nesting URL structures.

Both approaches gotta do internal linking, but with the hard silo, you should begin by writing the hub and then the articles. On the other hand, with the soft silo, you can kick things off with clusters that have the easiest keywords (low-hanging fruit) to target. This way, you can score some traffic effortlessly since those keywords have less competition compared to the hub's keyword.

Check out your competitors' websites to see how they're doing.
Clusters
Each cluster will represent an article on your website. Try to add keywords in a cluster to your article naturally or use them for the anchor text of internal links or backlinks so you can rank multiple keywords.
Hubs
A hub is a pillar page or silo page that connects to every supporting content through internal links. It categorizes and organizes related content based on specific topics, making it easier for users to navigate and find information on your website.
Hubs give each website section a clear thematic focus, helping search engines understand the primary topics covered on your site. This improves the chances of your content appearing in relevant search results.
With that definition, a Hub is an actual page on your website, so how do you collect ideas to write a hub? Here are some of my experiences:
Think Hub is a comprehensive page guide on your website where users can read all the information about the sub-topic that you are trying to cover. This is an example: https://www.rowingmachine-guide.com/reviews.html

Or you can use the cluster that has the most keywords as a Hub page. For example: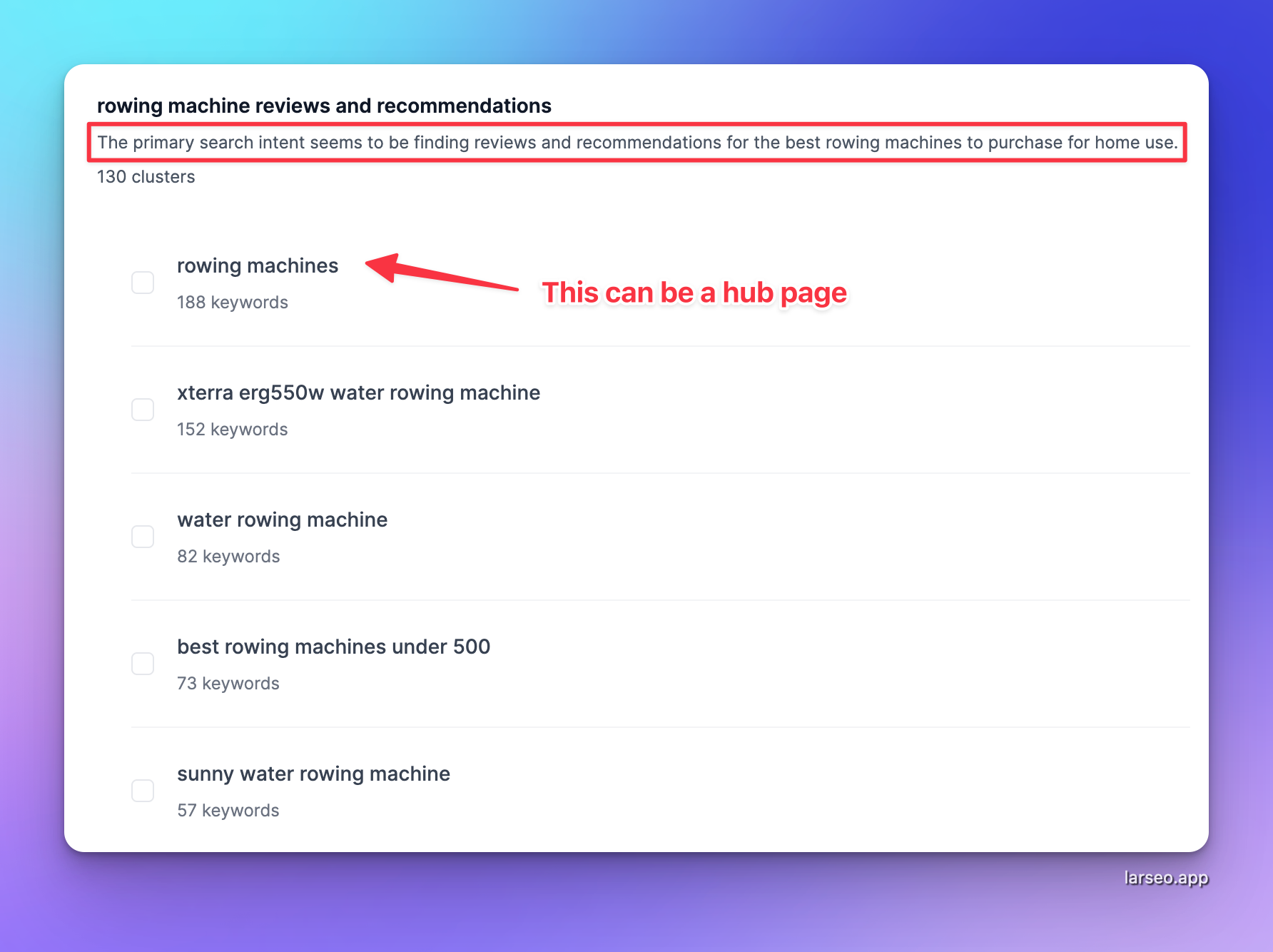 "rowing machines" cluster can be a hub page because when looking at the SERP of that cluster you can see it has the same intent as the Hub's intent (Finding reviews and recommendations for the best rowing machines to purchase for home use).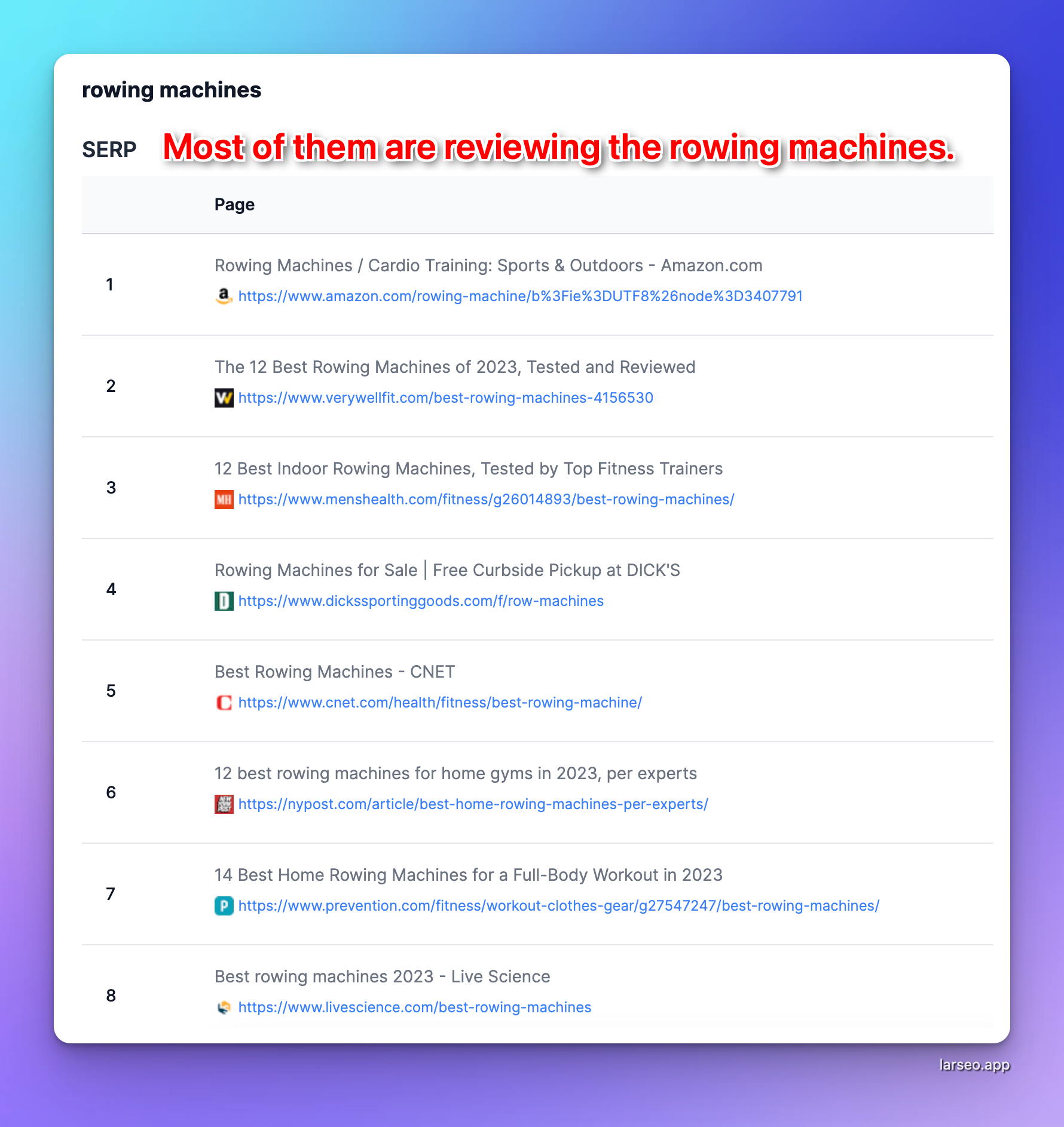 Since my website is an affiliate website, I can set the main keyword for the "rowing machines" cluster as "best rowing machines". I usually do this for the "review" hubs because Larseo's algorithm picks the keyword with the highest search volume as the main keyword and it's not usually true for the "best" or "review" article.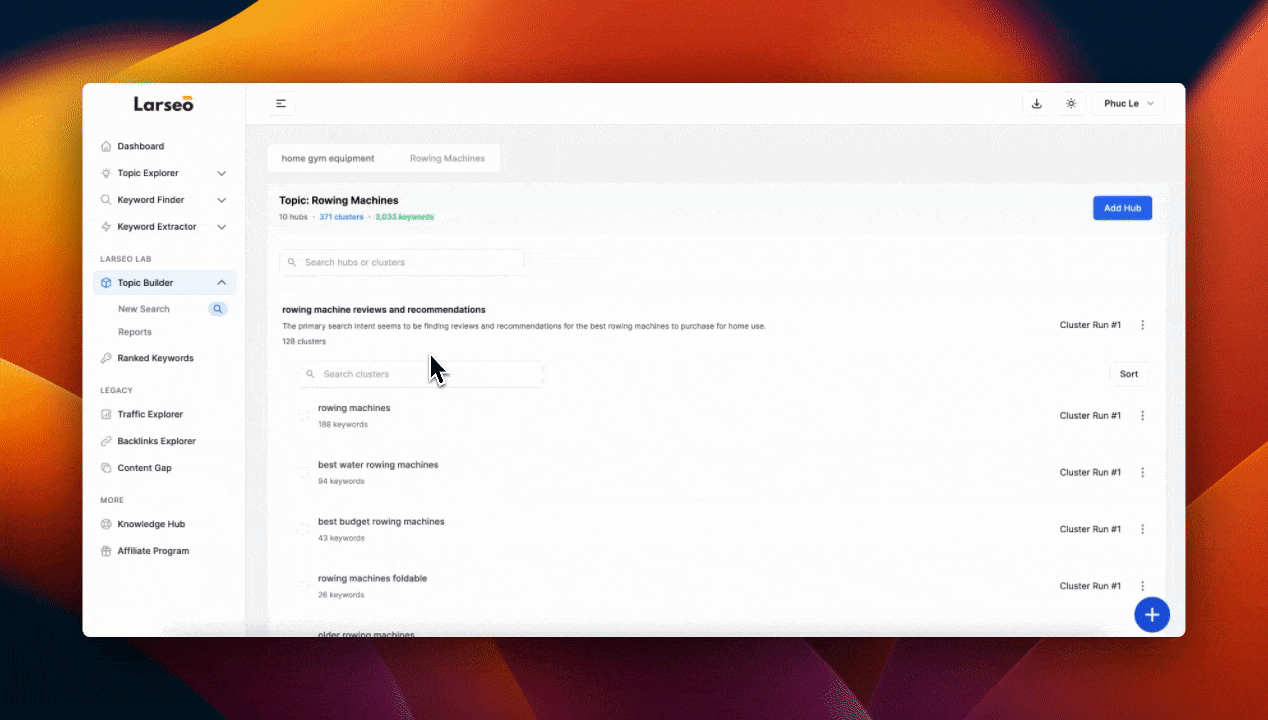 You might notice that "best rowing machines" can also be the page representing the entire topic of "rowing machines". I usually refer to this type of page as a "CORE" page.
More examples:
When you're creating content, the "rowing machine workout" page should include a list of all the exercises you can do with a rowing machine. Make sure to mention the proper techniques for using the rowing machine.
The "rowing machines benefits" page will list all the benefits that rowing machines can bring.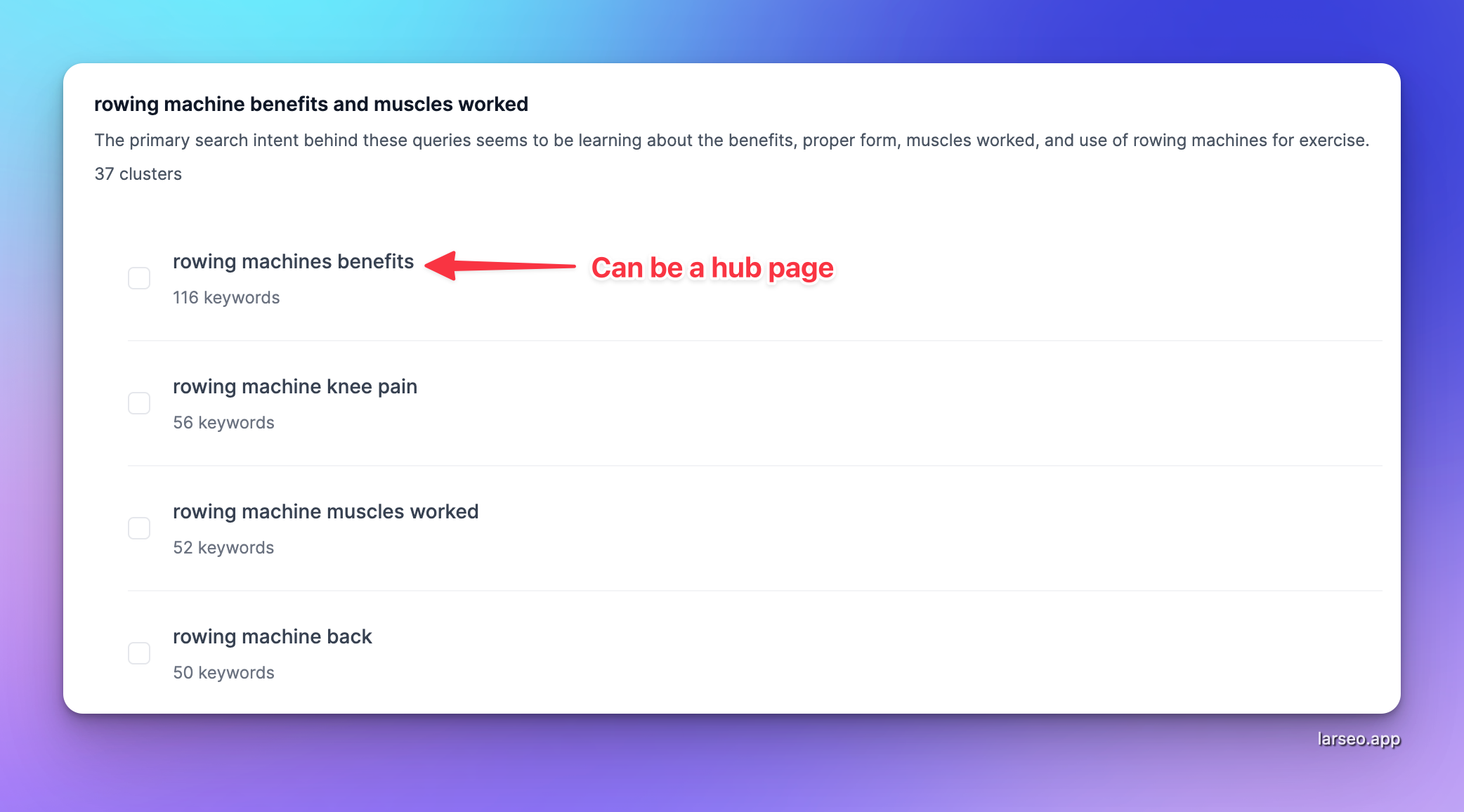 Step 4: Maintain Your Topical Map
Creating a topical map is hard; maintaining it is even harder. After creating your topical map, the Topic Builder tool will provide you with the ability to import additional keywords and perform clustering.
So, imagine I've already finished the topic "rowing machines". However, after a month, I stumbled upon another list of keywords that could totally help me expand the topic. I can easily import my keywords and Larseo will distribute keywords among the existing clusters/hubs. If any keywords don't fit into any of the existing clusters/hubs, the tool will create a new cluster/hub for them.
After importing your keywords, you can filter out the keywords that are not in a cluster, select them, and re-run the clustering process.
My new keyword list has over 1,300 keywords.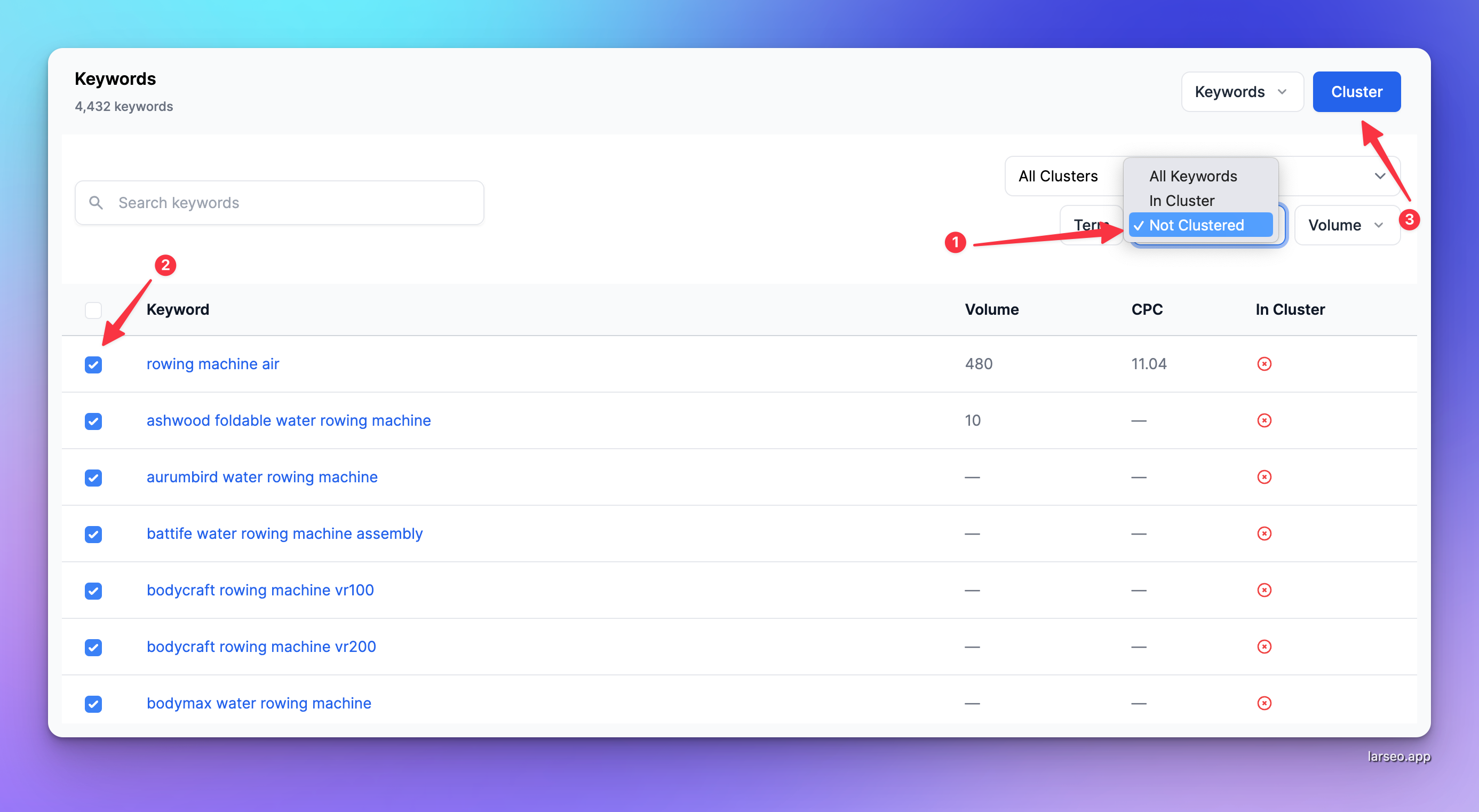 Before re-running clustering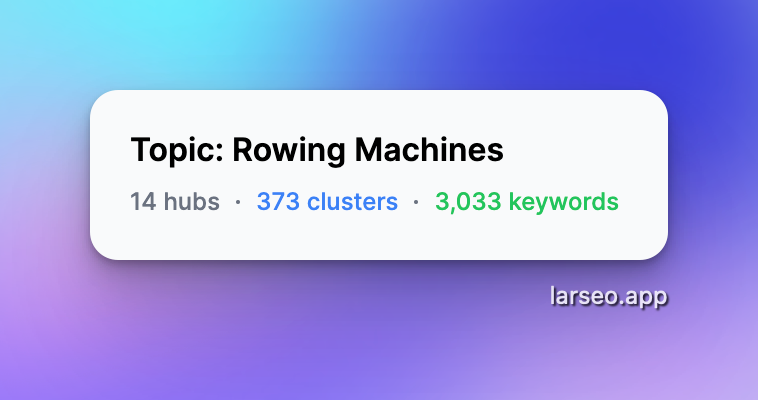 After ru-running clustering, we have more hubs and clusters: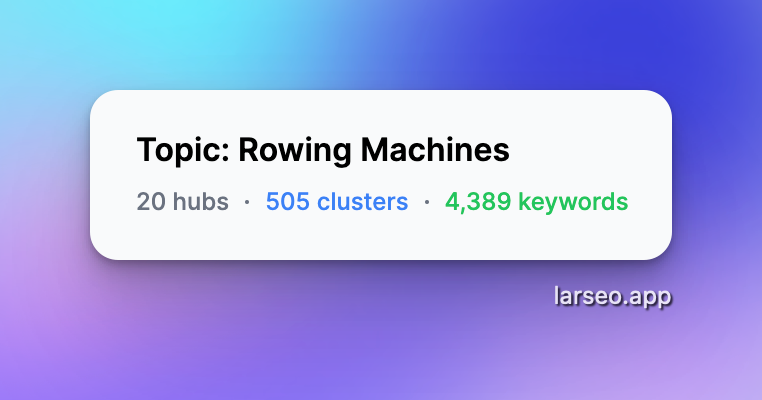 Let's dive in and explore further.
The "rowing machine reviews and recommendations" hub has 191 clusters (it was 131 before)
You can use the cluster run number to determine which hubs or clusters were just added in the latest cluster run.
In this case, the "rowing machine in the gym" cluster was added to the "rowing machine reviews and recommendations" hub within Cluster Run #2.

You can view all new clusters with the Cluster Run filter, or even check if any new keywords were added to existing clusters, so you can create new articles or update existing articles.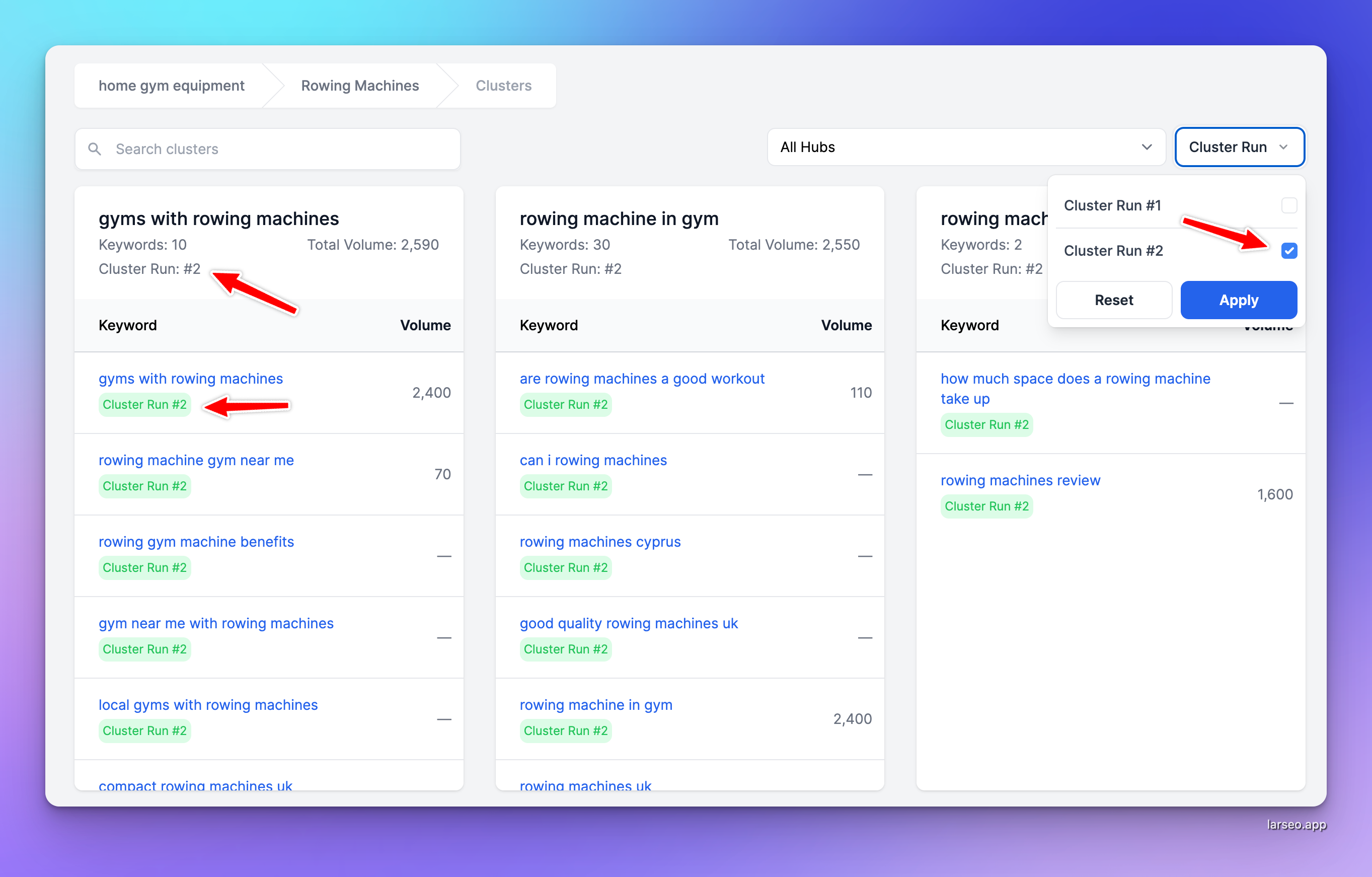 After importing keywords, I noticed that there are many clusters that are about "brand" reviews. For example, "Sunny Water Rowing Machine," "Snode Water Rowing Machine," "XTERRA Fitness ERG600W Water Rowing Machine," etc. If it's big enough, I can manually create a separate hub from the "rowing machine reviews and recommendations" hub and move all those clusters to the new hub.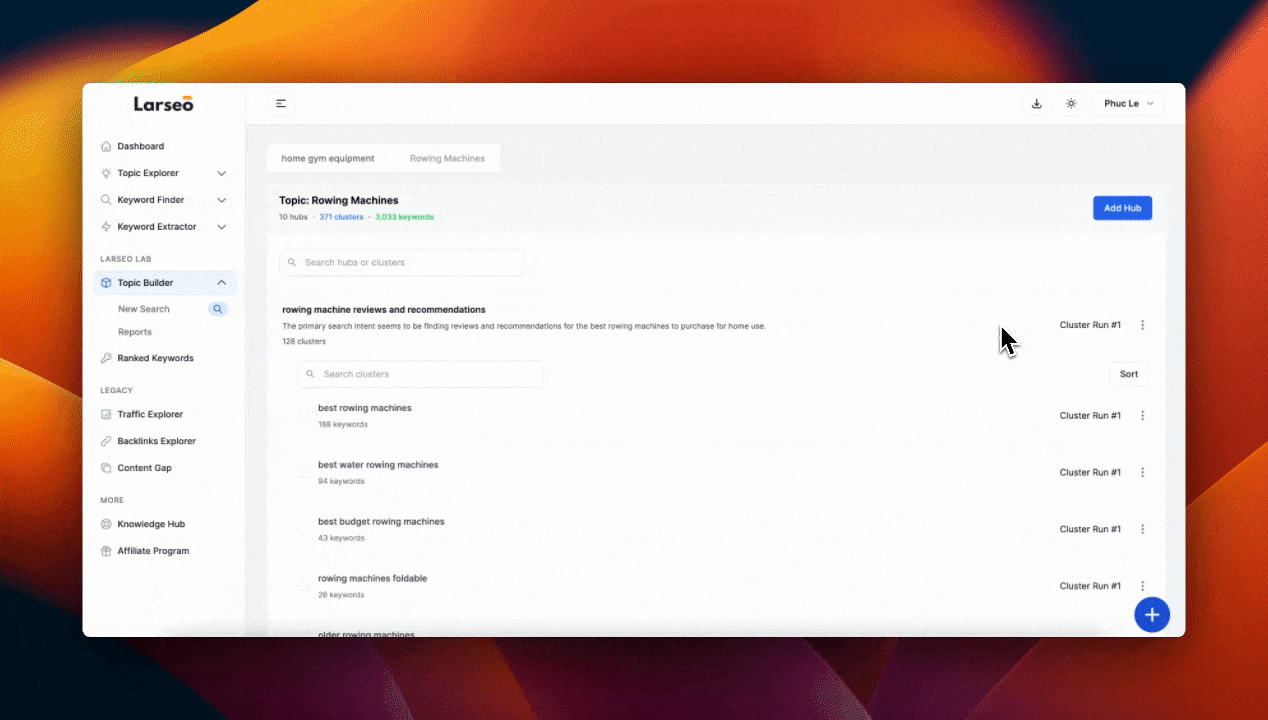 FAQs
How many articles do you need to cover a topic?
It really depends on how huge the topic is. There isn't a set number. The best way to figure it out is by checking out your competitors and seeing how many articles they've got going on.
When running clustering, you can enter your competitor domains and Larseo will scrape their websites and give you an estimate.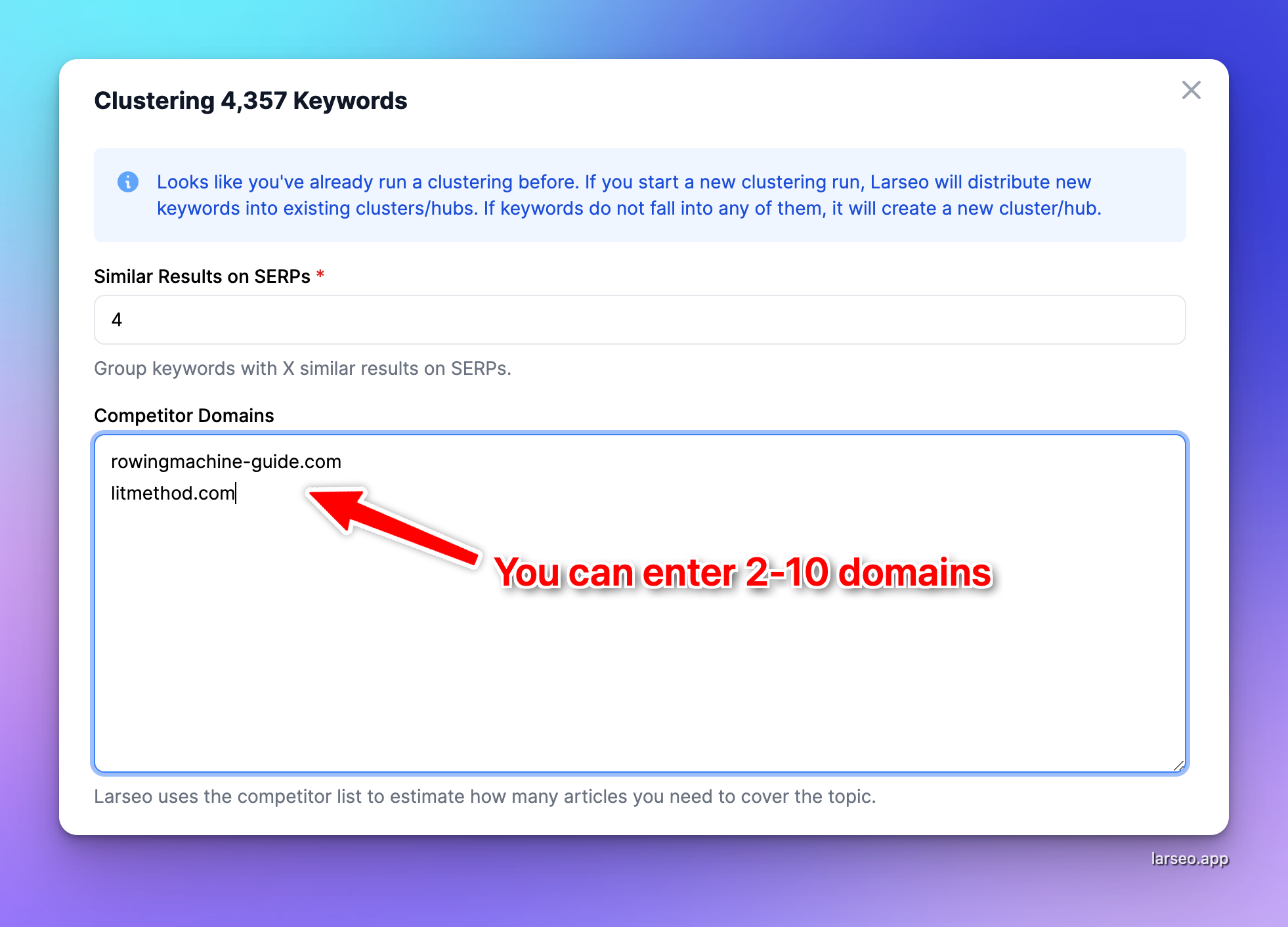 That way, you can use it as a starting point to calculate your content budget.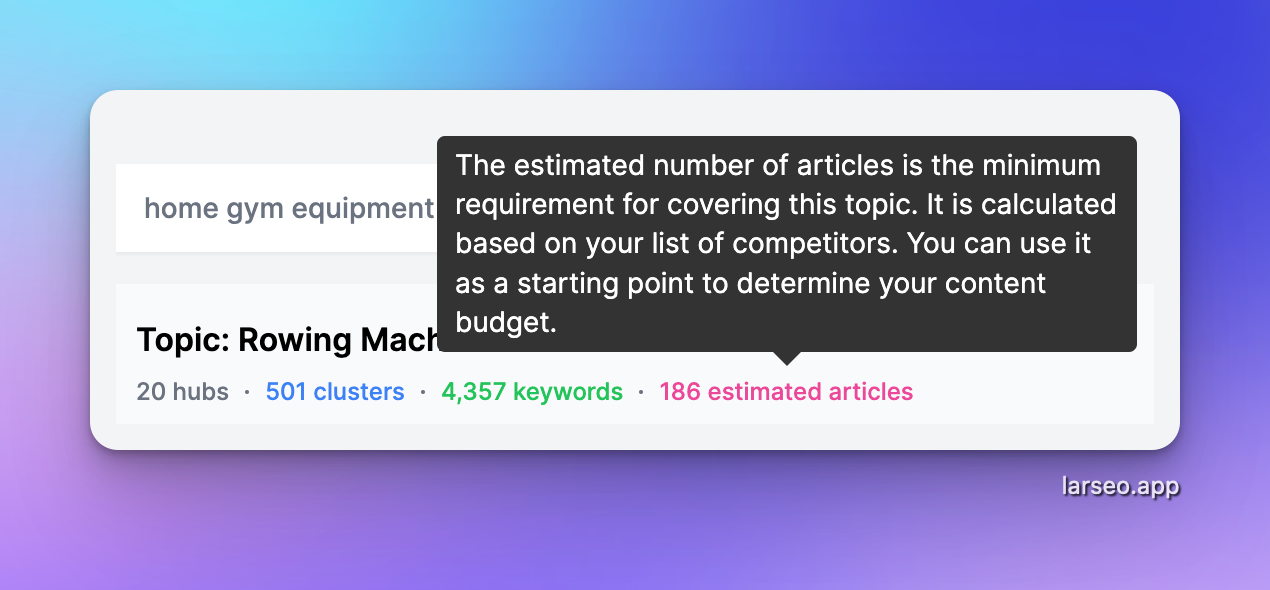 What if I have already built my website and want to use the Topic Builder to create a topical map?
You can use the Topic Builder tool on your existing website or new website. The only different thing is with the existing website, you have to know which topics your website already covered and which not. There is a new feature that I am going to work on in the next few weeks that will allow you to add your website, and Larseo will map your page URLs to the clusters or hubs. This way, you can determine if you have already covered them on your website or not. It's super helpful for developing and maintaining your topical map.
You can get updates on it by joining Larseo's Facebook Group.
There are hundreds of clusters. Which keyword cluster should I start with first?
You can start with clusters that have the most low-hanging fruit keywords. By using Keyword Finder, you can quickly find keywords that are ranked by weak pages so you can outrank them by writing better content, and it won't take much effort for link building.
Final Thoughts

Remember that creating a topical map is a long-term strategy. You can't become a topical authority overnight. It takes time for Google to recognize your website. You need to delve deeper into your content and cover a wider range of topics.
Stick with your target audience to find topics for your topical map. Plus, internal linking is a crucial part of the topical map.
Remember, you can snag 1,200 credits for just 2 bucks! That way, you'll have more credits to dive into the awesome Topic Builder tool.